Teaching English in China is the best way to truly get to the heart of Asia. Being the most populous country in the world, it opens the door for more English-speaking foreigners for an excellent teaching opportunity.
Do you know what else is worth exploring in this country? Their culture, language, people! China has a rich culture with diverse traditions preserved through times.
While you are munching and taking a trip to the Great Wall of China, you might well be having a new and exciting teaching experience in China. We've rounded up relevant information to help you out.
What are the requirements for Teaching English in China?
The State Administration of Foreign Experts Affairs (SAFEA) has set the guidelines and regulations for foreign teachers. These are the main requirements that a foreign educational expert should possess:
A Bachelor's degree
Two years working experience
Citizenship in one of these countries: Australia, Canada, Ireland, New Zealand, South Africa, United Kingdom and the United States
Clear criminal record
TEFL Certification
Getting a TEFL certificate is highly recommended as it adds value to your existing credentials. The above requirements and a TEFL certificate will give you the best chance of getting a teaching job quicker. But there are also many English teaching jobs that are available for non-natives.
Quick Facts about Teaching English in China
With so much that is written and said about teaching English in China, most of the time you are left with so many questions. Let's help you differentiate FACTS from MYTHS about teaching in China.
Do you need a degree to teach English in China?
Yes, you need a degree to teach English in China. The only working visa issued for foreign experts needs you to be a degree holder. You are more likely to land on legitimate teaching jobs if you have some degree, plus a TEFL certificate.
Make sure that you have earned a TEFL certification with 120+ hours, and teaching practice. Language institutions and schools in China highly recognize this qualification. It is also a proper preparation for you to deal with the classroom setting in a foreign land.
Do You Need a Teaching License to Teach English in China?
No, you can teach English in China, even without a teaching license. But of course, the teaching license is an added credential that is beneficial to landing a job faster and a possibility of getting a more competitive salary.
Do You Need to Have a Teaching Experience to Teach English in China?
No, you don't always need to have a teaching experience to start a teaching career in China. Most international schools and language institutions would not even mind trying candidates without any prior teaching experience, as long as you have a TEFL certificate to back you up.
Can I Teach English in China Even Without a Degree in Education?
Yes, you don't need to have a degree in Education, instead any degree – even if it is not related to teaching English will be equally fine. Again, as mentioned above, a TEFL certificate will certainly boost the possibilities of getting a preferred job.
Info: Please be wary of employers or recruiters who have no or very little requirements. The state sets these guidelines so that you will be eligible for a Z working visa. Be cautious and do your research for those seemingly good offers.
How to Find a Teaching Job in China?
With China's population of more than 1 billion and with more than 390 million English learners, you will be amazed to know that most schools are always looking for more English teachers. Awesome, right?  So, if you are qualified, finding a job will be easy.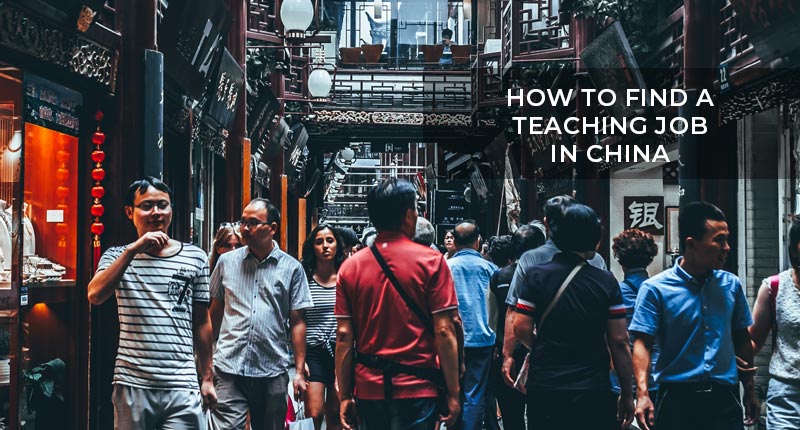 You can start your search for teaching jobs in China through online job sites and social media.
Some of the top-rated job sites are:
Facebook Groups:
And there are many teaching opportunities posted on LinkedIn that you can check.
You can also find a teaching job by flying to China and apply in person. This lessens the chance of being taking for a ride, also giving you enough time to adjust and learn more about the job situation and the country. You can also check the school and discuss things directly with the employer.
While in China, you can also find an agency who will connect you with the schools or institutions that has a good reputation. Build your network – get to know expats in the field of teaching, other locals and join professional groups that can help you find jobs or refer you to potential employers.
Info: It is easier and cheaper to apply online. But if you want to enjoy the tourist vibe before your teaching gig, it could be interesting to apply while in China.
Teaching Opportunities in China
Public Schools
Language Institutes
International Schools
Universities
As currently the largest TEFL hot-spot in the world, English teaching jobs in China offers competitive pay and provides other perks like free accommodation, airfare ticket, health insurance and other bonuses.
Here are some of the popular teaching options in China.
Also get to know – "How much can you earn teaching English in China".
1. Public Schools
Working in a public school is a rewarding career no matter if you are teaching in a primary or middle school. This also allows you to land a legal job with Z visa and work in a genuine foreign school environment.
Typical teaching jobs in public schools run from 8 am to 6 pm, Monday to Friday. Each class is about 45 minutes to an hour or 16-25 teaching hours per week.
Be prepared to handle 40 students or more per class. Quite challenging! It will require a little more of good classroom management skills and you will have a native co-teacher to assist.
Salary and Benefits:
6,000 to 10,000 RMB per month
11 Chinese national holidays +long summer and winter holidays (1.5 months)
Free accommodation
Airfare ticket allowance
Work visa
Health insurance
2. Language Institutes
Working in a language institute gives you a more level of support and materials availability. This will also allow you to be with colleagues who are native English teachers.
Typical jobs in language schools run from weekends and evening classes on weekdays. The focus is a communicative style which requires more interactive activities that will enhance your student's speaking skills.
Mostly, you will be dealing with 10-15 students per class. Age group will vary with the majority in the 7 to 14 years age range and business professionals. Classroom management will be easier since there will be no mixed level in each class.
Salary and Benefits:
6,000 to 16,000 RMB per month
Paid vacation (days and times differ)
Free accommodation
Airfare ticket allowance
Work visa
Health insurance
3. International Schools
Generally, teaching English in international schools pays higher than other teaching jobs. You will deal with kids of expats or well-off Chinese parents that have plans of sending their kids abroad.
The teaching style will very much resemble the western method and mostly be in the English language. You will be expected to work 40 hours per week at a minimum. You may sometimes need to work on Saturdays or during Chinese national holidays.
The working environment at most international schools is good. You will have a small class of 20 students, with plenty of resources available at your fingertips. You are also expected to teach not just English but may include history, arts, etc.
Salary and Benefits:
12,000 to 30,000 RMB per month
Paid vacation (days and times differ)
Free accommodation
Airfare ticket allowance
Work visa
Health insurance
4. Universities
Working in universities (private or public) offers a lighter workload. Usually, you will just be required to have 20 hours of teaching per week. Though they may require you for an additional 3 to 5 hours preparation, you do not need to be in the campus when out of your teaching hours.
Salary and Benefits:
5,000 to 8,000 RMB per month
11 Chinese national holidays +long summer and winter holidays (1.5 months)
Free accommodation
Airfare ticket allowance
Work visa
Health insurance
Top 5 Teaching Locations in China
Beijing
Hangzhou
Chengdu
Shanghai
Shenzhen
There are a lot of teaching jobs all year round in China and most often, the question on where you will teach depends on your preferences.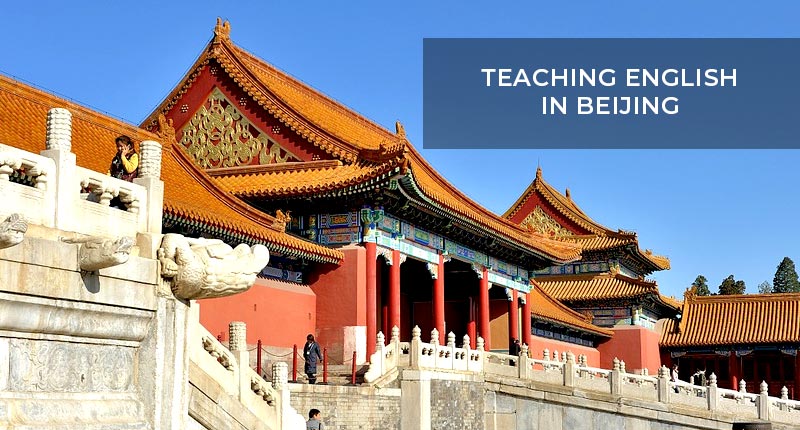 1. Beijing
Being the cultural and educational center of China, Beijing has become the number one destination for teaching English. It is the country's capital and offers many jobs with different varieties. It has the most modern facilities for international schools and language institutes.
Do you also want to learn Mandarin? Beijing is the ideal destination for learning Chinese. It is also the starting point for exploring the country with the numerous natural and historic sites like the Great Wall and Forbidden City.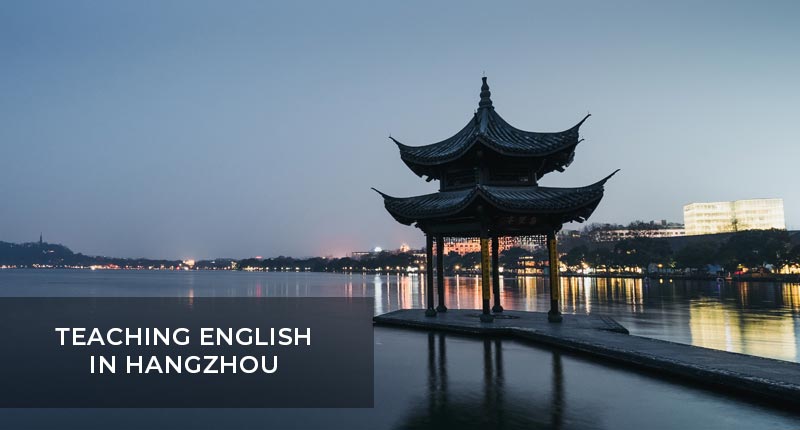 2. Hangzhou
Just an hour away from Shanghai, this beautiful city is full of local schools and universities. It is included in the top scenic cities in China and is an emerging technology hub. Hangzhou offers all the comfort of living in a modern city but with a slightly laid-back life, with a perfect mix of the old and new.
If you choose this city, don't forget to go to the famous tea houses which are along the West Lake for a relaxing time. They also have the best local cuisines in the whole of China.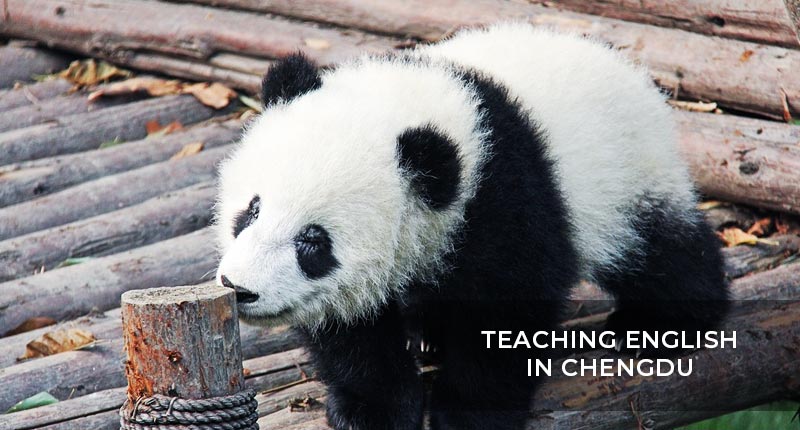 3. Chengdu
Though home for the famous cuddly giant pandas, Chengdu is also known for its prestigious universities. It is the capital of the province of Sichuan and is the most livable city on the mainland.
Do you love vibrant nightlife? Chengdu will not fail you. Karaoke bars and live band venues are all over the city with spicy cuisines that will wake up your senses.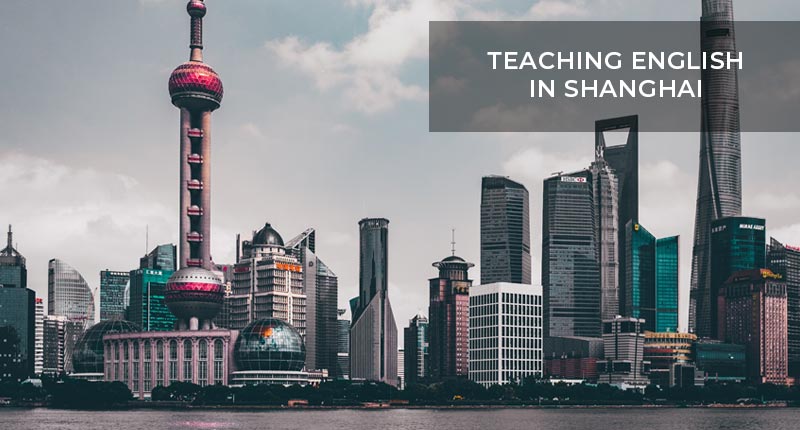 4. Shanghai
The cosmopolitan city life in Shanghai has attracted more and more foreign teachers and other expats to make it their second home. Being the financial heart of China, it is packed with lots of opportunities to teach English to business professionals.
You will also be amazed to know that you will be working in the fashion capital of the country. So make sure to work hard to enjoy world-class shopping in Shanghai.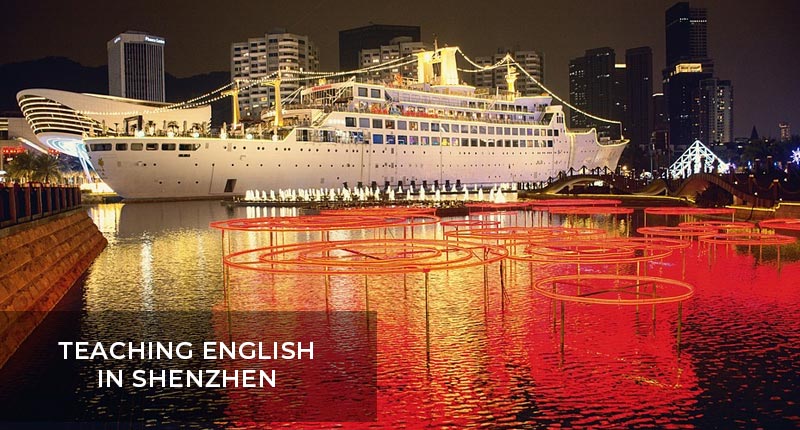 5. Shenzhen
Just a short ferry ride from Hong Kong, Shenzhen is the first Special Economic Zone in China. It boasts of high buildings and big shopping malls that made it as the center for industrial and financial ventures.
This has opened the doors for more English teaching jobs for international schools, entrepreneurs and other professionals.
Visa Requirements
To be able to work legally in China, you need to have a Z visa. Most of the work for processing this visa is on your employer, as long as you are qualified. The school or institution should sponsor you to obtain a valid work permit.
You can come to China under a tourist visa to find a job or take a TEFL course, but you should only be working with a Z visa. If an employer asked you to work under other visas, please walk away to avoid horror stories of fines, deportation or detention.
Generally, the Z visa is valid for 30 days from the stamped date on your passport upon entering the country. It will be converted to a Residency Permit to allow you to work and live in China.
Info: Always check the China Embassy site for updates and details about visa types.
Lifestyle
China has a low cost of living so it is possible for you to set aside money that you can dedicate for travel, leisure activities on weekends and savings.
Imagine traveling nearby countries in Asia during the month-long holidays on Chinese New Year and Mid-Autumn! Though save a few days from these to see the colorful festivities in the mainland China. Enjoy dragon and lion dances, moon cakes, and grand fireworks during these festivals.
Depending on your locations, you can find yourself enjoying a fast-paced lifestyle in the cosmopolitans or a relaxed and friendly atmosphere in the rural paradise.  China offers diverse activities to the residents and tourists alike.
Discover the many UNESCO World Cultural Heritage sites in China during your free time from teaching. Start your adventure with Potala Palace in Tibet, South China Karst, Temple of Heaven, Temple and Cemetery of Confucius, and the list goes on.
Top Things to Do in China
While you are teaching English in China, there are quite a lot of things you can actually do, depending upon your free time, holidays and budget. I am listing a few top things you can indulge in:
Theme parks hoping (Hong Kong Disneyland, Shenzhen Window of the World, Chimelong Ocean Park )
Gondola cruises (Zhujiajiao Water Town, Zhouzhuang Water Village, Tongli Water Town, Fengjing Ancient Water Town)
Hiking and camping (Forbidden City, Great Wall, Dragon's Back Hiking, Hua Mountain Hiking, Zhangjiajie National Park Camping)
Food tripping (tea and dim sums from Hong Kong, classic Peking duck from Beijing, Sichuan dishes from Chengdu, pulled noodles from Xi'an)
And should you find yourself stressed, take a break and go to their karaoke bars. Sing your heart out – belt the song you love the most, have some beer and enjoy a night of KTV fun!
Teaching English in China is always a rewarding experience that comes with a lot of benefits including it's colorful traditions, exotic foods and friendly people.

This article was originally published in Oct-2018 and was last updated in Dec-2018.
Author:
Amy Heath