Greetings, fellow teachers and teachers-to-be! By now, you're probably pretty sure that Greece is your target destination, a place where you would like to teach English to various students of all ages.
But during your research about the TEFL courses and availability of English teaching jobs in Greece, you must have noticed that, despite being a country with only around 11 million citizens, its lands are vast and stretch a long way, across the sea and into the horizon. Sounds dreamy, but it creates a new question that has to be answered ASAP: Where exactly should I go?
Top places in Greece where you could teach
There is an overwhelming amount of places where you could teach English in Greece. While we may not be able to choose an island for you, but we can definitely help you out with your decision! Although there are many traits that all Greeks share, the same cannot be said for their settlements.
There is a big difference between living (and teaching) on a distant island, in the rural area, and residing in the urban hearts of Athens or Thessaloniki.
We will point out the biggest benefits, but also the most important downsides, while giving some advice and a few recommendations, all based on our experience.
We divided Greece into the following areas, based on the differences in living and teaching:
– The Crib of Democracy: Athens (including Piraeus)
– Big Cities: Thessaloniki, Patras, Larissa, Volos
– The Mainland: Towns and Villages: Trikala, Ioannina, Sparti
– Paradise islands: Crete + Ionian, Dodecanese, North Aegean, Cyclades
Take a map, and enjoy the ride!
Teaching English in Athens
Crowded, but charming: Greece's very own capital, Athens.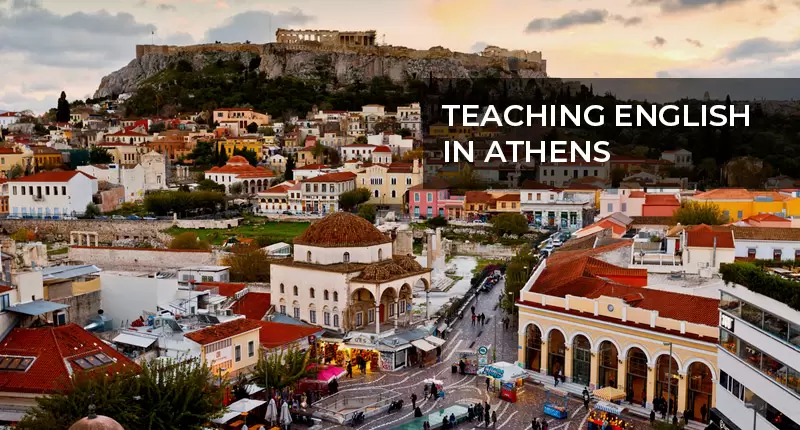 Athens is a dream of many teachers, not just from the outside but also Greeks themselves.
Picture yourself riding the metro to the private school of English that employed you right after your completed TEFL course.
You are enthusiastically giving classes to students of all ages and ethnicity, and afterwards, dropping by a restaurant for a takeout of your favorite burger, croissant or pizza. Every restaurant you can imagine exists in this giant, magnificent city.
Sometimes, when Athens takes one of its many faces, you would feel like you never left your hometown. Is this the way you imagine your teaching experience? If yes, then Athens might be your next teaching destination!
Why teach English in Athens?
Cosmopolitan nature of Athens gives you the opportunity to lead fulfilled city life, teaching children and adults alike, Greeks and foreigners, beginners and advanced students, in public and private schools.
You can even get some private 1-on-1 lessons, but this method is more frequent in other places on our list, for the simple reason that private schools are very affordable while being very high quality.
That's where it gets difficult, unfortunately!
Its culture and fast, fulfilling way of life seems really tempting at first, but digging deeper into the facts, we are all faced with many difficulties that one must overcome in order to start teaching in Athens.
First of all, there is the issue of many existent English teachers, with a bachelor's degree, that are already employed (but also unemployed) in Athens. This is, after all, the biggest university center of Greece, therefore this isn't very surprising.
The supply of English teachers in the capital is higher than the demand in this city. This is one of the only places in Greece where this is the case – usually, native English teachers are always welcome!
And the downsides don't finish there. But don't be discouraged!
Furthermore, many people move to Athens every year, and it's slowly becoming very crowded. It's hard to find an affordable apartment at a good location. This is also because Greek apartment buildings are better suited for families than teachers-explorers, while there is a huge need for small one room apartments that are almost impossible to find!
We will, however, offer some alternatives in one of our next articles.
Another downside is that the pay is not that great, while life in Athens is far more expensive than other areas. This is, again, a repercussion of the high supply- low demand mentioned earlier.
Many private schools of English dictate low prices of the classes, which then affect the teachers' rates. However, don't be discouraged. There are still ways for you to teach English in Athens, but we cannot guarantee it would be easy. However, if you're highly motivated and eager to try, we encourage you to do so!
Teaching English in Thessaloniki
Don't like Athens, but want to stick to the cities?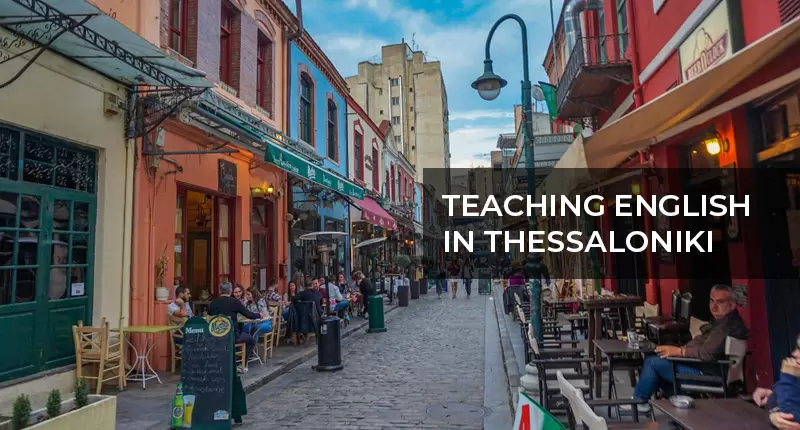 You want to experience something different, but don't want to give up the urban life? In that case, you should take a look at some of the big towns of Greece that still don't make you feel too small in comparison to the city.
Although Thessaloniki, the country's 2nd biggest city, may seem like Athens at first, looking into the details provides you with some striking differences. For example, the only available means of public transportation is the bus, whereas Athens has everything you can imagine.
Families of Thessaloniki are far more similar to stereotypical Greek families from cult movies than the modern families of Athens, and the cuisine includes seafood, Gyros and Bougatsa, instead of burgers and pizza. Of course, Greeks love burgers too, but you would probably find it in Goody's, Greece's very own burger house, rather than in a Mac or Burger King.
Greeks are really proud of their history and their country, and that really shows in cities all around Greece!
Set off to one of the Top 10 cities in Greece.
Thesssaloniki, Patras, Volos and so on…
Living & teaching in the "northern capital" Thessaloniki, the sunny Patras, industrial Larissa or the beautiful port Volos, lets you experience the true Greek city life, rather than a metropolitan one.
Additionally, it is easier to find employment here – these cities keep expanding in order to "catch up" with the famous capital, and English is therefore a necessity.
Private schools of English open up frequently even in the times of crisis, and foreign teachers are usually welcome to most of them – as long as they have a completed TEFL course or a bachelor's degree in English.
One of the possible downsides could be that, just like in Athens, there are many options available for the students, so the private schools have to make the classes as cheap as possible.
It is possible to find students for private classes through "networking", but as more and more high quality private schools are available; this kind of work might be of short breath.
Learn more about types of English teaching jobs available in Greece in our lengthy dedicated article here.
Willing to venture into the unknown? Try the Greek mainland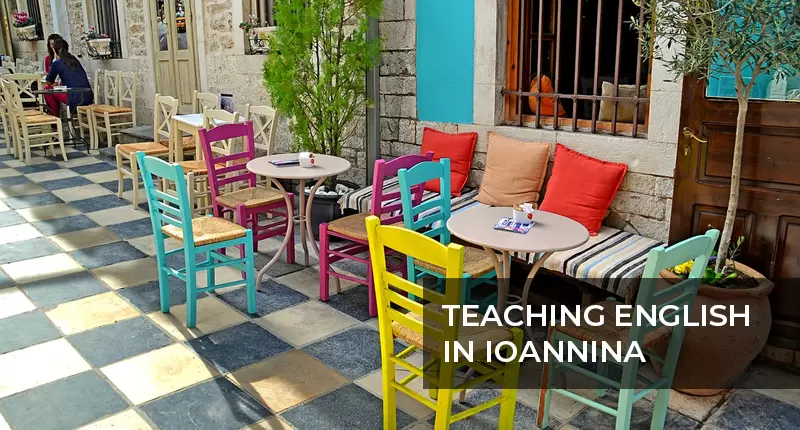 We need to emphasize on something before we describe what we mean by "mainland" in this article: There are many benefits to choosing the mainland as your teaching destination. Mainland is also very similar to islands when it comes to the way of life, so things you read in this part of the article will be relevant for the islands as well.
Now, the term "mainland" of this article consists of all towns and villages with less than 100 thousands inhabitants. They are all characterized by two facts, which are both beneficial for foreigners that want to teach English in Greece, even though they aren't so good for the Greeks themselves.
Being far from the capital means being far from the capital problems.
First of all, the need for teachers is higher than the supply, which wasn't the case in any of the cities. Many Greeks have left their hometowns in search for a different life than the one they know, including many teachers of English.
Just like many other European countries, Greece is capital-centered, which means that there aren't many "things to do" for citizens that live far from the capital. For foreign teachers that are looking for teaching experience, a new, peaceful lifestyle, this is purely beneficial.
It's much easier to find work than it is in the capital – there is even a chance at a spot in a public school, if the teacher speaks any Greek and is looking for that kind of work. Private schools exist, but are quite rare, especially in villages. Private 1-on-1 lessons, which usually pay quite a lot, are usually the preferred choice to only getting classes in the public schools, as they are rarely good enough.
Make yourself known – a pretty easy task in small towns.
Secondly, for all Greeks who wish to leave their hometowns to study, work or just travel, English language is an imperative "tool". That means that there are many students willing to learn and pay for your classes.
One downside is that jobs are mostly acquired through "networking" and "mouth-to-mouth" so you have to rely on your charisma and friendliness to get first few students.
A good word travels far in Greece, so you will not have any issues finding students once you start off. Additionally, although rare, private schools exist in these small towns, and the teachers' rates are usually satisfactory. You can also try them out!
Tourists: A downside for some – an upside for others
An important detail about the mainland is that many of these villages and towns are touristic. Most of Greece's economy depends on tourism, and Greeks love their visitors, especially if they leave a lot of money behind.
That means you would be living in areas that are overflowing with tourists in summer months, and these tourists will usually envy you for spending the whole year there.
Tourists are another reason why English is so important, especially on the south and on the islands, where tourists come from literally everywhere!
Northern villages are usually bustling with Serbian and Bulgarian tourists, so you might want to consider these areas if you come from a Slavic country – you will feel at home during the summer months.
Having tourists around means that you will rarely be able to enjoy the peace and quiet, or find a solitary beach in the summer months. During the winter, it can also get a little bit depressing, seeing the once crowded streets completely empty and many shops closed for the season. But, every summer everything revives again!
Wait, there is more to Greece than the seaside?
It may seem impossible to believe, knowing that the coastline of Greece is over 16 000 km long, but there are many towns and villages that are miles away from the coast.
Some of them are very important for the country's economy, and therefore are great opportunities for those who don't fancy the beach and want to live far away from the tourists.
Some of them are picturesque towns of Trikala and Ioannina, and of course, the ancient Sparti, once a capital of Sparta. These towns share the fate of the rest of the mainland, being drained of educated citizens who keep moving to bigger cities. However, they leave behind opportunities that foreign teachers can take and enjoy.
It is sometimes easier to appreciate the beauties of a foreign land than our own – that is the beauty of teaching in another country.
How do you feel about living on an island?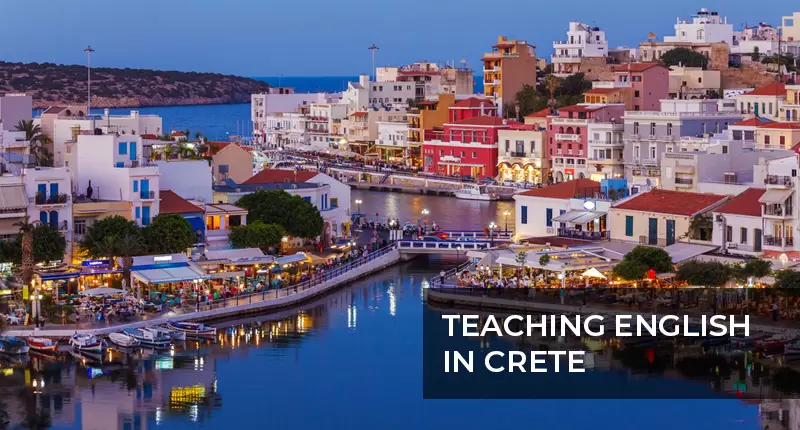 Santorini, Mykonos, Rhodes, Zakynthos, Samos, Skiathos and so on, Greece has around 200 inhabited islands of various sizes. They are divided into groups depending on their location.
The biggest island is the island of Crete. This island is important for us because it is currently a home of many foreign English teachers, who claim that Crete is really welcoming of foreigners and that many people speak English, which is unusual for Greece.
The island's capital, Heraklion, may be the perfect combination between living on an island and in a big city. All the islands have their own story, they are all unique, with their own beauties, positives and negatives.
Greek islands have a lot of their own unique rules, but they rule nonetheless!
Living on an island may sound like paradise, but that is only if you are ready for increased prices, late shipping (literally), and crowded streets during most of the year, not just summer.
A lot of Greek islands have over 300 sunny days a year, but you would have to share most of them with enthusiastic tourists.
Work isn't hard to find if you are outgoing and willing to teach everyone who wants or needs to learn English. Private classes and small private schools of English are the most common, as many inhabitants of Greek islands complain about education being bad in their public schools.
The reason could be that these schools are often small (with the exception of big islands such as Crete or Rhodes) and they are unable to provide students with all they need in order to score high and go university.
It is also important to note that, with the exception of Crete once again, Greek islands aren't university spots, so most Greeks leave their islands quite early in order to get better education somewhere in the mainland. This is, of course, another important benefit for English teachers!
Put away your map, and take out the calculator
That journey was exciting, wasn't it? We hope you did have a map, and you've now crossed out places you don't like, or possibly circled your favorites.
Take some more advice: You might feel like you're completely sure about your choice right now, but that might change once you actually gain some experience.
Just like any other choice in life, you can't know unless you try, and we hope that this article provided at least some guidance, and made your preparations for embarking on your English teaching journey a little bit easier.
In the next section, we will be dealing with some numbers – precisely, with the salaries and living costs, the amounts you can save and how to do that, and we will be making a comparison of teacher's living standard to other professions in Greece. We will make sure that you know all the important details before you finally choose your destination!
This article was originally published in May-2019 and was last updated in May-2019.
Author:
Sara Djumic