A Guide to Teaching English in Austria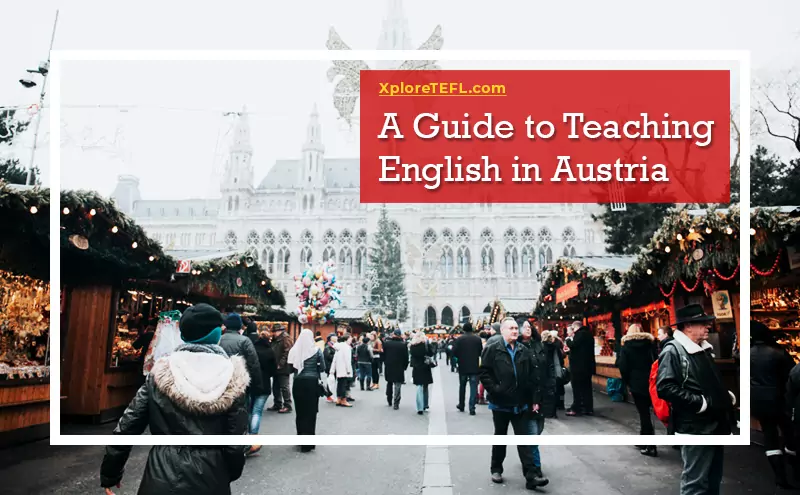 Are English teachers in demand in Austria?
Whilst the demand for ESL teachers in Austria might not be as high as what obtains in neighboring countries, there still exists a lot of opportunities in the big cities of Vienna and Salzburg.
Though most of these teaching positions are occupied by native speaking English teachers, ESL teachers with a TEFL certificate in Austria stand a very good chance of landing the choicest English teaching jobs.
English has now become a well established second language in the country and most postgraduate schools now invariably run courses in English. Hence, there is a call for ESL teachers with TEFL certificate to put students through English at younger ages.
Many International companies based in Austria need the services of ESL teachers to take their employees through the basics of business English and parents now seek ESL teachers with TEFL certificate as private tutors for their wards or enroll them in kindergartens and summer camps where they have ESL teachers on their payroll.
What are the requirements to teach English in Austria?
A TEFL certificate in Austria puts you on a higher pedestal and hands you a greater chance of landing the best English teaching jobs available.
Generally, ESL teachers in Austria are not required to have a bachelor's degree, however, one is an added advantage over other ESL applicants for the same teaching position.

ESL teachers who want to teach in International schools are required to possess a post graduate degree in education as well as some teaching experience. Consequently, Austrian International schools pay higher than private language schools in the country.
However, many Austrian schools are biased towards offering native speakers English teaching positions.
Get a TEFL Certification Now!
What type of jobs are available for English teachers in Austria?
ESL teachers with a TEFL certificate in Austria can find teaching positions in private schools, public schools as well as private tutoring roles.
Private schools hire the most English teachers in Austria and will usually require that ESL teachers possess all necessary qualifications and experience.
Public schools hire ESL teachers with a TEFL certificate all year round where you would be required to work with children in kindergartens.
ESL teachers with a TEFL certificate in Austria and some teaching experience can get a job offer in a university. University English teachers though packed with more responsibilities are usually paid better.
ESL teachers can also teach in summer camps where they will be required to work with children and adults alike.
What is the salary for English teachers in Austria?
Though ESL teachers in Austria can expect to earn between US$800 to US$3000, teachers with TEFL certificate in Austria command the highest paying rates.
Most paid teaching jobs in the capital city of Vienna will begin by paying US$30 an hour and you will be required to teach between 20 and 30 hours a week.
Benefits like flight and accommodation are usually not included in contracts however, ESL teachers are entitled to public medical care due to tax contributions and the country is home to one of the best public health systems in the world.
Can you save money while teaching English in Austria?
Though Austria is considered one of the most expensive countries to live in, ESL teachers should have enough to break even if they do not live an extravagant life.
Generally, the cost of living in the capital city of Vienna is about $900 and reduces as one moves farther away from the cities.
Accommodation Options: Accomodation costs in the big cities of Vienna and Salzburg are relatively high compared to other ESL destinations like Linz and Villach, however, ESL teachers can leverage on shared accommodations with their colleagues.
Some schools though on rare occasions provide their ESL employees with accommodation which can be a money-saver.
Generally, a one-bedroom apartment in Vienna costs between $700-$970 while it costs about $520-$625 in Graz.
What type of visa do you need to teach English in Austria?
ESL teachers who are EU citizens do not need to obtain a Visa in Austria while you would have to obtain a work permit if you come from outside the EU.
A lot of ESL teachers are known to work on tourist visas but this is completely illegal and would nullify your claims to a legal advise when an issue with your employer comes up or worse still gets you deported and served an entry ban.
Some schools on sponsor their ESL employees' work permits' on rare occasions while government programs will usually do so.
Hiring season and process for English teachers in Austria
Although, schools in Austria hire ESL teachers all year round, the peak hiring periods typically fall in September and January with the school year running from September until July.
You could apply for jobs through teacher placement companies but you will be required to pay a stipulated fee.
ESL teachers can also apply for jobs in person or online via emails and online portals with interviews conducted.
Fun and travel activities while teaching in Austria
ESL teachers can be sure of marvelous treats during their stay in Austria. Whether it be winter or summer, there are always fun places to visit and fascinating activities to engage in.
You could go skiing in the Alps during winter or spend the summer visiting the most intriguing mountain tops. Eisriesenwelt is home to the largest system of ice caves in the world and you could go exploring this spectacular world of ice giants or visit the stunning sites of Admont Abbey culture.
While skiing or hiking, you might as well do some sightseeing at the Pilgrimage church of Mariastein or try your hand at a Biathlon (skiing and shooting).
For an experience of Austrian cultures, the Bregenz festival is where monumental operas are held on the world's largest floating stage in Lake Constance and a visit to Hallstat will make for a lovely romantic treat.
Important cities in Austria
Although most ESL teaching opportunities exist in Vienna and Salzburg, Graz, Linz, Villach and Wels are other fine ESL destinations.