A Guide to Teaching English in Bahrain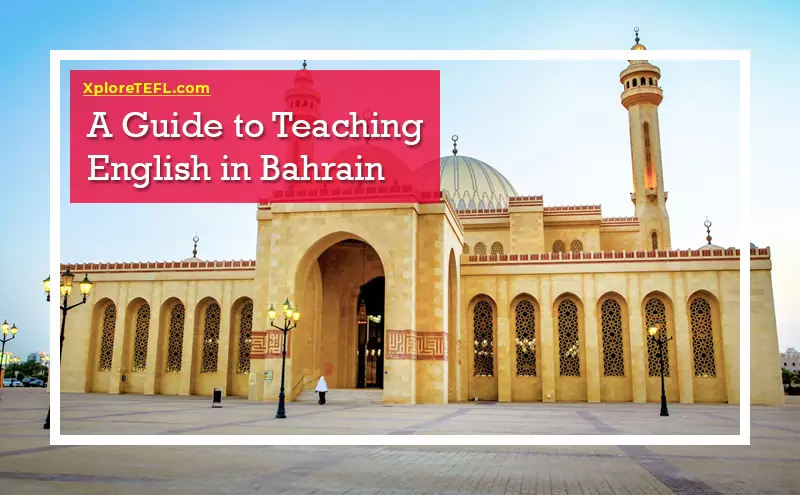 Are English teachers in demand in Bahrain?
With a valid TEFL certificate in Bahrain, there are opportunities for ESL teachers in universities, summer schools or even private lessons, alongside huge monthly salary and benefits which ranges from free accommodation or even travel expenses.
English language is the second language rooted in Bahrain's national curriculum, hence, there is a very high demand for native speakers. Bahrain learners are always open and eager to learn and the major areas where TEFL English teachers are concentrated is in Manama, which is the capital city, and also Riffa, regarded as the tourist center of the country.
Despite the fact that Bahrain is an Arabic speaking country, there is a very high demand for English teachers.
What are the requirements to teach English in Bahrain?
An internationally recognized TEFL certificate is key to landing an English teaching job in Bahrain especially since the ESL market in the country is characterized by an ever growing competition.
In Bahrain universities, private language schools and summer lessons, it is a requirement that teachers have a TEFL, TESOL or CELTA certificate in English as a foreign language. This usually helps teachers negotiate for high salary, benefits, and open doors to some of Bahrain's top teaching positions.
A Bachelor of Arts and Bachelor of Science (BA/BS) degree is also essential for ESL teachers.
Get a TEFL Certification Now!
What type of jobs are available for English teachers in Bahrain?
The common opportunities offered ESL teachers in Bahrain are in international schools. However, there are also numerous vacancies/ job openings in private language schools in the country.
In addition to work in international schools, a number of English teachers in Bahrain are involved in private lessons which can be obtained through advertisements.
Some opportunities are also open for ESL teachers in summer camps where teachers take student one on one and work alongside other teachers.
What is the salary for English teachers in Bahrain?
ESL teachers in Bahrain earn between US$1,700 to US$3,500 per month, which is tax-free. Benefits includes health insurance, accommodation (furnished housing), and air travel. 
Can you save money while teaching English in Bahrain?
One of the attractive features of Bahrain to teach English is the high salaries and low living cost. The average cost of living per month in Bahrain is between US$650 and US$1,100 excluding accommodation.
Accommodation Options: As part of the TEFL contract, most employers will provide free accommodation to their ESL teachers with no added cost as part of the numerous benefits. However ESL teachers who wish to get their own accommodation should expect to pay between US$500 and US$1,000 per month for a decent and more comfortable apartment.
In order to save more, teachers can share an apartment with a friend or partner. Usually, most ESL teachers in Bahrain prefer living in the Bahrain capital of Manama.
What type of visa do you need to teach English in Bahrain?
A working visa is required in order to teach English in Bahrain, and to make the whole process easier, most employers take up the responsibility to not only help you but also handle the financial obligations.
When in Bahrain, ESL teachers are expected to submit, for their work permit application at the Bahrain immigration office, all expected documents including a copy of TEFL, TESOL or CELTA certificate and finally a statement from the employer company.
Hiring season and process for English teachers in Bahrain
Getting hired in Bahrain by schools takes place all year-round. Bahrain academic year is very much similar to North American schools, where the school term commences in September and concludes early summer. 
ESL teachers in Bahrain can apply online or walk in with their CVs. It is to be noted that the interview procedure for Bahrain teaching can be very long and can last for as long as three months.
Fun and travel activities while teaching in Bahrain
There are numerous fun activities Bahrain has to offer to ESL teachers, such as the magnificent historical monuments including the Arab fort, Riffa Fort, Bahrain national museum, the exquisite Portuguese Fort, the Barbar Temple and the Al-Areen wildlife park.
There is also the Sar, which is the ancient burial site from the period of Dilmun.
Trying out the different delicious cuisine is something no ESL teacher in Bahrain should miss.
The country serves continental which include Chinese food, Indian food and Arab cuisine as well as local dishes. There are also drinks like Arak which is a popular local drink available in bars or hotels, Gahwa which is an Arabic coffee with comes with a bitter yet spicy taste, leaving you craving for more.
One mind-blowing feature is the beautiful scenery the country is blessed with as well as the most beautiful beaches such as the Coral Bay, Ritz Carlton, Novotel and the Sofitel Nahrain Zallaq Thalassa Beach Sea and Spa. Water activities such as sailing are also popular in Bahrain.
Important cities in Bahrain
Manama is concentrated with qualified ESL English teachers in Bahrain. Other cities include Muharraq, Riffa and Madinat Hamad.