A Guide to Teaching English in Belgium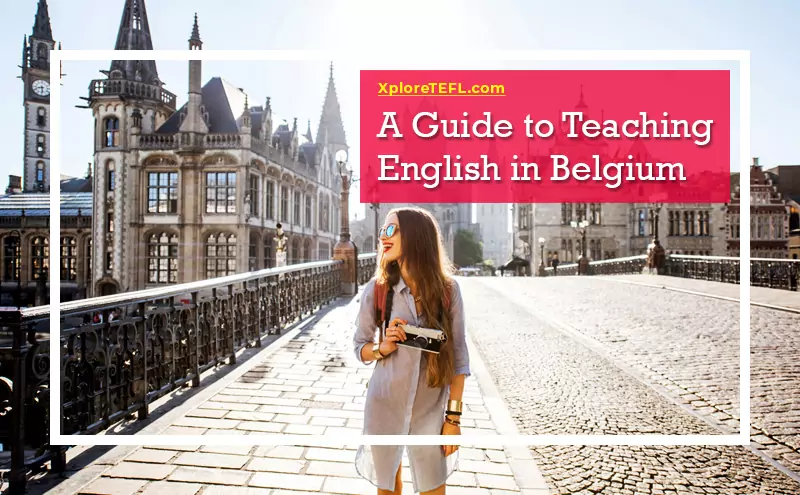 Are English teachers in demand in Belgium?
Teaching English in Belgium is a valuable career decision and gives room for teachers to gain professional experience while earning a competitive salary enough to enjoy the basic necessities of life, travel, have fun and save.
Belgium has a thriving job market for ESL teachers in Europe, however there is a subtly high level of competition due to the increasing number of foreign expats compared to the number of teaching positions available.
Meanwhile, the highest demand for TEFL teachers in Belgium are in the private language institutes, universities and international schools in Brussels, Antwerp, Bruges and Ghent with special preference for native speakers and ESL teachers from EU countries.
A TEFL certificate in Belgium will expose you to the best teaching opportunities across varied teaching options within the country and you can enjoy a life of adventures and travel across Europe.
What are the requirements to teach English in Belgium?
A TEFL certificate and a degree in Belgium are the minimum requirements important for English teachers to get better paying ESL jobs with more benefits.
Teachers are also encouraged to have further qualifications such as a master's degree and experience as this will also help in the job market.
The Belgium Education system also requires that you have your qualifications verified by the education authority such that teachers in northern Belgium are expected to check with the Flemish Ministry of Education while those in South Belgium should verify their qualifications with the Walloon Ministry of Education.
Get a TEFL Certification Now!
What type of jobs are available for English teachers in Belgium?
There are different types of teaching jobs for ESL teachers in Belgium. The most popular job types are found in the international schools as Belgium is famous as the home to many of these.
There are jobs available in private elementary schools, secondary schools and teachers can supplement their earnings by taking private tutoring jobs. There are also some private companies seeking tutors for their employees and this makes up a tangible part of the ESL job market in Belgium.
ESL teachers in Belgium should expect to teach a wide variety of students from business professionals to university students as well as children and teenagers.
What is the salary for English teachers in Belgium?
ESL teachers with TEFL qualifications can earn between US$1800 and US$2,500 dollars per month teaching English in Belgium depending on the city and the type of institution.

Although this is fairly high compared to many other countries, teachers should note that the rate of taxation in the country is also a bit high although there is a corresponding high standard of living to enjoy.
However, despite the level of taxation, a lot of teachers in Belgium are able to enjoy a very convenient lifestyle, travel to other countries during the holiday and save a tangible amount at the end of the year.
Can you save money while teaching English in Belgium?
Belgium has a relatively high cost of living compared to other ESL destinations in Europe. The average cost of living for English teachers tend to level out with the high salary and taxation rates.
On the average, ESL teachers in Belgium will spend between US$1,500 and US$2,000 per month. Teachers are usually able to break even and possibly save.
Accommodation Options: Accommodation benefits are usually not included in the employment package for ESL teachers in Belgium although teachers tend to reduce the amount spent on rent by sharing accommodation with colleagues.
Generally the cost of accommodation is expensive and teachers can get an apartment between US$700 to $800 per month for a one bedroom apartment depending on the distance from the city.
What type of visa do you need to teach English in Belgium?
Typically, most Belgian schools prefer to hire EU citizens who already have a right to live or work in the country although non EU citizens can find opportunities as well.
ESL teachers from non-EU countries are required to obtain a work visa to teach English in Belgium. Usually, there are limited number of visas available to non-EU teachers so it is important that you have a job offer before deciding to travel.
ESL employers in Belgium are known to provide assistance to teachers in the visa application process by helping them to provide necessary documents and offering help as required. In some cases, teachers also work in Belgium using working student visas.
Hiring season and process for English teachers in Belgium
The school year in Belgium begins in September and teaching jobs are usually available all year round. However, the major hiring periods for TEFL teachers in Belgium are within the summer months before the start of a new school calendar.
Most schools in Belgium will interview ESL teachers before considering them for a job and this could be over the phone or via email. ESL teachers are advised to include all their qualifications and teaching experience while applying for better chances of getting called for interviews.
Fun and travel activities while teaching in Belgium
Belgium is a great place to wander for adventures whether in the bustling cities or in the calm countryside.
First stop is Brussels, Belgium's capital with serval architectural wonders such as the La Gran Place, the Atomium and the Herge Museum. Teachers can also visit the amazing religious structures in Walloon city.
Some major destinations here include the Museum of Fine Art and the Notre Dame cathedral which is a UNESCO World Heritage site and a gothic masterpiece built in the early 12th and 13th centuries.
There are lots of historical places too like the Waterloo where Wellington was said to have defeated Napoleon in 1815. There is the Flanders Fields which was the settings for the World War 1 and the site of the battle of Bulge near Bastogne.
Important cities in Belgium
Brussels, Antwerp, Ghent and Bruges are some of the most important cities to teach in Belgium.