A Guide to Teaching English in China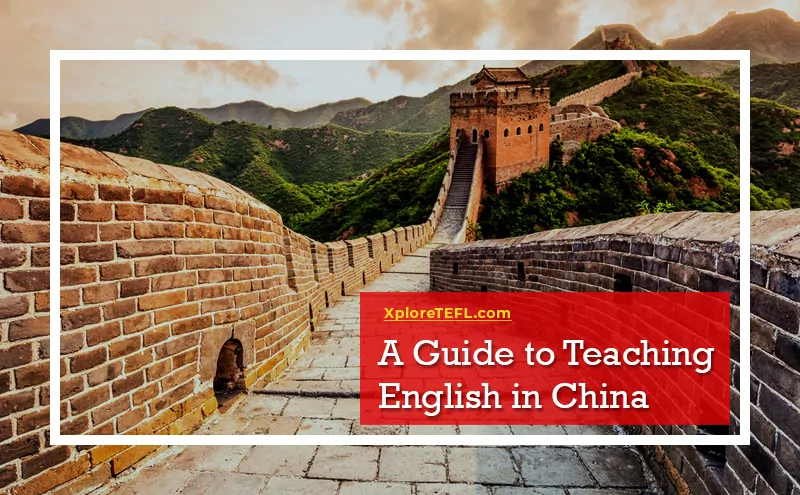 Are English teachers in demand in China?
For years, English teachers continue to be in high demand in China. China is known to have the largest educational system in the world, with over 350 million English Language students across the country. Therefore, there are more teaching jobs than teachers. Coupled with its improving economic development and an increased interest in English language learning, China remains the world's top market for ESL teachers.
Because most of the Chinese schools have made English learning compulsory for children from the age of five, ESL jobs are always available, and schools hire English teachers with a TEFL certificate all year round. There is also the availability of several online teaching vacancies and private tutoring among Chinese students.
Teaching prospects in China offer great career opportunities, including a competitive salary and benefits, so whether you intend to teach English in China for a short period, or stay permanently, there are lots of opportunities available to you.
What qualifications do you need to teach English in China?
You need an internationally recognized TEFL certificate and some teaching experience to teach English in China. A degree is also necessary to get teaching jobs and is advantageous when applying for a work visa in China.
A bachelor's degree and TEFL certification are required to teach English in a public school in China. However, Chinese public schools do not always demand a lot of teaching experience, so they are great avenues to find teaching jobs in China if you have no teaching experience. For some international schools, you may need to possess a teaching qualification such as a PGCE in addition to your TEFL certificate.
It is important to know that there is a preference for native English speakers in China's ESL job market. So it is easier to get an ESL job if you are from the US, UK, Canada, Australia, New Zealand, or similar countries. However, an authentic TEFL certificate together with a bachelor's degree and experience will also qualify you for job opportunities in China.
If you are not a native of either UK, Ireland, Canada, the US, New Zealand, or South Africa, but you have a Bachelor's degree from any of these countries, you also qualify to teach English in China.
What type of jobs are available for English teachers in China?
Public schools, international schools, and private language centers are some of the job types available for English teachers in China. The large market for ESL teachers in China is diverse and has a wide range of options for ESL teachers with TEFL certificates to choose from.
Chinese Public Schools
Public school ESL teaching is one of the most common teaching job types in China. There is a high demand for English teachers in public schools where English language learning is mandatory. Teaching in public schools in China is a favorite option for ESL teachers who prefer laid back teaching opportunities and fewer teaching hours.
Teachers in public schools work between 9 am to 4 pm and enjoy all school holidays. However, ESL teachers in Chinese public schools earn significantly less than those who teach in private language institutes or international schools.
International Schools
English teaching jobs in international schools are the highest paying types of ESL jobs in China, especially the kindergarten positions. ESL teachers can find specialized jobs in secondary schools to teach a subject in English or the standard kindergarten jobs that require speaking English to children.
International schools in China, such as the International School Beijing and Oriental Cambridge International School, use the International Baccalaureate curriculum from their parent country. ESL teachers are expected to follow a stated coursework schedule.
Private Language Schools/Training Institutes
ESL teaching jobs in private language centers in China offer supplementary English language training to students. This means that most ESL teachers in private training institutes work in the evening outside school hours and on weekends. In addition to this, they are usually better funded than public schools and offer higher salaries and benefits to ESL teachers.
Popular private language schools in China include EF English First, First Leap, Longman Schools, and Wall Street English.
Private Tutoring
Although the Chinese government does not support home-schooling, it has become a common phenomenon in creating a demand for private ESL tutors. Therefore, you can get offers to teach ESL students privately in their homes. Also, as China is the world's largest export market, there is a large pool of opportunities with adult learners seeking English teachers' services. This market comprises a growing number of Chinese businesspeople with a high demand for ESL teachers to improve their English communication with international clients.
Teaching Internships in China
Internships in China give English teachers who are yet to get a TEL the opportunity to teach and earn while the institution provides you with a TEFL certification. Most internships last for a year and may require that you pay some amount before you are taken. While you teach, you will also be studying to obtain your TEFL certificate. Salaries for ESL interns are usually lower than those employed in other ESL job types in China.
Summer Camp Teaching Jobs
ESL teachers can also find teaching opportunities in summer camps that last between 1 - 4 weeks. Summer camps are short, but they pay well and can be an excellent opportunity to earn extra as an English foreign teacher in China. Other ESL job types in China include online English teaching agencies and universities.
Most ESL students in China are made of young children, adults, business people, and professionals from all over the country.
How to find English teaching jobs in China
Applying directly to schools or through agencies are the easiest ways to find English teaching jobs in China. Because ESL teachers can only teach legally with a work visa, it is vital to find a job before traveling.
Apply directly to schools in China
This is one of the most preferred methods when finding a teaching job in China. To apply directly to the schools in China by visiting their websites or job portals where schools advertise teacher requirements.
Not all schools have the government's approval or the license to hire a foreign ESL teacher in China. Therefore, you have to make sure the school you apply to have the license so that they can sponsor you a work visa. It is important to check the school website for reviews from previous foreign teachers and necessary information to be sure.
You can also send your application directly to English language schools like the Web International English and Shane Schools or check for opportunities to teach English in a public school in China.
Apply Through Recruitment Agencies
Several recruitment agencies help English teachers find placement ESL schools in China. You can begin your search by applying to agencies like Reach to teach, workandliveinchina and chinabyteaching. Recruitment agencies can help you find different types of jobs, depending on your preference. While some agencies work directly with schools to recruit teachers, others will only send you job openings.
Join ESL Teachers' Communities
Some ESL teaching communities on social media, like English Teachers in China, help prospective ESL teachers to find job opportunities and settle in China. Most members of these groups are current English teachers who are always welcoming and willing to help. You may also find information about a school you are applying to from such groups.
Keep Your CV Simple
While preparing your CV for an English teaching job in China, be careful to use simple phrases and words as your potential employer may be a non-native English speaker. Finally, you should be prepared for an interview, which usually lasts about half an hour and maybe conducted on the telephone or via skype video calls.
What is the salary for English teachers in China?
The salary for English teachers in China varies depending on the type of institution and the city. ESL teachers in China earn between US$1,500 to US$2,500 monthly, working an average of 20 hours per week. With a TEFL certificate, you may find opportunities with kindergarten and international private schools that pay up to US$2,800 to US$4,000 per month.
As an ESL teacher in China, you can augment your earnings by taking private tutoring opportunities and earn close to US$20 per hour, depending on your level of experience and qualifications.
Most Chinese language schools offer benefits such as airfare, free accommodation or housing stipends, lunch, and paid holidays to their ESL teachers. There is a competition between schools to attract teachers.
Salaries of ESL teachers in China are also dependent on the city. Schools located in Tier 1 cities like Beijing, Guangzhou, and Shanghai usually pay higher wages than those in Tier 2 or Tier 3 cities like Xiamen and Yangzhou.
What type of visa do you need to teach English in China?
You need a Chinese work visa is required to teach English in China. Usually, your employer is expected to apply for a work permit for you for your contract period, which is usually a minimum of 90 days and a maximum of 5 years.
Work Visa or Z-visa
Obtaining a work visa to teach English in China is quite complicated but can be achieved. Although costs may vary, the process is similar across all countries. Either you are from UK, USA, or any similar country, there are specific requirements you need to get a Z-visa to teach English in China. These include a criminal background check, a reference letter for your most recent employer, a notarised degree, and a TEFL certificate. Ensure you obtain all necessary information at the Chinese embassy of your country, or check the Chinese government website.
Schools usually have a visa license that helps them obtain work permits for their foreign ESL teachers. You should ask your potential employers if they have a visa license before taking an English teaching job in China. This would save you many inconveniences that may come with teaching in China without the proper visa.
Finally, after obtaining your work visa, which is only valid for 30 days, you will be required to visit a public security office (usually a police station) in China, where you can get a work certificate ad a Residence Permit.
Teaching in China on a Tourist Visa
Some ESL teachers choose to travel to teach English in China on a tourist visa, but this is illegal and unadvisable. Over the past few years, the Chinese government had renewed efforts to discourage teachers from working in China on a tourist visa.
While most ESL schools will assist you in obtaining a work visa to China, a few schools try to avoid the responsibility by asking you to work on a tourist visa, be careful about accepting such offers as it is illegal to work in China using a tourist visa. You stand the risk of being deported if you are found teaching in China on a tourist visa.
Can you save money while teaching English in China?
You can save a lot (up to half of your salary) while teaching in China. Foreign ESL teachers are usually paid a higher salary than local teachers. Teachers are also provided with benefits like housing, food, and paid vacation, thereby reducing their living costs. Even if you were paying for your apartment, accommodation costs take only about 20% to 30% of your salary.
Cost of living in China
The cost of living for ESL teachers in China is very low compared to most Western countries. The competitive salary affords English teachers a very comfortable lifestyle with the ability to save.
As always, the cost of living varies based on the city or metropolis you choose to live in, with a range of US$500 to US$1,000 a month.
Beijing, Guangzhou, Shanghai, and Shenzhen, usually referred to as the 'big four,' are first-tier cities and have the highest cost of living in China. Cities with lower living costs include second and third-tier cities like Changzhou, Xi'an, Jilin, and Taizhou.
Accommodation Options in China
Several Chinese language schools offer accommodation amongst other benefits to ESL teachers. However, if you decide to get your accommodation, the cost is relatively low, although more expensive in the most populated cities like Shanghai.
A bedroom apartment in China may cost you between US$300 and US$800, depending on your area.
When can you apply for teaching jobs in China?
ESL jobs are available in China throughout the year, although the best time to apply will depend on the type of ESL job and school of your choice. You can start applying for teaching positions as early as April and again in November for most schools.
ESL teachers in China have to undergo an interview on the phone or via email before taking a teaching job in the country. It is essential to include the details of your TEFL certificate and experience in your CV to improve your chances of getting better salary negotiation and benefits.
Frequently Asked Questions
Can I teach English in China without a degree?
A degree is required to apply for a work visa to teach English in China. Therefore it is legally impossible to teach English in China without a degree. However, some teaching programs like the Teach China Public School Program organize teaching programs where individuals can teach English in China while still studying for a degree.
Where can I teach in China?
You can teach English in any city of your choice in China. The most important cities are the first and second-tier cities like Shanghai, Beijing, Shenzhen, and Guangzhou.
Do I need to know Chinese to teach in China?
You do not need to understand Chinese to teach English in China. You must speak English to ESL students to help them grasp the language faster, although you may want to learn some basic Chinese sentences to communicate outside with locals in your community.
How easy is it to get a teaching job in China?
Getting an English teaching job in China is very easy and quick. However, it is crucial to verify the school's reputation to which you are applying and ensure you have your work permit ready before leaving your country.
Can a non-native get a teaching job in China?
Yes. Non-native speakers who received their degrees from a native English speaking country can get a teaching job in China.
Fun and travel activities while teaching in China
China is especially famous for its variety of seafood, and if there is one thing you should not miss, it is the variants of Chinese cuisines. Alternatively, lovers of hiking, a trek on the Great Wall will be the best adventure as it is the first destination of most tourists to China. It is said that it took over 2,000 years to build the wall, and it has a total length of about 21,000 kilometers.
There is also the Panda Keepers Program in the Sichuan Province for the lovers of wildlife and nature. As an ESL teacher living in China, you can join the program and care for the endangered Panda species, which are generally beautiful and charming animals.
Another place to visit in China is the Li River in Guilin that is popularly known for its green mountains and very clear waters. This will be the perfect place to take a break from work once in a while and experience the calming effect of nature. For more adventure and thrills in China, you can learn Kung Fu, take a trip to experience the minorities in Yunnan, and participate in the Chinese New year Festival.