A Guide to Teaching English in Costa Rica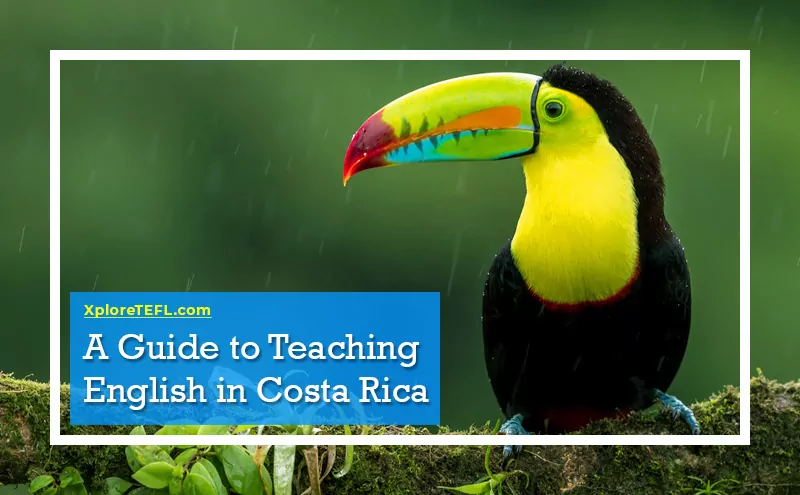 Are English teachers in demand in Costa Rica?
Costa Rica is one of the most popular destinations for English teachers looking to take up a teaching career in Latin America as the country is safe and offers an opportunity to earn and explore.
While Costa Rica is not necessarily the top job market for ESL teachers in the world, there are enough opportunities for ESL teachers in the calm and friendly environment with exotic wildlife and lots of adventures.
There are jobs for ESL teachers in private tutoring and language institutes where a lot of Costa Ricans seek to improve their English language. One reason these kind of jobs are common is because understanding and being able to speak English gives Costa Rican job seekers a competitive edge in the market and can help them land higher paying jobs.
There are also a lot of jobs to teach students in Costa Rican universities since most of the students prefer travel out of the country to seek better offers or further their education and need to learn English Language.
The highest demand for ESL teachers can be found in the Central Valley especially in San Jose and San Pedro. It is important to know that there are only a few jobs in the coastal cities so while you may be able to travel towards those cities for relaxation in your free time, you may not find a job or live along the coast in Costa Rica.
What are the requirements to teach English in Costa Rica?
The most important requirement to land an ESL job in Costa Rica is your internationally recognized TEFL/CELTA certificate and being a native speaker.  A degree is good but not necessary as most language schools in Costa Rica will not even request for it.
With a TEFL certificate in Costa Rica, the opportunities are endless. It is very easy to get a teaching job even from the institute where you take your TEFL course in Costa Rica. In addition to this, your TEFL certificate gives you a chance at better opportunities with international schools in the form of higher salaries and more benefits.
Check here to go through a detailed overview of the qualifications needed to teach English in Costa Rica.
Get a TEFL Certification Now!
What type of jobs are available for English teachers in Costa Rica?
It is more common to find English teaching jobs involving adult students than children in Costa Rica. This is because Costa Ricans are more likely to get better paying jobs once it appears on their resume that they can speak English thereby increasing the number of adult students seeking the services of English teachers.
Most other English teaching jobs for ESL teachers in Costa Rica come from private language schools, international schools and a few public schools especially in the capital, San Jose. You can also find opportunities to teach students around the University of Costa Rica and Universidad Latina located in San Pedro.
What is the salary for English teachers in Costa Rica?
ESL teachers in Costa Rica earn as much as $1, 100 in a month which is more than twice the average salary of a regular Costa Rican. This is in addition to several other benefits including work visa and paid vacations as well as health insurance and travel allowances.
With a TEFL certificate, you can get a job in an international school where you will most likely be given free accommodation plus your monthly salary and other benefits.
Can you save money while teaching English in Costa Rica?
The low cost of living in Costa Rica is one of the features that attracts ESL teachers. On an average salary of about $1, 000 as English teacher in Costa Rica, you can live a very comfortable lifestyle, travel, have fun and have enough to save after.
The average cost of living for English teachers in Costa Rica is about $500 including your food and transportation.
Accommodation Options: The average cost of accommodation in Costa Rica is about $300 per month. With this, you can get a decent and comfortable apartment without having to share. Although if you need to save up more, then you can always find someone to share an apartment with in Costa Rica.
What type of visa do you need to teach English in Costa Rica?
You need a work visa to teach English in Costa Rica and most employers will not only help you through the process but some will even take financial responsibility.
While it is important that you visit Costa Rica on a tourist visa to find teaching jobs and attend interviews, you should take note that teaching on a tourist visa in Costa Rica is unacceptable.
If you obtained a teaching job from outside of Costa Rica, you should visit the Costa Rica embassy or Consulate in your country with your employment details to begin application for a work visa. If you are in Costa Rica, you can submit application for a work permit at the Department of Immigration in San Jose with required documents including a copy of your TEFL certificate and a statement from your employer company.
It is important to keep in mind that while some schools in Costa Rica will be willing to sponsor your work visa fees, you may need to be in contract with them for longer. Most schools will not sponsor a teacher that is more likely to leave mid-session or in less than a year.
Hiring season and process for English teachers in Costa Rica
A major thing to note is the best time to apply for teaching jobs in Costa Rica. Usually, this should be done at the beginning of the school year as most schools will not hire new teachers in the middle of the school year. The peak times for hiring are between January and May and October and December.
Majority of Costa Rican language schools will require that you are in the country before they can take you for a job and there is a higher chance of getting a teaching job in Costa Rica if you attend your interview in person. Therefore, it is essential that you plan a trip to Costa Rica to find your dream teaching job.
Fun and travel activities while teaching in Costa Rica
Costa Rica is certainly a traveler's paradise and a favorite destination among tourists. With over 5% of the world's biodiversity, you will find lots of interesting wonders of nature to amaze you.
There are lots of fun things you can do in Costa Rica in your free time as an ESL teacher but I will list a few ones no one should miss. These includes exploring the rich volcanoes of Costa Rica, a famous one is Arenal whose beauty will blow you away especially at night.  A horseback adventure ride may be one of the most pleasurable memories you will have in Costa Rica. You can find lots of cowboys in Liberia and enjoy horseback riding while you experience the amazing wildlife and natural landscape crossing shallow rivers and small waterfalls.
For bird watchers, Costa is a perfect destination with an exotic variety of bird species and a higher number of birds than the USA and Canada put together. Some of the best places to do bird watching in Costa Rica includes the Montverde Cloud Forest and the Carara National park.
More thrilling adventures involve having a Costa Rican witch read you a tarot card, attending the annual oxcart festival also known as Dia do los Boyero and learning to dance the sensitising merengue and salsa dance.
Important cities in Costa Rica
The most important cities in Costa Rica are San Jose which is Costa Rica's capital and San Pedro.