A Guide to Teaching English in Cyprus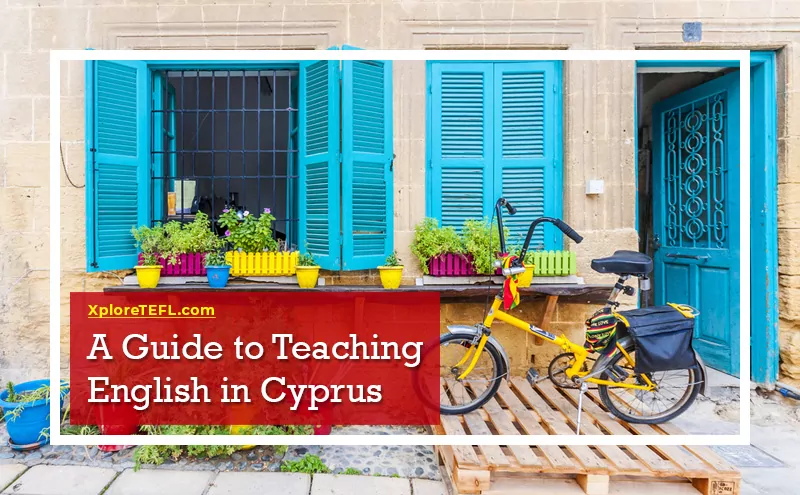 Are English teachers in demand in Cyprus?
Despite having a well-established public educational system compared to other countries, most of the ESL opportunities in Cyprus are in the private educational institutions than in the public schools.  
Volunteer teaching is also quite popular in Cyprus with a high demand for ESL teachers to teach English in orphanages and several other social institutions. Most of the ESL teachers in Cyprus find these volunteer opportunities very rewarding and take such jobs alongside a regular teaching job in a private institution.  
There are also a few opportunities to teach during the summer at Summer English Language camps in Cyprus usually between the months of June and July.
What are the requirements to teach English in Cyprus?
A TEFL certificate with about least two years of experience is essential to get a teaching job in Cyprus within a short period. Although private schools in Cyprus have varying requirements including a Bachelor's degree and in service teacher training course, a TEFL certificate will give you an edge in the competitive market.

In addition to helping you get a teaching position fast, a TEFL certificate in Cyprus is essential for the experience and expertise to teach foreign students and will greatly influence your salary and benefits as an ESL teacher in Cyprus.
Get a TEFL Certification Now!
What type of jobs are available for English teachers in Cyprus?
English teachers in Cyprus mostly teach students in private foreign language schools, including elementary and secondary schools as well as non-profit organisations and social institutions.  There are also private teaching opportunities where you can find students that need extra English tutoring classes.
If you take an English teaching job with a non-profit organisation, you will be teaching as a volunteer and may not necessarily need a certificate.
Although they are difficult to find, there are a few opportunities for ESL teachers in the public schools and government run programs in Cyprus.
The bulk of teaching jobs in Cyprus are found in Paphos, Nicosia, Limassol and Larnaca and most ESL students are children, adults, business professionals and private students.
What is the salary for English teachers in Cyprus?
Salaries for ESL teachers in Cyprus are dependent on your qualifications and years of experience and type of school you choose to work with. You will most likely earn about 1, 200 Euros with your TEFL certificate and an English teaching job in an international School.
On the average, ESL teachers in Cyprus earn between 800- 1, 200 euros per month with those in private international schools earning higher and enjoying more benefits.
Benefits for ESL teachers in Cyprus may include moving allowance, return airfare, hiring bonus and sometimes even education allowance for dependants.
Can you save money while teaching English in Cyprus?
The cost of living in Cyprus is considerably lower than that of the UK some other European countries. Although it might be a bit high for teachers on the lower end of the salary scale but this can be reduced by choosing what part of the country to live in.
Average cost of living is highest in the southern end of the country like Nicosia where most expats stay and lower in the less metropolitan areas. Your average monthly spending will also vary depending on your ability to budget and cut down on costs. Making your meals instead of eating in restaurants will save you a lot so also is sharing accommodation.
The cost of living is between 800- 1000 euros a month on the average.
Accommodation Options: A decent one bedroom apartment in Cyprus may cost up to 700 euros in the southern end and about 500 euros in other areas. While a number of international private institutions in Cyprus may offer settling or moving allowance to teachers, some ESL teachers in the country share a room with others to cut down on the amount spent on rent.
What type of visa do you need to teach English in Cyprus?
ESL teachers from the EU do not need a visa to stay and work in Cyprus for up to three months after which they will be required to obtain a registration certificate.
Usually, to get this certificate, you will be required to provide your proof of employment as well as evidence of sufficient funds to support yourself.
For teachers from Non-EU countries, a long term work visa is most suitable with at least one year validity. Here, you will need your employer to provide certain documents or letters to support your application.
Only a few schools will sponsor a Cyprus work visa for an ESL teacher and so you should ensure you have enough funds to secure your visa. Ensure you visit the Cypriot Embassy or Consulate your country for details of the Cypriot work visa requirements.
Hiring season and process for English teachers in Cyprus
English teachers in Cyrus find that the best time to apply for jobs is in September with the summer positions opening around June and July although the bulk of private job offers are open all through the year.
You can apply for a job online before moving to Cyprus but a typical job interview for ESL teachers in Cyprus happens in person and on rare occasions over the phone. As Greek is a widely spoken language in Cyprus, a knowledge of Greek will also help you during the hiring process.
Fun and travel activities while teaching in Cyprus
Something about Cyprus apart from its incredible scenery is the food.  Almost at every turn in Cyprus, you will find local restaurants serving variety of traditional delicacies especially the souvlaki shops with their delicious pork and gyros with beef.
Besides tantalising your taste buds, Cyprus will also will bring out the adventurous side of you with its numerous cultural, religious and nature festivals. One of these is Anthestiria of Flower Festival held in honor of the God Dionysus where exotic and colorful flowers are paraded.
Another interesting one is the Festival of floods with lots of merriment where people throw lake, river and sea water at each other.
Important cities in Cyprus
Most important cities for ESL teachers in Cyprus are Nicosia, Limassol, Paphos and Larnaca.