A Guide to Teaching English in Ecuador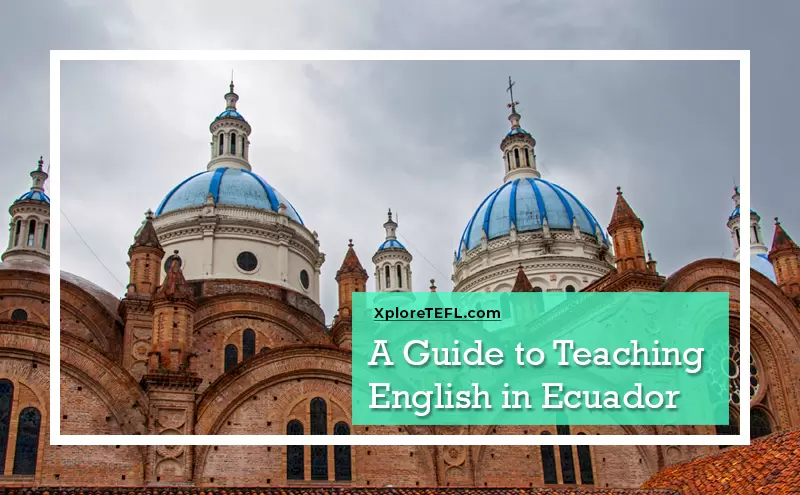 Are English teachers in demand in Ecuador?
The demand for foreign languages especially English is quite high in Ecuador and it creates one of the leading source of employment for most expats in the country.
Since most of the Ecuadorian language schools are modelled on the Western teaching methods, it's easier for English teachers to settle in and enjoy lots of flexibility in teaching methods and planning. The additional wages and opportunities for private tutoring allows ESL teachers in Ecuador to live comfortably.
While you will find the highest demand for TEFL teachers in Ecuador in the private language schools and universities around major cities or even online, you should not expect to find better paying jobs in the smaller cities.
With special preference for ESL teachers with TEFL certificate, the best teaching opportunities can be found in Quito, Guayaquil and Cuenca. These three cities are also the favorite destinations for English teachers in the country and you can enjoy interacting with other expats and foreigners throughout the country.
Business English makes up better paying teaching prospects in Ecuador and if you have a master's degree in addition to your TEFL, then you should focus on getting a position in university.
What are the requirements to teach English in Ecuador?
While a TEFL certificate is completely necessary to get better ESL jobs in Ecuador and is the minimum requirement across various institutions, a degree on other hand is not required. However, having a degree helps to increase your chances as most employers prefer more qualifications.  
It is also important to note that different institutions in Ecuador may have specific requirements. To teach in Ecuadorian public schools and the private international schools, ESL teachers are required to have a TEFL certificate, previous experience and a teaching license from your home country.
University teaching jobs require much higher qualifications including a master's degree as well as previous experience.
Get a TEFL Certification Now!
What type of jobs are available for English teachers in Ecuador?
The majority of ESL job types in Ecuador can be found in private language academies, private schools, universities, the tourism industry, government sponsored programs and private teaching classes.
Most teachers in Ecuador work at independent language schools like private institutions, language institutes, universities and public schools. There are also full and part time job schedules available and you may be teaching children, university students or adults.
These are in addition to the abundant opportunities you can get as a translator (if you understand both Spanish and English) or as a private teacher especially of business English.
An amazing attribute of ESL students across the different job types in Ecuador is their willingness to learn English language ad to teach their local language to foreign teachers.
What is the salary for English teachers in Ecuador?
Qualifications like the TEFL certificate affect the salary level for English teachers in Ecuador dramatically. ESL teachers without a TEFL certificate or previous experience may find it more difficult to land higher paying jobs in Ecuador.
The average salary for ESL teachers in Ecuador is between $450 to $1, 000 per month and may come with benefits such as health insurance and help in obtaining work visa.
Although salary in Ecuador is not as high as many other ESL destinations in Latin America but the advantage lies in the low cost of living in Ecuador. With the average salary, ESL teachers in Ecuador are able to live comfortably and break even.
Can you save money while teaching English in Ecuador?
The cost of living for ESL teachers in Ecuador is largely affected by the individual lifestyle as well as choice of city.
Guayaquil, the country's commercial capital, currently tops the list as the most expensive city to live in followed by Quito, the Capital and then Cuenca.  On the average, the cost of living for English teachers in Ecuador is between $400 to $800 per month.
Accommodation Options: Accommodation cost is cheap in Ecuador and vary depending on the closeness to city center.  You can get a decent one bedroom apartment for about $400 in the city center and $300 in areas farther away from the city.
What type of visa do you need to teach English in Ecuador?
ESL teachers can travel to Ecuador on a tourist visa for a period of 90 days during which they can search for a teaching job and explore the country. However, a work visa is required to be able to tech in Ecuador.
As soon as you are offered a teaching job in Ecuador, you can begin the process of getting a work visa while you are still in the country although the process is easier if carried out at the Ecuadorian embassy in your home country.
A lot of schools in Ecuador also render assistance to ESL teachers in obtaining a work visa to the country. Employers usually assist ESL teachers in gathering all necessary documents required to obtain a work visa in Ecuador so you can begin teaching. These includes letter of appointment, certificates and your CV.
Hiring season and process for English teachers in Ecuador
Boasting of a wide array of teaching opportunities, Ecuador has peak seasons when schools hire the most. The hiring season for English teachers in Ecuador is at its peak in February /March and then in July/August regardless of the type of institution.
For private teaching classes, you can advertise your services in Ecuador all year round.
The culture in Ecuador teaching institutes adopts the in person interview method in the hiring process as schools will normally interview teachers before hiring.
In order to apply, you can consider the less popular option of applying to schools online or through online ESL job boards but its best to appear in person or go locally from one language school to the other with your CV.
Fun and travel activities while teaching in Ecuador
Due to the numerous fun activities to engage in and places to visit in Ecuador, there is always enough relaxation and adventurous activities for ESL teachers during their holidays.
Ecuador's Galapagos Island is one of the top destinations for a relaxing period anytime of the year. There are opportunities to take a cruise of the Island during the day and experience the amazing sunset in the evening.
For a more adventurous option, ESL teachers in Ecuador can consider mountain biking or climbing the snow-capped Cotopaxi Volcano, one of the most famous volcanoes in the country. In addition to this, there is the Otovalo market, the largest in South America and famous for the amazing variety of beautiful souvenirs and items to shop.  
If you cannot afford to visit Brazil to explore the Amazon, then Ecuador will be a great alternative to explore the rain forest. Regarded as one of the cheapest paces to explore the great Amazon jungle, Ecuador offers lots of exciting opportunities to see the wildlife and natural wonders of the Amazon forest.
Other fun activities are spread about the country like some white-water rafting, volcano climbing and paragliding in Banos where it is often said that you can see red lava atop the volcano when it is actively erupting.
Important cities in Ecuador
Teaching jobs for ESL teachers in Ecuador are mostly found in the capital, Quito, Cuenca, and  the commercial capital, Guayaquil.