A Guide to Teaching English in France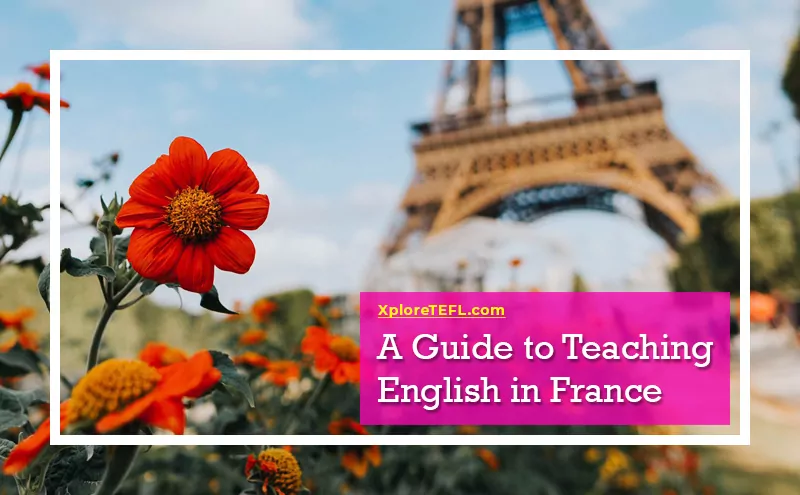 Are English teachers in demand in France?
There is a high sequence of opportunities for English teaching in France and the demand for ESL teachers with TEFL certificate is fairly constant across the country with over 500 language schools in Paris and a host of opportunities on the internet and in the papers.
Although French is a medium of instruction in higher institutions in France, for a number of years now, efforts have been made to embrace English language. Also, since the first language of business is English and over 30 percent of foreign language speakers in the country speak English, there are more English teaching jobs in France and ESL teachers now have a degree of security in the country while they enjoy the new experience.
Apart from opportunities in language schools and freelance private tutoring, a number of international companies also require the services of an English teacher for their staff to aid proper communication with trade partners and international clients.
In addition to building a fulfilling career, taking a TEFL/CELTA certificate in France to teach English is one of the easiest ways to live in the country and explore the beauty in its history and culture without necessarily having to learn the French language.
What are the requirements to teach English in France?
ESL teachers in France require a TEFL or CELTA certificate to be able to get English teaching offers in the country. With the exception of private tutoring opportunities and the Teaching Assistant program in France (TAPIF), other language institutes or schools in France will require that you have a TEFL certificate.
Apart from the TEFL / CELTA certificate, you also need to have a Bachelor's degree to find English teaching jobs easily in France. Even though degree in English may give you an edge over other applicants, your course of study is highly irrelevant to your hiring prospect.
It is also important to take note of your performance during interviews as some schools in France may prefer a demonstration of your experience and expertise over the display of your certificates. Despite this, a TEFL certificate is highly recommended if you intend to stay permanently in France or explore other ESL destinations in the future.
Get a TEFL Certification Now!
What type of jobs are available for English teachers in France?
France has different types of English teaching opportunities spread across its education system such as private institutes, companies, public primary and secondary schools as well as universities. Most ESL students in France are adults with the exception of school children which you may find while teaching on a freelance basis or in public primary schools.
There are also opportunities for TEFL teachers to find employment through the Teaching Assistant Program in France (TAPIF) and online tutoring. Through TAPIF, ESL teachers in France can find opportunities as teaching assistant in public primary and secondary schools across the country.
In addition to this, applicants must be between ages 20 to 35 and should be fluent in French. TAPIF is overseen by different bodies including the French Ministry of Education. The contracts last about seven months starting in October through April.
What is the salary for English teachers in France?
Starting wages for ESL teachers in France is a little above the minimum wage. The range is about EUR 14 - EUR 22 per hour or EUR 800 - EUR 2,000 per month on the average.  Private schools usually pay the highest while the public schools are on the lower range.
Considering the cost of living, the salary of an average English teacher in France is just enough to break even except when combined with private teaching jobs to enable some savings.
A popular benefit for ESL teachers in France is the long paid holidays although not all school pay during the holidays. With the exception of this, language schools in France do not offer many other benefits.
Can you save money while teaching English in France?
Location is highly important when considering the cost of living in France. Due to the country being a highly tourist area, some of the best tourist destinations and cities have a higher cost of living than other areas although the cost of living is generally high in the country.
Also, individual lifestyle affects the cost of living in France as cooking at home is definitely cheaper than frequenting restaurants.
Cities like Paris and Lyon have the highest cost of living in France while Toulouse, Bordeaux and Lille are much lower. The cost of living is about to EUR 800 - EUR 1,500 a month on the average depending on the city and your lifestyle.
Accommodation Options: Employers in France hardly offer accommodation or other such benefits to ESL teacher in the country and this leads to quite an expense for most teachers as rent is fairly high across the country.
Most ESL teachers take shared apartments or move into rooms previously vacated by a teacher. A single bedroom apartment may cost between EUR 500 to EUR 1,000 depending on the closeness to the city or a tourist attraction area.
What type of visa do you need to teach English in France?
Having a work visa is very crucial for ESL teachers to be able to teach English in France. France offers a variety of visas for which you can apply and this will vary based on the type of school of English teaching job you obtain.
English teachers accepted into the TAPIF program find obtaining a visa very easy since the program is supported by the French government and will assist in the visa application process. Also, EU nationals do not need to bother with work permits or visas.
However for the non EU ESL teachers, you will be required to begin the process of obtaining a work permit once you are offered a job in France. On rare occasion, schools will sponsor this process but usually they only just help with the application process. Usually, your application is done by your employer and sent to the French immigration office where it is forwarded to the French embassy of your home country where you will have to visit to complete the application process.
Another option is to obtain a student visa in France that allows you to work for about 20 hours a week while you study in the country.
Hiring season and process for English teachers in France
The peak hiring periods for English teachers in France is in June through July when schools hire new teachers in preparation for a new school year in September.
You can begin your application in July but you should avoid waiting till August as most schools will be on break by then and would hardly reply mails related to work.
ESL teachers can also apply in September and October and again in January or search private teaching opportunities that can be found throughout the year.
Interviews for ESL teachers in France are typically done in person. You may apply for a job over the internet but you most certainly will be interviewed once you arrive in the country.
The interview is the most crucial part of the hiring process and you should be able to convince your employers that you have the experience and can handle teaching foreign students effectively through a pragmatic approach to teaching, you are more likely to get a job without any emphasis on your certificates.
Fun and travel activities while teaching in France
No doubt Paris is a top tourist destination in Europe and a must visit for ESL teachers in France. The city is a striking combination of centuries-old and sophisticated modern European metropolis and offers a wide variety of activities and adventures.
You can explore the Eiffel Tower, the symbolic structure of the city and climb to the summit, visit the Louvre Museum which is the most visited art museum in the world, the Arch of Triumph, Champs Elyse and take an exciting cruise on the famous River Seine. Not to forget the bubbly Canal Saint Martin and also the Palace of Versailles all in Paris.
For nature based adventures and to experience an amazing landscape, visit the countryside of Provence, which provides a total contrast to Paris with its beautiful earthy appeal and a vast land covered in sunflowers, olive groves, lavender and some other herbs used in the preparation of varieties of food.
The entire beautiful landscape creates an inspiration for artists and a relaxation site for tourists. Another amazing natural spot is the Cote d'Azur, a coastline of the Mediterranean with thrilling blue waters, there is Normandy, Brittany and the Alsace region among many others.
Important cities in France
Paris, Lyon, Marseille, Bordeaux, Le Havre and Toulouse are the most important cities for ESL teachers in France.