A Guide to Teaching English in Georgia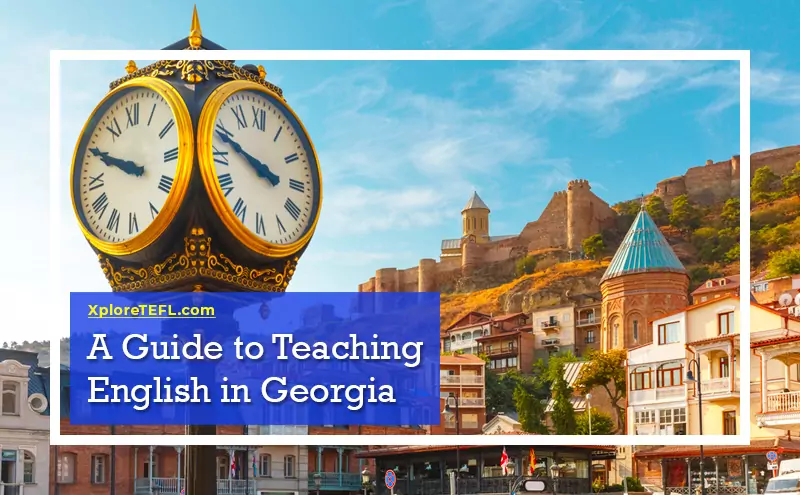 Are English teachers in demand in Georgia?
There is always a demand for English teachers in Georgia most especially ESL teachers with a TEFL certificate in the country.
Although, Georgian is the most widely spoken language in the country, the use of English has gained popularity among locals. This could be largely attributed to the prioritization of English language by the Georgia Ministry of Education to sustain the country's economic growth since Rose Evolution 2003. Consequently, natives are always glad to see ESL teachers teach in Georgia and Tbilisi in particular.
The increasing number of students looking to write International English tests such as IELTS and TOEFL in a bid to study abroad have opened up private tutoring opportunities for ESL teachers with TEFL certificate in Georgia.
With several locals trying to boost their chances of landing International jobs, adults in Georgia are also starting to take up English classes to fit into the league of technicals required for such jobs.
What are the requirements to teach English in Georgia?
The best teaching offers in Georgia are made available for ESL teachers who have a minimum of a TEFL certificate and a Bachelor's degree.
Although the minimum teaching requirements greatly depend on the program or school you hope to teach, generally the requirements needed for an English teaching position in Georgia include native level fluency in the language, clean nationwide criminal record check (CRC), a Bachelor's degree or college diploma and a TEFL certificate in Georgia.
In addition to a TEFL certification, International schools and private schools require accreditation as a teacher and prior teaching experience for their ESL employees. However, it must be noted that no matter your qualifications or experience you must be certified by the Georgia Professional Standards Commission (GaPSC) if you wish to teach in Georgia.
Get a TEFL Certification Now!
What type of jobs are available for English teachers in Georgia?
ESL teachers will usually work alongside local English teachers under the Teach and Learn with Georgia (TLG) program in public schools across the country.
The Teach and Learn with Georgia (TLG) is a reform by the government allowing for cultural exchange between Georgia and the rest of the world.
Volunteer teachers across Georgia can teach middle and elementary schools students in teaching placements all over the country.
ESL teachers with TEFL certificate in Georgia can also take private lessons and  teach in any of international, private schools and universities in Georgia.
What is the salary for English teachers in Georgia?
The teaching jobs available to most ESL teachers in Georgia is volunteer work. Volunteer teachers in Georgia usually earn between $150 and $300 per month which is only a little short of the average income of the country which is put at $400. Note that ESL teachers can take up other side jobs such as private lessons where they can earn up to $30 on a private student per session.
Teaching jobs in Georgia offer a range of benefits including airfare and accommodation. Volunteer ESL teachers are put up with host families and events and excursions to points of interest are arranged for them.
ESL teachers staying two semesters get paid holiday days outside of the normal school calendar year with a round trip ticket on a one year contract.
Can you save money while teaching English in Georgia?
The cost of living in Georgia is relatively low and ESL teachers would earn just enough to break even if they lead a moderate life or even save if they take up extra teaching jobs like private lessons. On the average, the cost of living for ESL teachers in Georgia is about $280.
Accommodation Options: ESL teachers in Georgia are usually provided accommodation with a host family who can help them with learning the cultures of the country. However, a substantial fee is usually paid to the hosts which is about $60.
ESL teachers can also opt to rent houses on their own or pair up in an apartment (shared accommodation). In general, a house in the city center costs about $323 and $190 outside the city center.
What type of visa do you need to teach English in Georgia?
ESL teachers can teach in Georgia on a tourist visa although a work visa is required to teach legally. Usually, teachers in Georgia start teaching on a tourist visa while their employers help to sponsor a residence permit as time goes on.
Teachers can get a long term visa valid for up to a year which will give them the opportunity to apply for a residence permit in Georgia. It should be noted that citizens of Commonwealth countries and those with a Schengen visa can enter the country without a visa.
The required documents for obtaining a visa to Georgia includes a valid passport, an evidence of clean nationwide Criminal Record Check known as CRC, a medical test clearance as well as certificates that show teaching qualification such as degree and TEFL certificate.
Hiring season and process for English teachers in Georgia
Although, the peak hiring season for ESL teachers in Georgia are in January and April, ESL teachers are indeed hired all year round.
Schools could recruit teachers in advance over Skype and phone calls while some schools have a preference for physical interviews. It is indeed easier to land an English teaching job when on ground.
For private lessons, most of the teaching opportunities are gotten through recommendations and word-of-mouth.
Fun and travel activities while teaching in Georgia
As an ESL teacher in Georgia, there is plenty of time to explore and visit beautiful sites. You could easily tour the streets in the afternoon, admire the country's eclectic architecture with influences from the Middle East, Byzantine, and neoclassical European styles.
For a perfect feel of nature, the Callaway garden, north of Columbus on Pine Mountains is a perfect destination.
The garden features many plants and fauna, artificial lakes and a butterfly house. Teachers can also visit the famous chain of four barrier islands called the Golden isles which offer its visitors unique boutiques, coastal cuisine and boating activities.
If you're a lover of night life, you will find the most amazing experiences in Georgia. You can take a trip to Batumi for a date with International Disk Jockeys as you rock your body to the tune of pleasant and alluring mixtapes.
Important cities in Georgia
Most ESL teaching opportunities exist in the capital city of Tbilisi, however, some ESL opportunities are also available in Batumi.