A Guide to Teaching English in Hong Kong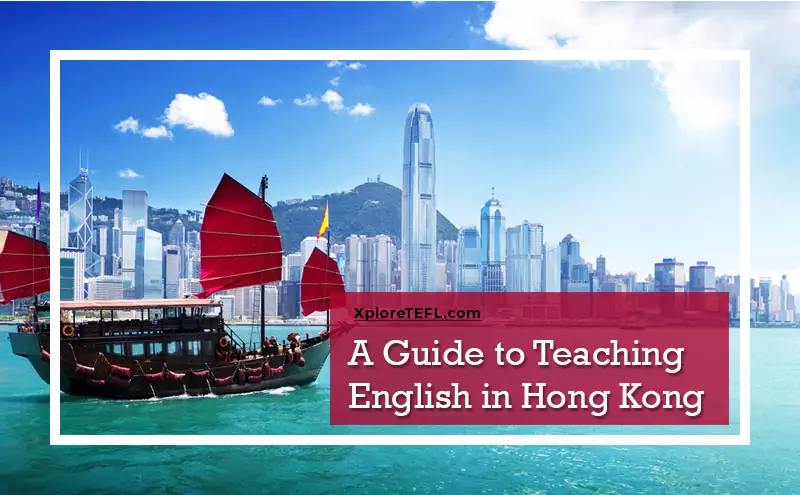 Are English teachers in demand in Hong Kong?
Hong Kong is largely referred to as the best ESL teaching destinations with the most lucrative salaries in the world. ESL teachers with TEFL, TESOL or CELTA certificate in Hong Kong have access to lots of benefits including paid holidays, health insurance and roundtrip airfare in the country.
There is a wide variety of opportunities for English teaching in Hong Kong as a result of the government's resolve to enhance the teaching of English language in schools as a means of empowering its youths and exposing them to better life opportunities.
The NET scheme run by the government provides opportunities for ESL teachers in both the the primary and secondary school levels and offers salaries as high as USD8,000 a month.
Although it is important to keep in mind that Hong Kong has been labelled one of the most expensive cities of the world to live in, ESL teachers in the city are still able to live comfortably and save within a well-planned budget.
What are the requirements to teach English in Hong Kong?
A well-recognized TEFL, TESOL or CELTA certificate and a bachelor degree in any discipline is required to teach English in Hong Kong.
The best paying jobs which are usually found in the government run institutions most often require experience and sometimes a teaching license in addition to your TEFL certificate and a degree.
Private language schools in Hong Kong, on the other hand, do not necessarily require a TEFL certificate or teaching experience although they offer less attractive salaries and can be quite difficult to find.
Get a TEFL Certification Now!
What type of jobs are available for English teachers in Hong Kong?
Hong Kong is an exciting city with different types of English teaching opportunities all over the country. The most common types of teaching jobs are offered by the Hong Kong Education Bureau with several openings for teachers through the popular NET (Native- speaking English Teachers) scheme.
The NET scheme is divided into two, the Primary English Teacher scheme popularly known as the PNET scheme where teaching jobs are available in the government controlled public primary schools and the secondary teaching opportunities referred to as SNET with jobs in secondary schools.
There are also opportunities for private tutoring, business English and in the small scale private language schools. Most ESL students in Hong Kong include the early childhood, elementary, middle and highs school students.
What is the salary for English teachers in Hong Kong?
There is high job security for ESL teachers in Hong Kong and the highest average salaries across the world for English teaching jobs.
Although ability to save is dependent on personal budget and spending style, the average salary of an ESL teacher in Hong Kong is enough to live a comfortable lifestyle, travel, explore the thrilling city and save.
ESL teachers in Hong Kong can earn as much as USD8,000 per month depending on their certificate, level of experience and the type of school.
In addition to the salary for ESL teachers in Hong Kong, most schools provide help with obtaining accommodation and teachers enjoy about four weeks of holiday with the possibility of receiving a completion bonus at the end of the contract.
Can you save money while teaching English in Hong Kong?
Hong Kong is currently one of the three most expensive cities in the world although like most other cities, the cost of living in Hong Kong is still related to the closeness to the city center, individual's lifestyle and ability to budget.
For most ESL teachers, the average salary gives room for a convenient lifestyle with the ability to save a little over the year.
Central and Mid-level Hong Kong are the most expensive to live in while downtown Hong Kong is less expensive. The cost of living ranges between to USD2,500 - USD6,000 a month depending upon your lifestyle and preferences.
Accommodation Options: Language schools in Hong Kong do not usually offer accommodation benefit to teachers although the government run schools may provide some accommodation allowance.
Due to the variation in house rent over the city, it is important for new ESL teachers to take their time in finding the best deals before deciding on a place to stay.
For a few weeks on your arrival to Hong Kong, you could find a decent place through Airbnb before taking a permanent place of your own. This will help you survey the area, connect with people and maybe uncover some hidden accommodation deals.
A modest one room apartment may cost between USD1,200 downtown Hong Kong or up to USD5,000 if you choose central Hong Kong. Sharing apartments is a very common and good way to cut down on rent in Hong Kong.
What type of visa do you need to teach English in Hong Kong?
In order to teach English in Hong Kong legally, ESL teachers are required to obtain a work permit or visa.
While you cannot work without a valid work visa in Hong Kong, you can travel on a tourist visa to find a job, get a teaching position and then proceed to apply for your work visa while still in the country.
This way, your employer will act as your sponsor (this does not necessarily mean they would pay for your visa) and provide all necessary documents including you offer letter and proof that your position cannot be held by a local. Typically, your professional certificate TEFL/CELTA or TESOL) as well as a degree is required to obtain a work visa in Hong Kong.
If you applied for and got a teaching job in Hong Kong online, your employer will need to file an application for you and once this is approved, it will be sent to the consulate in your country when you can finish up the application process and obtain a work visa to travel to Hong Kong.
Once you have worked and lived in Hong Kong for about seven years, it is possible to apply for a permanent resident permit in the country.
Hiring season and process for English teachers in Hong Kong
Hong Kong is an active hub for English teaching expats all year round but the peak hiring season is in May and June for summer schools and next school year.
ESL teachers can find teaching opportunities in major newspapers and online for the big schools.
If you are interested in the small scale private schools, you should try to visit schools physically with your CV. There are varying contract lengths from nine months to two years depending on schools.
Interviews for ESL teachers in Hong Kong take place mostly over the phone or via Skype and teachers should be willing to provide convincing answers on their experience and passion for teaching especially for early childhood teaching jobs.
Fun and travel activities while teaching in Hong Kong
Hong Kong is a very beautiful city with a picturesque landscape that attracts tourists all over the world. The city has a wonderful collection of Islands with a lot of charm and a wide array of attraction sites.
A bucket list of fun things and travel activities to engage in Hong Kong should include a ride across the Central – Mid Levels Escalator, which is the longest outdoor escalator in the world with lots of amazing stores and dining spots along its corridor. The escalator links the Central and Western district of Hong Kong and is a famous tourist attraction site.
If you love a lively party, then your next stop should be the Lan Kwai Fong, the nightlife hub of the city that has earned its spot as the top party zone in Hong Kong where you can have a taste of delicious Asian cuisines or take a Karaoke. Then there is the Junk boat ride where you can see the Hong Kong Stars and get a skyline view of the city through the Victoria Harbour.
Other places to visit in Hong Kong includes The 10,000 Buddha Monastery in Po Fook Hill Mountains and The famous Temple Street Night Market. Things to do include tasting the Hong Kong snake soup, climbing the biggest Buddha and hiking the Dragon's Back.

However, to save the best for the last, you should visit the Peak, the jaw dropping view of the entire Hong Kong landscape from the Peak will leave with breathless moments and unforgettable memories.