A Guide to Teaching English in Hungary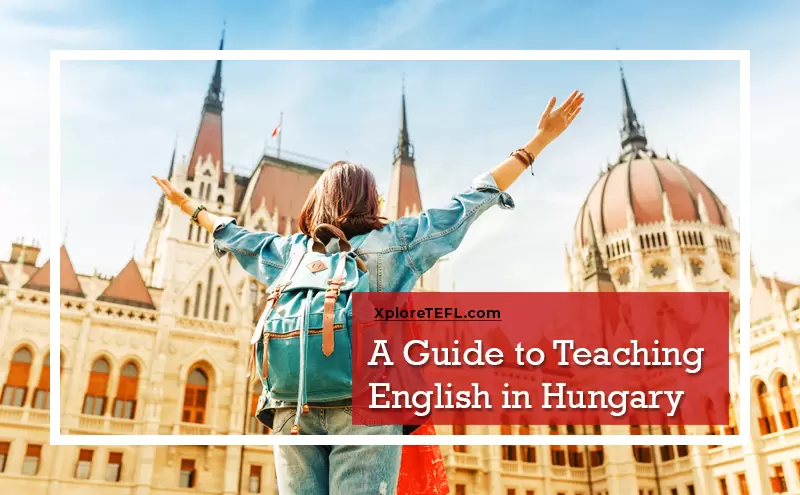 Are English teachers in demand in Hungary?
English language teaching jobs are in high demand in Hungary, especially for native English speakers who hold a TEFL or CELTA certificate. Since the admission of Hungary into the European Union in 2004, the country has experienced an increase in its international development, hence a rise in demand for Business English learning.
You will easily find vacancies in cities and rural areas in Hungary although there are fewer opportunities in the rural areas and countryside.
Budapest, the country capital holds the highest number of jobs with opportunities across all levels including primary and secondary schools, colleges, universities as well as private language institutes. There are also organisations that recruits teachers to be posted in various schools across the country.
ESL job market in Hungary offers great career changing opportunities for English teaching expats so whether you intend to work for a short while and gain some experience or stay in Hungary permanently, there are lots of opportunities available to you.
What are the requirements to teach English in Hungary?
To teach English in Hungary, you need a university degree (B.Ed./ BA/ BS) or a college certificate as well as an internationally recognized TEFL/TESOL certificate especially for most of the language schools.
For Hungarian colleges and universities where the salary range is usually on the higher side, additional requirements such as a Ph.D. or Masters is necessary.
Most of the smaller language schools, newly established institutes and those in local areas do not necessarily require certificates and native speaking is sufficient although the pay is typically very low.
Get a TEFL Certification Now!
What type of jobs are available for English teachers in Hungary?
There are different types of English teaching jobs in Hungary for ESL teachers. There are opportunities in public education system such as the primary and secondary schools, the colleges, universities, there are also chances with some organisations as well as private language schools in the country.
One popular organisation is the Central European Teaching Program known as CETP. This education program offers teachers ESL jobs in schools outside of Budapest and is best for those who do not like the hustle and bubble of the big cities. Participants of the CETP are hired for a 10-month contract, must be at least 21 years old and may also be offered opportunities in Romania.
Most of the ESL jobs in Hungary provide teachers with full-time opportunities except for the private language institutes that offer short term contract of about six months. ESL students are typically children and adult's learners like university students and business professionals.
What is the salary for English teachers in Hungary?
The average salary for ESL teachers in Hungary is between USD 900 to USD 1,000 per month, enough to cover the monthly cost of living and leave a few extra cash to travel the country and enjoy the wine and local dishes.
It is possible to have two or more teaching jobs in Hungary since most private language institutes offer part time jobs and teachers may also take private lessons to enhance their income.
For ESL teachers accepted into the CETP program, the average salary is about USD500 although it comes with accommodation benefits, health insurance as well as work visa procurement assistance.
Bear in mind that except for the CETP program, most other ESL jobs in Hungary will not provide accommodation or cover any other costs although some schools may offer a housing allowance.
Can you save money while teaching English in Hungary?
The cost of living in Hungary is generally lower that of most European countries. However, what you spend may vary depending on your budget size and ability to plan as well as the part of Hungary you choose to live in.
The cost of living is about USD 600 minus rent and Budapest remains the most expensive city in the country to live in.
Accommodation Options: More recently, there has been an increasing demand for accommodation in Hungary and so rent is no longer as low as in the past. Accommodation accounts for a large percentage of your cost of living in Hungary with a regular room apartment costing between USD 400 and USD 500 a month depending on its closeness to the city center.
Part from the rent, you will also be required to pay what is called a "common cost" which covers utilities, such as electricity, cleaning and bin collection. Average "common cost" is about USD 50.
What type of visa do you need to teach English in Hungary?
A work visa is necessary for ESL teachers to teach legally in Hungary if especially for those who are nationals of a non-EU country.
For teachers in special organisations or programs such as the CETP, the organisation takes care of the entire application and processing and the teacher only needs to visit the Hungarian Embassy or the consulate in their country to obtain their visas.
ESL teachers who are employed b regular schools or the private language institutes will have to apply for their work visa on their own although most schools will assist in the process.
The process of obtaining a work visa in Hungary involves a lot of official paperwork, so you should be prepared to provide several documents including your certificates, passport, and medical exports showing that you are free of certain communicable diseases well as letter of employment or contract evidence.
Hiring season and process for English teachers in Hungary
Although opportunities for English teachers in Hungary are available throughout the year, the best time to apply for teaching jobs is between September and January as the school year typically begins in September and ends in June.
The hiring process in Hungary is mostly done face to face especially for the private language institutes although for the CETP, you may apply prior to visiting the country.
Apart from an in person interview, ESL teachers in Hungary may also be required to undergo a trial teaching which may last between one and eight hours.
Fun and travel activities while teaching in Hungary
Hungary, especially Budapest, its capital city has a lot of interesting activities for ESL teachers to engage in as well as places to visit.
The Grand market Hall in Budapest is one of the most famous out of all of Hungarian Markets and is located close to the banks of River Danube. The Danube River itself is a popular tourist destination with the enchanting view of its embankments as it flows about 15 miles across the city.
There is also the Buda Castle and the Dohany Street Synagogue which is the largest synagogue in the world outside of Israel. The Synagogue was restored in the 1990s after the original building was bombed during the World War II. 
Known as the birthplace of spa, you will find the most amazing destinations for relaxation and pampering in Hungary. The Cave Bath at Miskolc-Tapolca is a natural cave that is considered very rich in minerals and remains at a temperature of 30 degrees centigrade all year round.
Hungary is also famous for its wines and so you should not miss an opportunity to visit any if the wine regions and experience the delightful tastes of Hungarian wines.
Important cities in Hungary
The most important city for ESL teachers in Hungary is the capital, Budapest.