A Guide to Teaching English in Indonesia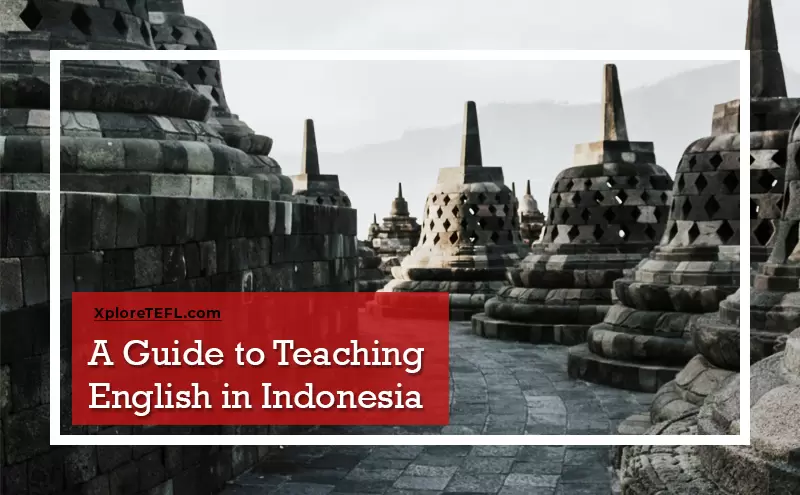 Are English teachers in demand in Indonesia?
For several years, the capital city of Indonesia, Jakarta has been the hub of development and rapid economic growth thereby making English language popular and opening up several opportunities for ESL teachers in the country.
The numerous Islands of Indonesia that attracts a lot of expats also collectively create a growing market for ESL teachers with its great influx of tourists year in year out and an increasing number of ESL students willing to learn and improve their English Language skills.
Although Indonesia was formerly a Dutch colony, the Dutch Language study has long been replaced with English and this has since become a compulsory subject starting from the elementary schools. However, most of the ESL opportunities are concentrated in private and international schools since the government hardly has enough reserve for foreign English teachers.
Apart from opportunities in private language schools, language centers, NGOs and private tutoring, a number of after-school centers also require the services of an English teacher and these generally pay the teachers enough to support a comfortable lifestyle in the country.
What are the requirements to teach English in Indonesia?
The major qualification needed for ESL teachers in Indonesia is a bachelor's degree and the TEFL or TESOL certificate.
For some language centers like the English First that post teachers to various schools across the country, experience is not required and you can get a position irrespective of your university study background.
It is important to not however that for most schools in Indonesia, salaries are dependent on qualifications, experience and the location and so having a TEFL certificate gives you a better chance at getting a good paying job with benefits.
In addition to getting you better opportunities, a TEFL certificate in Indonesia is also a welcoming opportunity for ESL teachers to inspire and get inspired by the eager students always willing to learn and share.
Get a TEFL Certification Now!
What type of jobs are available for English teachers in Indonesia?
Indonesia has different types of English teaching opportunities spread across its education system. These include the international and private language institutes, private schools as well as universities.
Although Indonesia has public schools, there are barely any opportunities for ESL teachers as the government can hardly fund foreign teachers.
There are also opportunities for TEFL teachers to find employment through the language centers such as English First and NGOs operating in the field of language studies and ready to hire ESL teachers in Indonesia. Through English First, English teachers in Indonesia can find opportunities to teach students at different levels all over the country.
ESL students in Indonesia are usually a wide variety covering all ages from young children who are just starting school to adults learning English to get better opportunities in their careers or business.
What is the salary for English teachers in Indonesia?
Although Indonesia does not have the highest wages for ESL teachers in Asia, the calm lifestyle and beautiful landscape are enchanting and draw teachers from all over the world.

Wages for ESL teachers in Indonesia ranges between USD 700 to USD 1,200 per month. Private and international schools usually pay the highest while other language schools are on the lower range.
There are a few benefits such as airfares, housing allowance and health insurance available for ESL teachers in Indonesia in some cases specially the English First.
Can you save money while teaching English in Indonesia?
The cost of living in Indonesia is relatively cheap, and ESL teachers can live comfortably on an average salary. Some cities have a higher cost of living than other areas although the cost of living is generally low across the country.
Cities like Bali and Jakarta have the highest cost of living in Indonesia while Surabaya and Bandung are much lower. The cost of living is about to USD 800 a month on the average depending on the city and your lifestyle.
Accommodation Options: Rent in Indonesia is generally inexpensive, and a number of ESL employers in Indonesia will assist teachers in getting apartments and may also offer a certain monthly housing allowance.
Most ESL teachers take shared apartments or move into rooms previously vacated by a teacher. A single bedroom apartment may cost between USD 200 to USD 300 depending on the closeness to the city center.
What type of visa do you need to teach English in Indonesia?
ESL teachers in Indonesia are required to obtain a wok visa to teach English in the country and they are usually solely responsible for obtaining the visa.
The requirements for obtaining a work visa in Indonesia usually referred to as KITAS includes a complete visa application form, evidence of job offer, valid passport as well as documents to be provided by the employer.
Teachers are expected to have TEFL or TESOL certificate to be granted a work visa to teach English as a foreign language in Indonesia.
It is important to note that citizen of USA, Australia, Canada, Britain, New Zealand and South Africa are given utmost preference for work visas in Indonesia.
Hiring season and process for English teachers in Indonesia
Education programs in Indonesia hire ESL teachers all year round although there are peak hiring periods some times in the year depending on the school year.
A typical school year in Indonesia begins in the middle of July and ends in the middle of June with a break in December.
Interviews for ESL teachers in Indonesia can be done over the phone or in person and you may apply for a job over the internet or physically.
The interview questions range from questions on classroom management and issues relating to learners and their parents. Your passion for teaching as well as how you intend to build a relationship with your students and their caretakers may also be questioned.
Fun and travel activities while teaching in Indonesia
Indonesia is a very diverse country with variations in culture, landscape and scenery leaving teachers with lots of incredible places to visit and explore.
The country has over 17,000 islands and 300 ethnicities spread across its northern and southern parts and with several kilometres of coastline.
Sun soaked Islands such as Bali, Sumatra and Java are famous destination spots for tourists from all over the world. The most famous of them is Bali with a colorful nightlife, Hindu temples, surfing and its infamous scuba diving. Teachers can visit Bali during the holidays for an amazing vacation and relaxation period.
The Borobudur Temple located in Java is the world's biggest Buddhist sanctuary of the 9th century and is an important place to visit in Indonesia. You can explore the stunning beauty of the temple as it reflects the history of the ancient religion in its fascinating stone carvings, ornaments and architecture.
The Komodo National Park in Indonesia is the place to visit for ESL teachers who love nature based adventures and want to see some of the most amazing creatures on earth like the mighty lizard, Komodo, There is the incredible natural landscape with magnificent hills, breath taking underwater wildlife, lush vegetation and the famous pink sand beach and also Raja Ampat.
Although the capital city Jakarta is not the top tourist destination, it has a few stops for lovers of bubbly cities and its attractions. Jakarta is the best place to explore Indonesia's mixed culture and the electric energy in the chaotic streets. There is also the famous amusement park known as Ancol Dream Park and the Museum Indonesia.
Important cities in Indonesia
Jakarta, Surabaya, Bandung and Yogyakarta are the most important cities for ESL teachers in Indonesia.