A Guide to Teaching English in Israel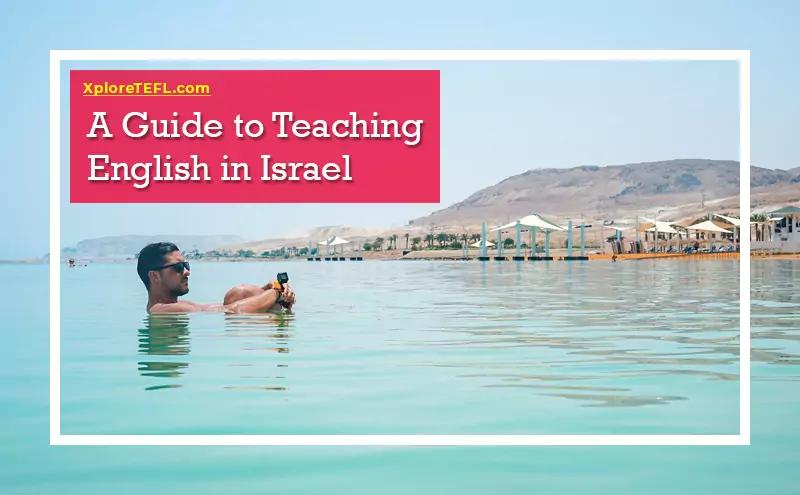 Are English teachers in demand in Israel?
Teaching English as a second language is generally regarded as the easiest way to land a job in Israel and who better equipped for such jobs than an ESL teacher with a TEFL certificate in Israel.
With English rapidly growing as a vitally important second language to know - Hebrew and Arabic being the main languages in the country - the demand for ESL teachers is on the rise.
Learning English is compulsory for all students beginning from grade 4 and so there is a demand for ESL teachers across all school categories.
As a result of the tourism sector and international trade, Israelis do not relent in their effort to develop their English language skills, written and spoken likewise. ESL teachers can teach in corporations, private institutions or take private lessons for individuals.
What are the requirements to teach English in Israel?
There are a number of requirements needed to be met before one can be qualified to teach English in Israel and earning a TEFL certificate will no doubt make you a more competitive applicant in the hiring process.
ESL teachers in Israel are required to have some knowledge of Hebrew. In fact, the Ministry of Education suggests that teachers participate in Ulpan, an intensive Hebrew language course.
English teachers are also mandated to have a Bachelor's degree and even if certified elsewhere, ESL teachers are required to go through a one year retraining course, after which they can obtain a teacher's license in the country.
What type of jobs are available for English teachers in Israel?
Israel presents a lot of English teaching opportunities to ESL teachers with a TEFL certificate in Israel. There are job openings in public and private schools, sponsored programs and teachers can take private lessons and in-company classes.
Since Elementary and Junior High Schools are under the Ministry of Education, ESL teachers are basically employed via a government agency rather than through each particular school. For junior school, you will be required to teach 30 hours a week while junior high school requires only 24 hours of teaching.
Parents in Israel now understand that English is a global language and as a result employ the services of private tutors to take their children and increase their interest in writing and speaking English.
Companies hire ESL teachers to come into their office to tutor their whole staff. Some private organisations also offer programs for ESL teachers to teach at various schools in Israel. Although, these position are often reserved for Jewish teachers, this isn't always the case.
What is the salary for English teachers in Israel?
The average salary for ESL teachers in Israel is between $1,100 - $2,200 per month and one can get additional benefits  with extra qualifications such as a TEFL certificate and some teaching experience. English teachers can also earn between $20 and $50 per lesson for private tutoring.
Generally, benefits for ESL teachers in Israel include health care and paid holidays with only few schools offering airfare and accommodation provisions.
ESL teachers who work with the Ministry of Education in particular usually enjoy training programs but with lesser salary rates.
Can you save money while teaching English in Israel?
Living in the city center in Israel is more expensive than living outside of it or in smaller towns. Housing would usually take the highest share of an ESL salary but with that settled, ESL teachers can spend something around $580 and below on groceries and utilities on a monthly basis.
Accommodation Options: The type of accommodation and cost of rent English teachers should expect depends largely on location.
Most ESL teachers opt to share room spaces with their colleagues in order to cut rent costs which tend to be high across the country. In some cases, some ESL job offers and contracts come with some form of accommodation.
In general, a one bedroom apartment outside the city center is about $600 while one in the city center costs about $900.
What type of visa do you need to teach English in Israel?
ESL teachers need to apply for a work visa to legally teach in Israel on a long term basis. Israel's visa policy is relatively laidback for citizens of countries who are not from either Asia or Africa allowing people in this position up to three months Visa-free access.

ESL teachers may need to apply for a work visa extension if they wish to work long-term in the country.
The requirements to be tendered while making a work visa application include certificate of medical examination, completed application for a visa to enter Israel, valid passport, declaration of taking of fingerprints, certification of good conduct and signed document from employer stating they intend to hire you.
Hiring season and process for English teachers in Israel
Teachers in Israel can apply for jobs all year round most especially in-company classes and private tutoring jobs. However, new English teaching positions are usually made available in September which is the peak hiring season.
Most ESL teachers will gain employment on arriving in Israel and interviewing in person though some arrangements can be made for an online interview via Skype or emails.

It must be noted that there are limited opportunities to interview in advance in Israel particularly in Palestinian territories.
Fun and travel activities while teaching in Israel
Israel has a bunch of top attractions and fun activities you could get involved in during your stay in the Holy lands.
You could take a trip to the Dead Sea - the lowest place on earth - if you're feeling a rundown or snorkel in the Red Sea where you can see amazing coral reef and beautiful fishes all year round.
The beautiful beaches of Tel Aviv are also at your beck and call; kick off your shoes, feel the sand between your toes while admiring the sunset and gulping down a bottle or several of drinks.
If you're an art lover, the Tel Aviv Museum of Art has got you covered with a lot of works from Israeli and International artists including those of famous artists like Picasso, Monet, Kandinsky and Auguste Rodin.
Important cities in Israel
The most important ESL destinations in Israel are the big cities of Jerusalem, Tel Aviv and other cities such as Haifa, Ramla and Ashdod.