A Guide to Teaching English in Latvia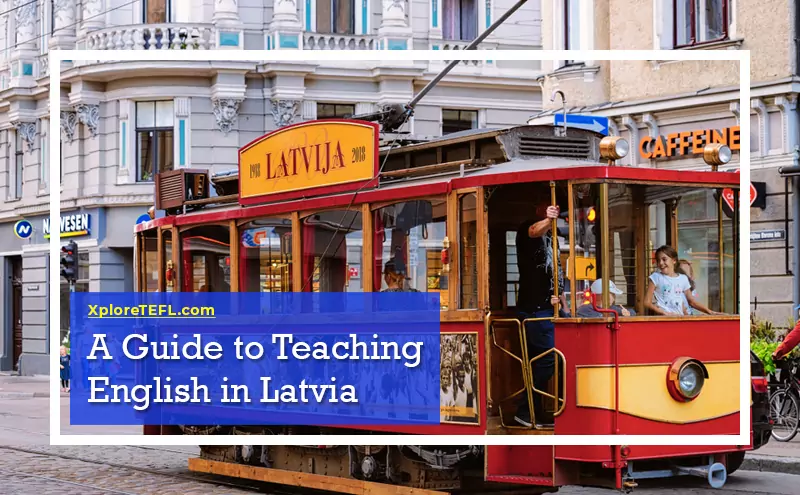 Are English teachers in demand in Latvia?
ESL teachers in Latvia can find several teaching opportunities in the public, international and language schools. Latvia has a high employment rate, a literacy rate of about 99.8% and numerous English teaching jobs that pay well with benefits despite being the one of the poorest countries in the EU.
Latvian demand for teachers who speak English has increased lately. The competition to teach English in Latvia is also lower, which makes Latvia a great opportunity to teach abroad which makes it especially easier for teachers with TEFL certificates.
What are the requirements to teach English in Latvia?
A TEFL, CELTA or TESOL certificate is the minimum requirement for teaching English in most language schools in Latvia and of course, fluency in English language.  
To get a job at a Latvian public school and private language schools, ESL teachers must have a bachelor's degree and a TEFL certificate. An internationally recognized TEFL certificate opens up opportunities and gives the best chance of finding English teaching jobs in Latvia.
However, in addition to a TEFL, CELTA or TESOL certificate, Latvian international schools often require ESL teachers to have post graduate degrees and appropriate teaching experience. Partly as a result of the additional requirements, salaries in international schools are usually higher than in private language and public schools in Latvia schools.
Get a TEFL Certification Now!
What type of jobs are available for English teachers in Latvia?
There are more than a few types of English teaching jobs in Latvia. ESL teachers are in high demand in local, private, international and public language schools across the country.
Universities in Latvia also offer English courses so ESL teachers are needed and majority of the teaching jobs are in the big cities.
There are also home tutoring jobs to teach English for children or adults most of which comes with a generous pay and benefits.
What is the salary for English teachers in Latvia?
The average ESL teacher's salary in Latvia is about $800 per month with about 25 working hours per week. Due to the higher requirements to teach in a Latvia international school, ESL teachers in such schools are often offered a better salary and lots of benefits packages with also excellent opportunities for professional development.
With a TEFL certificate, you can find a job in the city like Raga with incentives such as free housing, wages, medical insurance and even free transportation to your work place.
Can you save money while teaching English in Latvia?
Latvia's cost of living is very affordable irrespective of your lifestyle although it can vary depending on cities. ESL teachers earn enough to live a comfortable lifestyle with a cost of living that can be as low as $300 per month.
ESL teachers in Latvia can comfortably rent an apartment, buy food and drinks and even cover the cost of transportation.
Teachers can also get benefits from international and language schools that will cover their transport, medical bills and housing which greatly reduces the cost of living.
Accommodation Options: The bigger the city in Latvia, the more expensive the accommodation. There are numerous offers to rent an apartment in Riga. 
Apartments in Latvia offer plenty of options, from the hipster neighborhoods, which are full of art to the medieval art nouveau of the old town.
ESL teachers searching to share a room will be pleased to find numerous offers as low as $200 while those working at international and language schools may be given free housing as one of the benefits.
What type of visa do you need to teach English in Latvia?
Latvia is a member of the European Union (EU), European Union nationals are free to enter Latvia without a visa. US citizens can also enter Latvia for tourist or business purposes for only 90days without a visa and passport needs to be valid for at least six months before your stay.
For ESL teachers who are not a US citizen or a European Union national, you can get your Latvian visa through filling a visa application form online. You must have a copy of your passport and previous visas valid for at least three months and finally Europe travel insurance confirmation.
Hiring season and process for English teachers in Latvia
ESL teachers in Latvia can be hired in international and private language schools all through the year. However, the peak hiring period is between Septembers to January. Language schools tend to employ during summer break so as to prepare for a September start.
ESL teachers should be in the country before the beginning of any school session and get their documents and accommodation sorted out, before arriving the country. CVs to teach English which consist of a TEFL certificate as the minimum requirement can be sent online and jobs can be secured online as well.
Fun and travel activities while teaching in Latvia
Latvia remains one of the least explored areas in Eastern Europe as regards tourism and adventurous activities.
For teachers interested in finding out more about the fascinating cultural history, visit one of the many museums in the entire region during the holidays. For fun and relaxation, ESL teachers can spend their free time in parks, reserves and waterways where you can come in contact with nature.
There are also several beaches to relax and if you are around in July, then you should visit Karosta for the annual beach music festival held on one of its beaches. Another spot to visit is the first vertical aerodynamic tunnel to be installed in an Eastern European country is in Latvia called the Aerodium and if you have ever dreamed of flying, then this is your chance.
For sport lovers, the major sport in Latvia is ice hockey and basketball. Ensure you visit the Seaside Open Air Museum in Ventspils dedicated to fishing and boating. The museum has 24,000 exhibits on display including an indoor and outdoor area.
Important cities in Latvia
Riga, the capital, has many schools in need of ESL teachers. Oher cities like Daugavpils and Jelgava also have public schools with demand for English teachers.