A Guide to Teaching English in Lithuania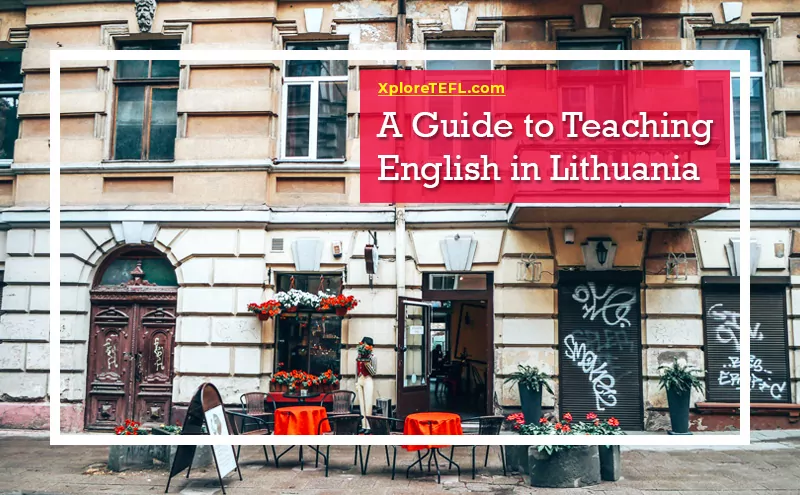 Are English teachers in demand in Lithuania?
English language has become more prevalent in Lithuania over the years, and ESL teachers with a TEFL certificate will easily find job opportunities in major cities like Vilnius. More so, as the city is becoming more westernized, the locals, especially young adults, are increasingly yearning to study English language to improve their job prospects.
Expat teachers, native English speakers, and those with a recognized TEFL certificate will find lots of opportunities and teaching jobs in Lithuania. There are regular teaching jobs with benefits, including relocation allowance and accommodation.
Even more, ESL teachers only have to work about 25 hours a week, leaving room for some time to explore and enjoy the city. Since Lithuania is a less popular ESL job destination, there are more chances for teachers who choose to stay in the country and work.
What are the requirements to teach English in Lithuania?
To teach English in Lithuania, you need at least an internationally recognized TEFL/TESOL certificate in addition to a university degree, especially for teaching positions in international schools that offer more pay and benefits.
These international schools mostly pay higher (sometimes more than double) than other types of schools in the country. Many employers will not specifically request that you have a TEFL, but it will most certainly help you get a better position and help you stand out in a pool of applicants.
Also, international schools in Lithuania will usually require teachers to have a teaching license from their country as well as teaching experience.
Get a TEFL Certification Now!
What type of jobs are available for English teachers in Lithuania?
There are several options for teaching English in Lithuania. A lot of teachers work in international language schools and private schools, which are mostly concentrated in the country capital, Vilnius.
ESL students in Lithuania include children whose parents are enthusiastic about English language and adults who like to improve their job prospects.
What is the salary for English teachers in Lithuania?
Salaries for ESL teachers in Lithuania varies depending on the type of school. Generally, international schools pay higher than private schools.
ESL teachers in private schools may earn a salary starting from about 1,000 USD while those who get a position at international schools can earn up to 2,500 USD or more. In addition to this, international schools offer more benefits to teachers than private schools. Often they provide initial accommodation, airfare, and professional development opportunities.
Besides, Lithuania has a relatively low cost of living. You can expect to live a comfortable life with a teacher's salary irrespective of where you work.
Can you save money while teaching English in Lithuania?
Lithuania has a considerably low cost of living. Even ESL teachers who find themselves at the lower part of the salary scale will still be able to live comfortably and save while teaching in Lithuania. The average cost of living is about 500 USD to 700 USD per month.
Accommodation Options: Accommodation costs are relatively low too, and since the country is small, there is only a little difference in the price of rent across cities. If you work with international schools, then you may be able to get accommodation benefit or allowance to reduce the amount spent on housing.
What type of visa do you need to teach English in Lithuania?
ESL teachers who are members of countries that belong to the European Union do not need a visa to work or study in Lithuania since the country is also a European Union member state.
However, if you come from a country that is not an EU member state, then you will need to apply for a work permit to be able to teach in Lithuania. The process is easy and less cumbersome.
You should contact the Lithuanian Visa Bureau or consulate in your country to determine the visa requirements for your country before you leave your country or commence any visa application.
Hiring season and process for English teachers in Lithuania
The peak hiring period for English teachers in Lithuania is in May and August for the school calendar that begins in September. However, you may look out for openings throughout the year.
Typically, you will have to undergo a face to face interview in person before you are taken for a teaching job in Lithuania. You should contact the school directly in person rather than through an agent or recruitment company.
Fun and travel activities while teaching in Lithuania
Lithuania is a less popular tourist destination, especially when compared to countries like France. Despite this, teachers will find a few adventures to engage in during their free time working in the country. There are lots of exciting places to visit, and since Lithuania is such a small country, it is easy to get around.
Vilnius, the country capital, is one of the favorite destinations, especially if you want a bubbly nightlife. Vilnius also has a fair share of the country's iconic spots. The Vilnius Cathedral, the St John's Church, the Cathedral Square, and the Cathedral Bell Tower are some of these. You can also visit museums like the Palca of the Grand Dukes of Lithuania and Museums of Genocide Victims.
Other cities in the country also have some pleasant spots to visit, The Trakai Castle in Trakai and the Witches Hill in Juodkrante are some of these. There is also the Amber museum in Lithuania. This is an extraordinary place to visit as the Baltic Sea is said to possess some of the best amber based jewelry in the world.
Lithuania is also the place to enjoy some of the best Baltic cuisines, and a famous place to try delicious dishes is Nineteen18. The decorating is not only beautiful but also gives you fantastic dining experience. Other places to visit in Lithuania include the Lithuania Ethnocosmology Museum, the Tolerance Center, and the Hales Market.
One of the best things about Lithuania, however, is the access to free internet. The country has free Wi-Fi and the fastest internet speed in the world. Lithuania also has the world's oldest living language understood only by a few millions of people across the globe.
Important cities in Lithuania
The most important city to find English teaching jobs in Lithuania is Vilnius. You can also find teaching jobs in cities like Kaunas.