A Guide to Teaching English in Malaysia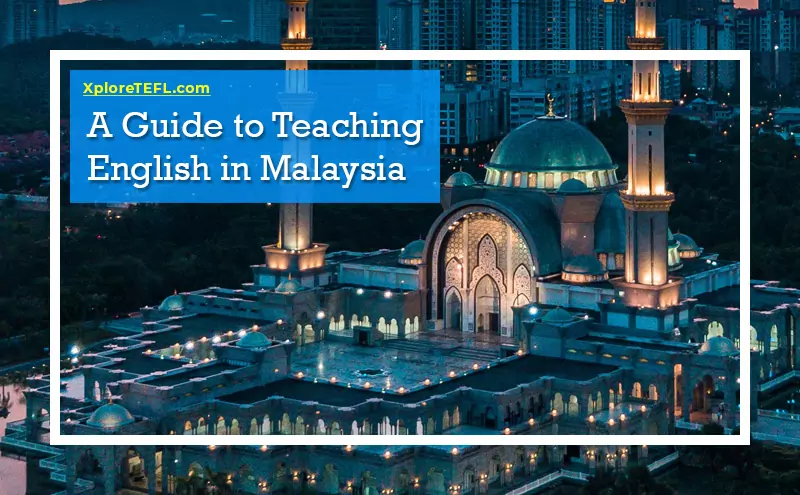 Are English teachers in demand in Malaysia?
Since a change in the government system happened in 2012, English is now taught in its own right in Malaysia rather than in connection with math and science. This change in government policy has resulted in an increase in demand for ESL teachers in the Asian country.
English teaching job opportunities have also opened up and who better beats the competition for these opportunities than an ESL teacher with a TEFL certificate in Malaysia.
For many locals and residents of Malaysia, English remains a significant language and gateway for state of the art learning in research, science, engineering and ICT as well as working in large International companies and the private sector, hence the high demand for ESL teachers with TEFL certificate.
Although it is true that the ESL market in Malaysia isn't as large as those of other South East Asian countries like Vietnam, the demand for ESL teachers with TEFL certification is on the rise with a growing economy benefitting from oil boom and tourism.
What are the requirements to teach English in Malaysia?
A TEFL certificate in Malaysia hands you a greater chance of getting the better paying English teaching jobs in this South East Asia economy.
ESL teachers with TEFL certificate in Malaysia stand a better chance of fetching a job in a hugely competitive ESL market.
It is required that alongside a TEFL certification, ESL teachers also possess a Bachelor's degree from an accredited college or university. Most schools also require some amount of teaching experience from its prospective ESL employees with the minimum being two years of teaching experience.
For ESL teachers interested in teaching in International schools or Universities, a Master's degree or a Post Graduate degree of any kind gives you an advantage.
What type of jobs are available for English teachers in Malaysia?
ESL teachers with TEFL certificate can find English teaching jobs in public schools, private language academies as well as International schools. ESL teachers can also provide private tutoring lessons in their spare time.
International schools offer the greatest pay for English teachers in Malaysia and there a number of them in the big cities like Kuala Lumpur that follow the Australian, British or American curriculum. The largest private co-educational international school offering British-style education is the Garden International school.
Surprisingly, colleges and universities are not the highest payers. If you get a job in the university, you will be expected to work for at least 6 hours a day.
Although, most English students in Malaysia are able to learn properly in class, some might opt for some extra lessons for better understanding. There is no end to how much a private tutor can be paid and the most important perk is that this could just be your part-time job.
It is important to note that if you are an Israeli citizen or have spent time in Israel, you are unlikely to land a job in Malaysia.
What is the salary for English teachers in Malaysia?
ESL teachers in Malaysia can expect to earn between $500 and $2500 (minus around 10% tax) with the salary fee dependent on a number of factors such as location, teaching experience and reputation of school.
Some schools offer their ESL employees benefits such as apartment allowance, internet stipend, and airfare reimbursements on most year-long contracts.
International schools, in addition to high paychecks, hand their ESL employees benefits such as paid holidays and free medical/health insurance.
ESL teachers are advised to fully understand the additional benefits before committing to a particular employer or school.
Can you save money while teaching English in Malaysia?
Malaysia is one of the most inexpensive countries to live. The cost of living excluding rent fee ranges between $300 and $490 and ESL teachers can live very comfortably even in the expensive city of Kuala Lumpur if they do not go for so much luxury.
Accommodation Options: Some schools provide ESL teachers with apartment allowance while others provide accommodation for their ESL teachers, usually shared in most cases.
ESL teachers can also opt to rent apartments alone. Generally it costs between $370 and $650 to rent a one-apartment in a big city like Kuala Lumpur and costs even less in a city like Penang ranging between $200 and $350.
What type of visa do you need to teach English in Malaysia?
A work visa or permit is necessary to teach English legally in Malaysia and this is received on arrival in the country.
Work visas are mostly sponsored by the employer, that is, the school under which you are employed sponsors a work permit and aids in getting it processed. There are three types of work permit - employment pass, temporary employment pass and professional visit pass - with each pass having its criteria of acceptance.
The needed documents to apply for an employment pass include copies of CV, medical report approved by Malaysian Ministry of health, visa application forms, letter of appointment from employer, letter of approval from Ministry of Home Affairs, copy of passport, original receipts of application and passport photographs.
However, it is important to note that work visas are only valid as long as you remain under your employer. Hence, changing jobs is not easy.
Generally, immigration in Malaysia does not entertain applications from people outside the 25-50 years bracket.
Hiring season and process for English teachers in Malaysia
The peak hiring period is usually between the months of January and December but there are generally English teaching openings all year long.
Some schools advertise ESL opportunities online while some others prefer putting their prospective ESL employees through a full interview in person before consideration for hiring. You could also apply for ESL jobs over the phone or via emails and skype.
Fun and travel activities while teaching in Malaysia
Malaysia is a good mix of Chinese, Indian, British, Malay and Arabic cultures and cuisines and is one of the most exotic and beautiful places to live and work in.
The capital city of Kuala Lumpur is a home to the iconic Petronas towers (tallest twin towers in the world), state-of-the-art mega malls, busy business districts and a vibrant nightlife. Away from the busy Lumpur city you will find beautiful mountains and coastal plains.
You can sunbathe on Langkawi, sample some local food like Nasi Kandar or the national tea, Teh Tarik, see some Orangutans at the Sepilok Orang Utan Rehabilitation Center or go trekking on the longest rope walkway in the world like Taman Negara National.
If you're a lover of diverse cultures, get ready to be bathed in the lovely and exciting cultures of the Malaccas and the Kota Bharus.
Important cities in Malaysia
The greatest market for ESL teachers exist in Kuala Lumpur, however lots of teaching opportunities also exist in Johr Bahru, Kuala Terengganu, Penang and Malacca.