A Guide to Teaching English in Mexico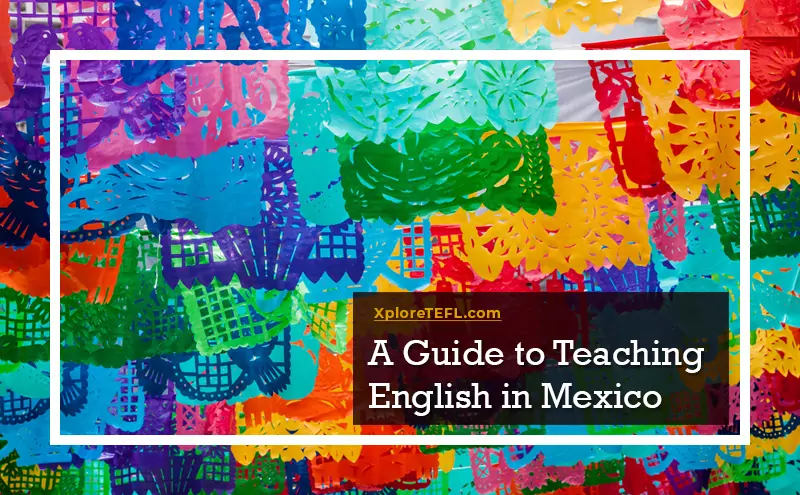 Are English teachers in demand in Mexico?
With a TEFL certification, there is a great pool of opportunities waiting to be explored by ESL teachers in Mexico.
There is a growing demand for ESL teachers in Mexico as spoken English is required for most professions in the country. There is also a huge emphasis on learning English language by the government because of its close ties with the United States. In addition to this, English is one of the most important foreign languages to learn in Mexico due to the influx of Americans and Canadians into the country to carry out business with the locals.
There is demand for English teachers to teach Mexicans conversational and business English to facilitate smooth running businesses between its local and the English-speaking immigrants from neighboring America and Canada.
ESL teachers with a TEFL certificate could get jobs in International schools in big cities like Guadalajara and Mexico City or the tourism-driven cities of Cancun and Puerto Vallarta.

Getting a TEFL certificate in Mexico doesn't only help you build your career but gives you a chance to explore the culture of a country you might have only heard about from your favorite telenovelas and Television shows.
What are the requirements to teach English in Mexico?
An internationally recognized TEFL or TESOL certificate is essential to teach English in Mexico because it helps get good paying teaching jobs with benefits such as health insurance and accommodation.
Although, ESL teachers in Mexico are not required to have a bachelor's degree to get a teaching job in private language schools, having a BSc could be an added advantage.
Furthermore, it is essential to note that ESL teachers in universities or higher institutions will require a Master's degree in addition to a TEFL or TESOL certification.
For ESL teachers in International schools, a valid teaching license from the educator's home country is needed and a previous experience at a similar job would be an advantage.
Get a TEFL Certification Now!
What type of jobs are available for English teachers in Mexico?
Mexico has a bunch of English teaching opportunities spread across the country and the opportunities can be found in private language institutions, International schools, private tutoring, public primary and secondary schools as well as higher institutions. Some ESL teachers also take up private tutoring classes to supplement their monthly pay.
Teaching positions and ESL students in Mexico also vary from teaching phonetics to second-grade phonetic to teaching conversational and social English to adult employees of a company.
An English teaching job in an elementary school is relatively less stressful than most other types of teaching jobs in Mexico but it offers the least pay in most cases. Teaching hours are generally between 7:00 AM and 2:00 PM and you may be required to teach particular subjects in English rather than the language itself.
Teaching jobs in language centers will provide you with opportunities to work with a perfect mix of both adults and children, however, there are no cut-out work schedules as working times could switch between 5:00 PM - 9:00 PM on weekdays and 8:00 AM - 2:00 PM not leaving out the mornings (7:00 AM - 8:00 AM).
Private English tutoring has no fixed pay rates for these jobs and the pay is generally not at as high as in the private language schools.
What is the salary for English teachers in Mexico?
As with many other countries, salaries for ESL teachers in Mexico vary based on factors such as location, qualifications and experience of the teachers.
ESL teachers with TEFL certification in Mexico can expect to make between $800 and $1500 a month depending on the location and other factors.
International schools of high reputation could provide benefits such a housing allowance and health insurance for TEFL certified teachers and ESL teachers who are parents to school-aged children might be given discounted tuition fees for dependents who attend the same school where they are employed.
Can you save money while teaching English in Mexico?
Vacationing in Mexico might be a bit expensive but daily expenditure and living expenses is quite the opposite. Housing, travel and food are quite cheap compared to what is obtainable in the US or Eastern Europe.
ESL teachers in Mexico are usually able to lead comfortable lives within the confines of the salaries they are paid by schools.
The average cost of living in Mexico is between $500 and $1000 per month which means ESL teachers have the ability to save.
Accommodation Options: Most English teachers live in cost-friendly apartments while others live with their fellow English teachers in houses afforded them by their schools.
A one-bedroom apartment in the Mexican capital costs about $563 per month while one in the outlying neighborhood could cost as low as $331.
What type of visa do you need to teach English in Mexico?
For many Latin American countries, it is easy to find English teachers teaching on a tourist visa but Mexico makes it a lot easier for ESL teachers to obtain a work visa to teach legally.
A Mexican work visa can be processed after accepting a position at an establishment or school. Not only does this work visa give teachers the legal backing to work in the country, it also affords them access to benefits that accrue to citizens such as insurance and access to the national health care system.
The visa that allows ESL teachers to teach in the United Mexican States as it is officially called is the FM3.
Teachers need documentation from their school such as an offer of employment to be eligible for an FM3 application as well as a TEFL certification and about 90$ for the application fee.
All nationalities are eligible for this form of visa save for nationals of Iran and North Korea and there are no restrictions whatsoever regarding age or college degree.
Hiring season and process for English teachers in Mexico
Private schools in Mexico hire all year round so ESL teachers interested in teaching in Mexico are usually expected to keep looking for new openings. Vacancies for jobs are advertised the previous spring and interested applicants could make applications online.
English teachers are mostly committed to one year contracts and the school year spans from late August to July.
Most English teachers in Mexico are interviewed in person and are usually responsible for their airfare and housing expenses. In addition, there are a number of opportunities to interview in advance via mails and phone calls.
Fun and travel activities while teaching in Mexico
Mexico is home to over 30 UNESCO Heritage sites and there are lots of fun activities English teachers could engage in during the holidays.
Language schools in Mexico especially the cities of Vallarta and Mexico City itself often English teachers with 20 to 25 hours of work per week presenting enough time for ESL teachers to engage in recreational activities and visit lots of fun places.
For beach-lovers, the city of Cancun has various white sand beaches to cater for your preferences and must see beaches in this city include those of the Playa Marlin and Playa Caracul which are very famous among tourists.
You can explore the city of romance, Puerto Vallarta as it's nestled on the country's Pacific coast and offers a lot of romantic activities for couples. There is also the Zona Romantica which could be translated to Romantic Zone in English, dotted with restaurants and quaint shops as well as performances on the street.
Important cities in Mexico
Mexico City, Puerto Vallarta, Playa del Carmen, Cancun and Acapulco are the most important cities for ESL teachers in Mexico.