A Guide to Teaching English in Netherlands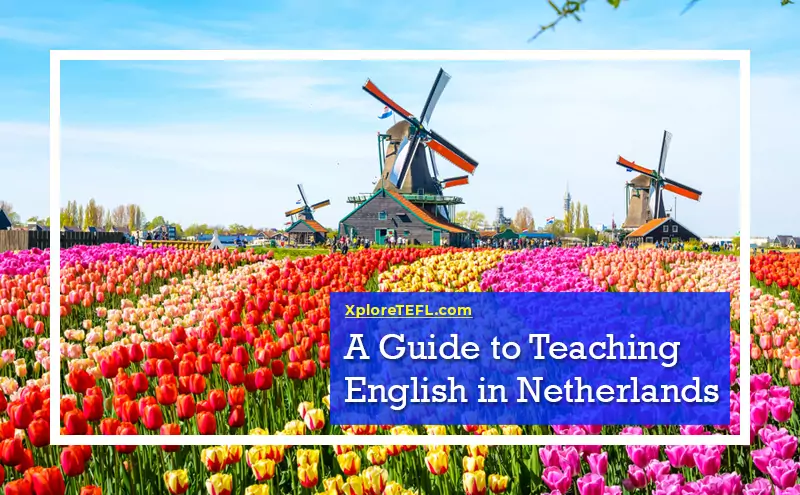 Are English teachers in demand in Netherlands?
Netherlands presents a bunch of exhilarating teaching opportunities for ESL teachers armed with a TEFL certificate in the country.
Since the people of Netherlands, commonly referred to as the Dutch, are renowned for their excellence and proficiency at speaking English, teachers are often left wondering if the country really needs foreign teachers? However, while there isn't an urgent need for English teachers in the country, ESL teachers with a TEFL certificate in Netherlands stand a solid chance of landing their dream ESL jobs.
There is an ever increasing demand for in-company English tutors where certified ESL teachers are brought in to teach the company employees the rudiments of business English and some important writing skills.
Certified ESL teachers can also occupy teaching positions in universities but these kind of jobs are gotten informally through contacts and connections and would require a substantial amount of teaching experience.
ESL teachers with a TEFL certificate in Netherlands can also teach in private language jobs but these positions are highly competitive in nature.
What are the requirements to teach English in Netherlands?
The minimal requirement for teaching English in the Netherlands is a Bachelor's degree. If you choose to work in a private language school, you will be required to have a TEFL certificate in Netherlands added to your Bachelor's degree.
If you opt for an International school instead, you will be required to have several years of teaching experience aside a Bachelor's degree and a TEFL as these jobs are usually the most competitive when it comes to hiring.
For a place in a university set-up, you will need an advanced degree and recognized teaching experience to earn you a consideration for hiring. Usually, the minimum requirement is a Master's degree while a Doctoral degree and some publications in International journals could give you an edge over other applicants.
Get a TEFL Certification Now!
What type of jobs are available for English teachers in Netherlands?
The most common teaching positions available to ESL teachers in Netherlands are those in private language academies and international schools.
With a TEFL certificate in Netherlands, landing an English teaching position in private language schools should come relatively easier. These schools have language centers across the country and are widely regarded as the best choice for ESL teachers new to teaching abroad because of its minimal requirements.
International schools provide its students with the International Baccalaureate program which places its focus on either an American or British curriculum. If you choose to work in an International school, you should be willing to work with kids across elementary and high school categories.
ESL teachers with a TEFL certificate in Netherlands and some teaching experience can teach English in universities if they are more inclined towards research and publications.
What is the salary for English teachers in Netherlands?
ESL teachers with a TEFL certificate in Netherlands are usually paid well relative to other European countries.
There is a wide range of salaries for English teachers in Netherlands ranging between $2000 and $6500 per month depending on the teacher's qualifications and credentials. Usually University teachers tend to earn more than secondary school teachers who in turn usually earn more than primary school teachers.
In order to earn the upper limit of the salary range, you must have acquired about 12-15 years of teaching experience.
Can you save money while teaching English in Netherlands?
The Netherlands maintain a very high standard of living and consequently a high cost of living. ESL teachers should be prepared to remit high taxes of 30-40 percent but earn a high salary rate to offset all this seemingly 'unbecoming high fees.'
For the most part, the average cost of living is between $1,200 and $1,700 per month and with the average salary, teachers are able to break even and save.
Accommodation Options: Schools in Netherlands typically do not provide ESL employees with accommodation but will assist in finding a place. Housing is of good standard in the tiny nation whether it be center of Amsterdam or a tiny town such as Hoogeveen.
Most ESL teachers usually opt to share apartments with colleagues in order to split cost with roommates.
In general, a one-bedroom apartment costs about $1000 in the city center and $800 outside the city center.
What type of visa do you need to teach English in Netherlands?
ESL teachers who are residents of EU countries do not need a work permit to work lawfully in Netherlands while English teachers outside EU countries are expected to obtain a work visa and residency permit.
Work visas would usually be arranged by your employer or school management as the case may be. By and large, EU citizens and non-citizens alike do require a residence permit which can be obtained after arrival in the Netherlands.
Generally, for a work visa in Netherlands, the documents required to be submitted include employment contract, Income Tax Return (ITR) form or Certificate of Income Tax deducted at the source of salary and current bank statement of the last six months.
Hiring season and process for English teachers in Netherlands
Although, ESL teaching positions in Netherlands are available all year round, the peak hiring periods are in August and December as well as during the summer months prior to the New Year with the Dutch school year starting in late August and early-mid July.
ESL teachers can apply for jobs online and take on interviews via email, phone and Skype calls or apply in person. However, it is necessary to point out that most employers are more inclined to hiring ESL teachers on ground rather than via the internet.
Fun and travel activities while teaching in Netherlands
Being a small country has some perks of its own as it doesn't take long to travel anywhere meaning that you can get a lot of exploring and travel done.
It is no secret that Amsterdam has a vibrant nightlife waiting for you to explore and you will be spoilt for an endless list of clubs and bars you have at your disposal to go have exciting endless fun.
Pay a visit to Zaanse Schans and admire the city's windmills or find some fortress in the pretty Castle de Haar, surrounded by lavish castle gardens that allow for a quiet leisure stroll.
During the holidays, you can have a cultural day trip at Museum Voorlinden or go to Keukenhof and admire the red Tulips as it is shown in typical pictures of the Netherlands.
There is also the city of Holland with its amazing scenic spots and places for relaxation. No matter what you call fun, the Netherlands has a lot in stock for you and even much more.
Important cities in Netherlands
ESL teachers in Netherlands are spoilt for English teaching opportunities in the capital city of Amsterdam as well as cities like Rotherdam, Den Hague and Masstricht.