A Guide to Teaching English in Oman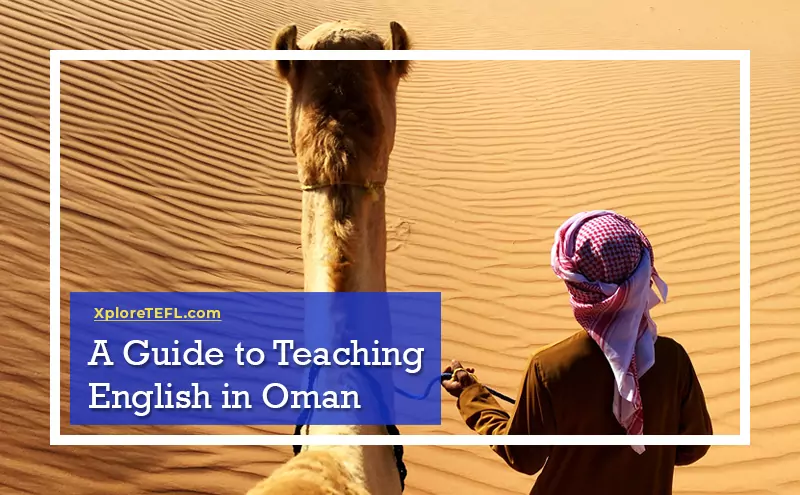 Are English teachers in demand in Oman?
Native-speaking English teachers are a rarity in Oman, so there is a constant demand for TEFL teachers in the country.
In addition to this, schools in Oman teach English as a second language from the early years especially from fourth grade and older students require a knowledge of English for a number of reasons including better job opportunities, chances to travel abroad and get higher educational qualifications.
Lots of ESL teaching offers in Oman come with attractive employment packages, including free or heavily subsidized housing, reimbursed airfare, and high level pay compared to living expenses.
In fact, there's certainly more than enough to live comfortably and enjoy some modern luxuries making teaching English in Oman a great way to save significant amount of money. 
What are the requirements to teach English in Oman?
An internationally recognized TEFL, TESOL or TESL certificate is important to get an English teaching job in Oman. In addition to this, ESL teachers in Oman are required to have at least a bachelor's degree in any discipline and some teaching experience.
A lot of language schools in Oman prefer a Master's degree as well as a minimum of two years ESL teaching experience. However, being a native or fluent speaker and having a TEFL certificate are the biggest factors that give ESL teachers an edge in Oman's ESL market.
Teachers who wish to be employed in Universities usually find it easier to enter the system with a Masters or PhD qualification.
Although it is evident that Oman has a relatively high set of requirements for English teachers compared to most other countries, the salary and work benefits are highly competitive as well.
Get a TEFL Certification Now!
What type of jobs are available for English teachers in Oman?
ESL teachers with a TEFL certificate can find lots of job opportunities and programs to teach English in Oman.
The different types of teaching jobs in Oman vary and include basic private schools, universities and language institutes, with the most popular ones in private language schools, International schools, vocational colleges and private tutoring opportunities.
ESL teachers in Oman can expect to take a variety of English students including businessmen, professionals, adults, university students and school (K-12) children.
What is the salary for English teachers in Oman?
English teachers with TEFL certificates in Oman can realistically expect to make between USD2,000 and USD3,500 per month without paying tax. ESL teachers can also earn between USD25 to USD50 per hour from private tutoring.
Benefits are numerous and includes return airfare, transportation allowance, paid holidays, health insurance, subsidized or free tuition for teachers' dependents and low cost or free furnished accommodations.
ESL teachers in Oman enjoy the great possibility of not just breaking even but saving substantially.
Can you save money while teaching English in Oman?
Although Oman is a fast developing country, the cost of living is quite moderate throughout the country.
The relatively low cost of living in Oman compared to neighboring countries means that ESL teachers can live on half their teaching wage.
Cost of living per month is around USD800 - USD1,550 including housing for teachers who do not get free accommodation or those who prefer to sort their rent themselves.
Accommodation Options: Rent in Oman is generally inexpensive, and a number of ESL employers in Oman will also offer teachers a certain monthly housing allowance or free accommodation.
Some ESL teachers take shared apartments or move into rooms previously vacated by a teacher. A single bedroom apartment may cost between USD450 to USD650 depending on the closeness to the city center.
What type of visa do you need to teach English in Oman?
ESL teachers in Oman are required to obtain a work visa to teach English in the country and have to be sponsored by their employer.
The requirements for obtaining a work visa in Oman is usually huge and the process can be very tasking. First, employers must prove that a local cannot be given the position and then they must also provide certain documents showing that the organization is operating legally in the country.
There is a preference for Native English speakers and so the process is easier if you come from an English speaking country.
In addition to this, working in close cooperation with your employer even from your home country before you arrive in Oman is important to ease the visa application process.
Hiring season and process for English teachers in Oman
Due to the long process involved in getting a work visa to teach English in Oman, it is advisable to begin applying for jobs a long time before you travel to the country.
You can start a year prior to the time you wish to relocate. The peak hiring period for ESL teachers in Oman is August and September.
ESL teachers in Oman can find opportunities to interview on phone via Skype or through email prior to their arrival in the country.
Teachers are expected to have experience in classroom management and delivery as these are the major skills employers look out for during an interview.
Fun and travel activities while teaching in Oman
For ESL teachers in Oman, there are several lovely places to visit either for relaxation or for adventure.
The Wahiba sands, a small desert which is about two hours drive from the capital city of Muscat is an amazing place to visit for a view of spectacular sand dunes and calm natural landscape.
There is also the Masirah, a land where you find some of the more tranquil and idyllic sunbathing, snorkeling and swimming in the Middle East. Masirah is a desert island, 90 mile in circumference.
One can also visit the Wadi Biani Awf, where the Oman's annual 75km relay race across the stunning Musandam peninsula takes places, the Sultan Qaboos Grand Mosque, the Mutrah Corniche with its rocky mountains and beautiful sunset as well as the Nizwa Fort with historical jewelries and other items on display.
Oman has a few sites where you can take a swim in the afternoons and enjoy a relaxing moment. One of these famous spots for swimming is the natural oasis referred to as Wani Bin Khalid with its green refreshing waters and a cascade of date palms and mountains.
Important cities in Oman
A large percentage of English teaching jobs in Oman can be found in Muscat, however there are also a few opportunities in Bawshar, Sohar and Salalah.