A Guide to Teaching English in Philippines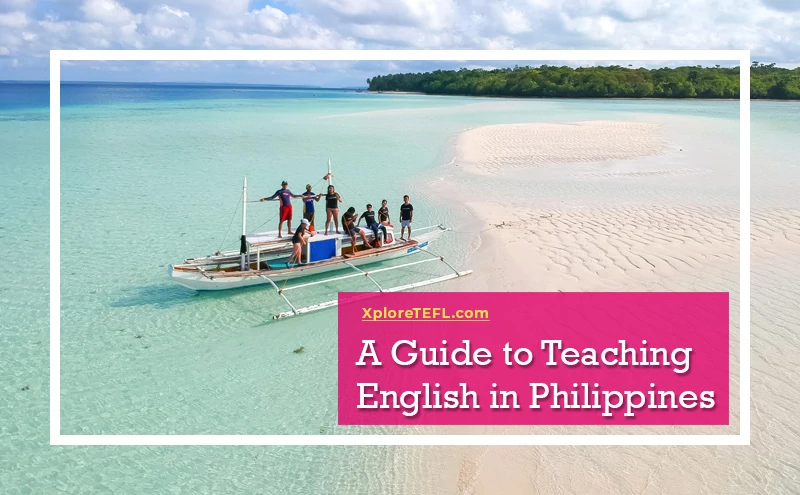 Are English teachers in demand in Philippines?
Philippines is the sixth richest country in South East Asia with one of the main emerging markets and a very low rate of unemployment. These features, combined with policies that aim to improve its education sector and a notable number of migrants seeking to learn English language, has helped in boosting the demand for ESL teachers in the country.
Although Philippines does not boast of as many ESL jobs as in other Asian countries, there are a few great opportunities for teachers around the country especially the native speaking ESL teachers with TEFL, TESOL or CELTA certificate.
There are a number of openings for English teaching in Philippines in both the rural areas and the cities with prospects in international schools, private institutes, public schools and universities but the highest demand can be found in big cities especially Manilla and Cebu.

A very light work schedule also allows teachers to enjoy the relaxing atmosphere as you would always find a beach to relax nearby and you could learn the Tagalog language which is the main mode of communication while you live in the country.
Generally, Philippines is a great country to teach English abroad for individuals who love adventure and enjoy the thrills of getting immersed in different cultures.
What are the requirements to teach English in Philippines?
Being a native speaker will easily give you an edge as an ESL teacher in the Philippines. However, due to the high standard of English amongst the Philippines, you will need a well-recognized TEFL certificate and a bachelor degree to paddle through the strong competition.
A TEFL certificate will not only give you an edge in the Philippines competitive ESL market, it will also give you a much needed experience by exposing you to a typical classroom environment in the country.
If you are looking to take a teaching job in the University, then it is required that you have advanced degree such as a Masters alongside your TEFL and some experience.
For all types of ESL jobs in the Philippines, it is important to note that proficiency in the local language is unnecessary although understanding a little will be very useful when dealing with English students especially the younger ones.
Get a TEFL Certification Now!
What type of jobs are available for English teachers in Philippines?
Amazing teaching opportunities abound in the Philippines with different sectors of the education being a market for ESL teachers.
 There are very exciting English teaching opportunities in the private language academies where most of the locals prefer to study, the private schools, the technical and vocational education and also, private tutoring.
ESL students in the private language academies are usually locals who already have their Bachelor's degree while private schools are majorly composed of youths with students varying from primary to secondary level.
It is very common to find ESL teachers in Philippines engaging in private tutoring as this is a very lucrative way to earn more in Philippines. In addition, private tutoring is very flexible since it is usually one on one and you can schedule the time to suit your convenience.
What is the salary for English teachers in Philippines?
Salaries for ESL teachers in the Philippines varies greatly based on the teachers' qualification and the type of school.
Often, private schools pay higher as most public schools cannot afford a reasonable pay for the ESL teachers. However, the best paying ESL jobs in Philippines can be found in the international schools, universities and language institutes.
ESL teachers in Philippines can earn between USD 1,500 and USD 2,000 working in universities or international schools. However, the starting salary in regular language schools in Philippines is about USD 700 while some schools can offer as much as USD 1,500.
Although ability to save is dependent on personal budget and spending style, the average salary of an ESL teacher in the Philippines is just enough to break even and teachers may be able to afford more comfort when they combine regular teaching with private tutoring.
Can you save money while teaching English in Philippines?
The low cost of living in Philippines compared to other Asian countries is one of its endearing factors.
Like most other cities in the world, individual cost of living in the Philippines will still vary depending on several factors like closeness to the city center, individual's lifestyle and ability to budget.
The cost of living in Philippines per month ranges between USD 800 to USD 1,200 depending on the aforementioned factors.
For most ESL teachers, the average salary gives room for a convenient lifestyle with the ability to save a little over the year.
Accommodation Options: Due to the variation in house rent over the city, it is important for new ESL teachers to take their time in finding the best deals before deciding on a place to stay.
The average cost of a modest one room apartment in the Philippines is about USD 270 in the city center and about USD 150 outside the city center.
What type of visa do you need to teach English in Philippines?
In order to teach English in the Philippines legally, ESL teachers are required to obtain a work permit or Alien Employment permit.
The process might be a little tedious as applications have to go through the Department of Labour and Employment to ensure that a local cannot take up the jib you are employed to do. Usually, the Alien Employment Permit (AEP) is only a prerequisite to obtaining a work visa to work in the Philippines.
You may also travel to the Philippines on a tourist visa, find a job and then apply for the Special Work Permit. The Special Work Permit allows foreigners to work in the Philippines with their tourist visa for as long as 6 months or any shorter work contract.
Hiring season and process for English teachers in Philippines
Many countries have specific hiring season for ESL teachers but for the Philippines, ESL teachers can be hired anytime throughout the year especially in the month of March.
ESL teachers in the Philippines can find teaching opportunities by applying online and visiting schools physically with their CVs too.
Interviews for ESL teachers in the Philippines takes place in person in most cases and teachers may be asked to carry out a teaching demonstration in front of pupils to check their mastery and delivery of lesson.
Employers may also want to know how you can handle situations in the class as well as your method of questioning and assessing pupils.
Fun and travel activities while teaching in Philippines
There are lots of amazing places to visit in the Philippines with a wide variety from natural wonders like mountains and volcanoes to ancient structures and beautiful farmlands of rice paddies or strawberry.
The El Nido in Palawan is one of the favorite places for tourists to visit in the Philippines. There are amazing cliffs, calm white sand beaches, lagoons and a bucketful of adventurous sports to engage in. Philippines also has some very scenic spots that can only be compared to paradise.
One of these is Batanes which can be visited during one of your vacations as a teacher in Philippines. Located on the northern part of the country, Batanes is a natural wonder to behold with surreal and dramatic landscape with stretches of amazing green land, rolling hills and canyons.
Davao city is another place to visit, there you will find the Shrine of the Holy Infant of Jesus, the Crocodile Oark
Other places you can visit in the Philippines include Camiguin, popular referred to as the 'Island Born of Fire' because of its numerous volcanoes, Cebu City, Boracay, a very gorgeous Island with fascinating white sand beaches, Vigan, the Philippines' only UNESCO World Heritage City, Banaue, famous for its beautiful rice terraces which is listed as the World Heritage rice terraces and Tubbataha Reefs Natural Park for the best scuba diving experience.
Important cities in Philippines
The most important city for English teachers in the Philippines is Manilla, the country capital, Cebu City and Pampanga.