A Guide to Teaching English in Poland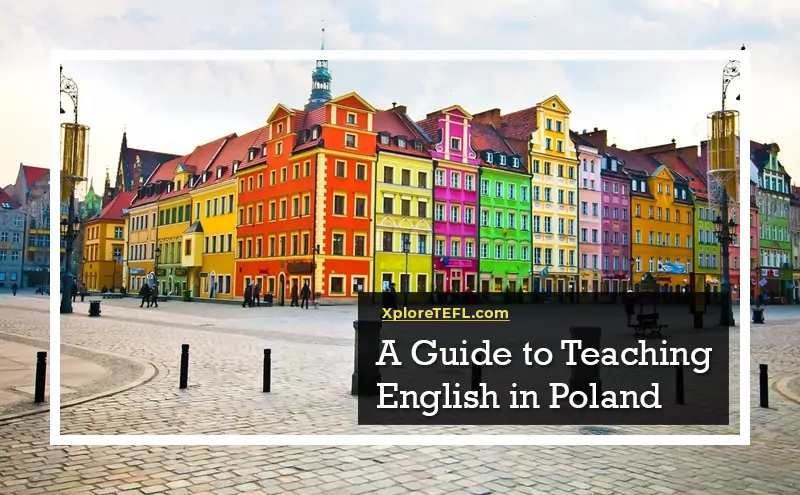 Are English teachers in demand in Poland?
The prospects for teaching English in Poland is great despite the unsteady history of the country. Poland is famous for its strong educational foundation for children and its internationally integrated curriculum that has made the country a good spot for English teachers looking to begin a teaching career in Europe.
In addition to this, Poland has a policy where students who wish to pursue a career in business, technology, engineering or healthcare must pass an English test before they can proceed. This has contributed to the demand for English teachers across the country especially among high school and university students.
Typically, the highest demand for TEFL teachers in Poland are in the big cities like Krakow, Wroclaw and Lodz and these can be found in the private language schools, public schools and in-company programs.
A TEFL certificate in Poland will expose you to the best teaching opportunities across varied teaching opportunities within the country and options to earn more during the holiday at the summer language camps.
What are the requirements to teach English in Poland?
A CELTA or TESOL certificate in Poland and a bachelor's degree is important for English teachers to get ESL jobs in language schools.
While the TESOL must be internationally recognized, the bachelor's degree required may be in any discipline. This is because some private institutions will pay more to certified teachers than those who are not.
However, for most other schools where the benefits may not be as high, teachers are only expected to have a Bachelor's degree and some teaching experience.
If you choose to teach in an elementary or high school, you may be required to obtain a teaching license as well as a Master's degree in Education.
Get a TEFL Certification Now!
What type of jobs are available for English teachers in Poland?
There are a variety of English teaching jobs for ESL teachers in Poland. You will be able to get a teaching job in private language schools, in-companies, government primary and secondary schools and language holiday camps during the summer holidays.
There is also opportunities for English teachers with organisations such as The Kosciuszko Foundation through the Teach English in Poland ( TEIP) program.
The nature of teaching jobs available in Poland vary and each has its peculiarities. Private language schools have a less defined structure than the government schools. In-company classes on the other hand are into business and conversational English and classes are usually after work hours in the evenings or late afternoons.
The summer camps are during the holidays, they provide benefits like food and accommodation and can last up to twelve weeks.
However, teaching in public school is usually most preferred since they provide more benefit even though the pay may be less.
What is the salary for English teachers in Poland?
ESL teachers with CELTA qualifications in Poland can earn between US$ 600 - US$ 2,000 monthly working an average of 25 hours per week depending on the type of language school.
Although government schools pay less than most other institutions, they offer more benefits to cover up for the lapses and are more preferable for teachers who desire the calmness of the rural areas.
Benefits for ESL teachers in Poland include accommodation allowance or in most cases just help in finding a place to rent. ESL teachers should also expect paid holidays and taxes paid by employers.
Can you save money while teaching English in Poland?
Poland has a relatively low cost of living compared to other ESL destinations in Central Europe. Even the major cities are not as expensive as a few countries in Europe. The average cost of living in Poland is between USD 800 to USD 900.
The average cost of living in Poland is low enough for teachers to be able to live comfortably and save. Most ESL teachers also take advantage of the private teaching opportunities to earn more and be able to afford some luxury.
Accommodation Options: Accommodation costs are cheap in Poland and you need not worry about spending all your salary on rent.  You can get a decent one room apartment close to the city center will cost about USD 500 per month and become much cheaper away from the city center at about USD 400 per month.
A few ways to search for apartments in Poland is through the internet like OLX and Gumtree, through estate agencies and also with the help of colleagues at your school.
What type of visa do you need to teach English in Poland?
Teachers who are EEA citizens are not required to obtain a visa to work in Poland. However, non EEA citizens must obtain a work visa or permit to be able to teach legally in Poland. 
You can also apply for a temporary residence permit alongside your work permit. This is very common amidst US teachers and requires that you have a job offer and ac contact with your employer.
Although the maximum validity for the temporary permit is three year, the length usually depends on the length of your contract. The process of obtaining a work permit in Poland is simple and straightforward and employers are always willing to help.
Hiring season and process for English teachers in Poland
The school year in Poland is similar to that of the North American schools and this influences the hiring period. The major hiring season for TEFL teachers in Poland is the period before the start of the school year which is usually in August. In some cases, schools may begin to hire as early as May or in June with a few opportunities in January.
Polish language schools do not usually advertise positions online and so it is important to visit schools physically to apply. This also applies to the interview as interviews in Poland are typically done in person although they may be scheduled online or over the phone.
Fun and travel activities while teaching in Poland
Poland is a very exciting place to visit for the best of European history, culture, art and architecture.
Some of the best places to visit in Poland include Warsaw, Krakow and Wroclaw, however, Poland has so much more to offer even beyond these cities.
Warsaw offers several delicate preservations of the World War II being the capital of the country and the worst hit city during the war. The city was once referred to as the 'Paris of the North' and offers amazing insights into Polish history.
There are a number of medieval churches to visit as well as the Royal Castle which represents the abode of several Polish Kings and queens that ever reigned in history. In Warsaw, you will also find the Rising Museum, the Lazienki Park, famously described as the best park in Europe and the Presidential Palace.
There is also the Bialowieza Forest for wild adventure lovers where you can find wild animals including the European Bison in their natural habitat. . The Forest is a UNESCO World Heritage Site and is mostly unspoiled.
Other places to visit in Poland include Gdansk, located on the Baltic Sea and home to the largest brick church in the world. There is the Tatra National Park, the most visited park in Poland, Lublin, the home of the ancient market place and Malbork which is well known for its infamous castles.
Important cities in Poland
The most important cities to work as ESL teachers in Poland include Warsaw, Poznan, Wroclaw, Lodz, Gdansk, Sopot and Gdynia.