A Guide to Teaching English in Portugal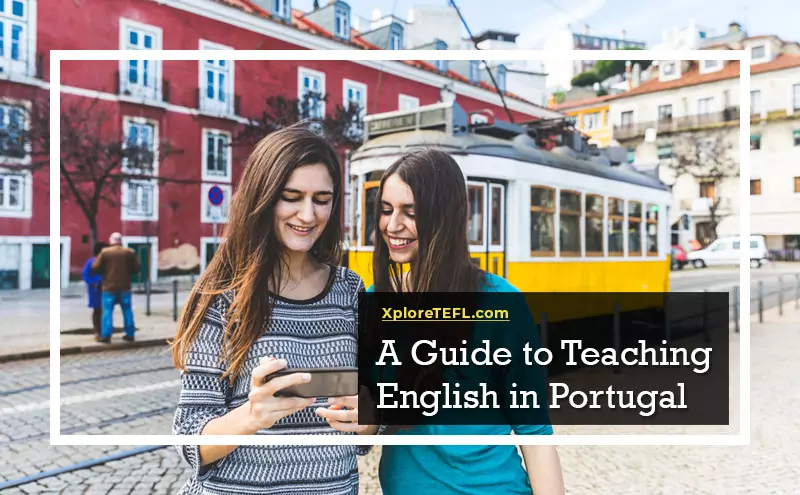 Are English teachers in demand in Portugal?
Portugal offers pockets of teaching opportunities for English teachers across the country.
A large part of the demand for English teachers in Portugal stems from language schools providing services for locals who wish to learn English to improve their chances of getting job offers especially in the tourism industry.
ESL teachers can also find opportunities in private and public schools as well as volunteering options with different organisations. Freelance private tutoring is common and best for teachers who already have a visa and a stable position in a school.
While most of the willing English students in Portugal are learning in a bid to better their opportunities for jobs and businesses , the rest are learning English as an obligation either as students preparing for an examination or workers whose company has made English language compulsory.
There are opportunities for English teachers in Porto and Lisbon where most of the English teaching academies are located with obvious variations in the range of pay and benefits offered.  
What are the requirements to teach English in Portugal?
ESL teachers in Portugal require a well-recognized TEFL, TESOL or CELTA certificate and a degree for a higher chance of getting English teaching offers in the country.
In addition to the TEFL / CELTA certificate and a Bachelor's degree, being a native English speaker is also an added advantage for getting English teaching jobs in Portugal.  
As regards the degree and course of study, a degree in English may give you an edge over other applicants, even though schools are not specific about any course of study.
Some schools in Portugal may also demand at least a year experience or about a hundred hours of classroom teaching experience.
Get a TEFL Certification Now!
What type of jobs are available for English teachers in Portugal?
Portugal has different types of English teaching opportunities spread across the country including private international schools, bilingual schools, companies, public schools, volunteer opportunities as well as private tutoring.
Opportunity in volunteer organisation may involve taking conversational English classes in public elementary or secondary schools, and sometimes even technical colleges.
You may also find an opening to teach as a language assistant in a public or primary where you will be attached to a host family with an opportunity to learn the basics of Portuguese culture.
Some of these volunteer organisations include the CIEE, a non-profit organisation and Global Volunteers Portugal. It is important to note that some of these organisations will not pay as it is purely a volunteering venture and in some cases, teachers may need to pay to apply.
ESL students in Portugal are of a wide variety ranging from kids in elementary schools to young adults in colleges and adults who are staff of company in need of English language tutoring.
What is the salary for English teachers in Portugal?
Salaries for ESL teachers in Portugal varies depending on the type of school and the location.
Private schools usually pay higher than public schools and teachers in Lisbon are more likely to earn higher than those in other cities. The range is about EUR 800 - EUR 2,000 per month and about EUR 10 - EUR 15 hourly for private tutoring.
Considering the cost of living, the salary of an average English teacher in Portugal is just enough to break even and savings may be possible when a regular job is combined with private teaching jobs.
ESL teachers in Portugal often receive help in finding accommodation but may not be offered free accommodation, allowance or airfare.
Can you save money while teaching English in Portugal?
Portugal has a very low cost of living compared to other countries in Western Europe although the cost is also influenced by location as it is with most other European countries.
The bigger cities are more expensive to live and the rural areas are a lot cheaper. 
Individual budget and spending habit also affects the cost of living in Portugal and certain tips like cooking at home can help cut costs rather than eating out.
Cities like Lisbon and Oporto have the highest cost of living in Portugal while Aveiro, Braga and Coimbra are much lower. The cost of living is about to EUR 1,000 - EUR 1,500 a month.
Accommodation Options: Language schools in Portugal hardly offer accommodation or other such benefits to ESL teacher in the country except for some volunteer positions that may attach you with a host family.
Most ESL teachers take shared apartments or move into rooms previously vacated by a teacher. A fairly furnished studio apartment may cost between EUR 600 to EUR 900 depending on the closeness to the city or a tourist attraction area.
What type of visa do you need to teach English in Portugal?
Typically, due to the long processes and bureaucratic procedures, teaching English in Portugal is much easier for EU citizens either as a regular teacher or as a freelancer engaged in private tutoring.
ESL teachers who are non-EU citizens need to have valid work permit in Portugal to be able to teach English in the country as most language schools will not hire teachers without their papers.
The process of obtaining a work visa in Portugal is quite long and schools are not usually willing to assist in the process although there are a few schools that will still go through and even sponsor the teacher's visa.
Hiring season and process for English teachers in Portugal
The best time to search and apply for English teaching jobs in Portugal is in the beginning of summer when schools are planning to hire teachers for the new school session.
The hiring season is affected by weather especially during the hot season in July or August when some companies may shut down to the harsh weather.
Holiday classes begin in late June and early July and positions are open for this around that period. ESL teachers can also apply in January or search private teaching opportunities that can be found throughout the year.
Interviews for ESL teachers in Portugal are typically done in person although in a few cases, you may get a chance to interview over the phone.
Although you may need to convince your prospective employers that you have certain skills like classroom management and effective delivery, being able to speak Portuguese is not usually required.
Fun and travel activities while teaching in Portugal
Portugal is an exciting coastal destination with over 700 km coastal stretch along the Atlantic Ocean. It is a favorite destination in Europe due to its ancient sites, history and beautiful picturesque cities and there is a wide variety of activities and adventures for English teachers.
A few of the places you should visit include the Oceanario de Lisboa in Lisbon for a breath-taking experience with amazing aquatic creatures. The beautiful aquarium is segregated into four ecosystems representing the Antarctic, the Pacific, Indian and Atlantic Oceans and you will find creatures like sharks, penguins, sea otters and rays.
The iconic Belem Tower is also a great place to visit. It was built in 1521 in Manueline style and is a famous UNESCO World Heritage site.
Other spots include the Castelo de Guimares where the first monarch of Portugal was said to have been born, the Picturesque Ribeira city that looks over the scenic River Douro and offers exciting nightlife and delicious cuisines as well as the Ria Formosa Natural Park.
Important cities in Portugal
Important cities to teach English in Portugal are Lisbon, Braga, Porto and Coimbra.