A Guide to Teaching English in Qatar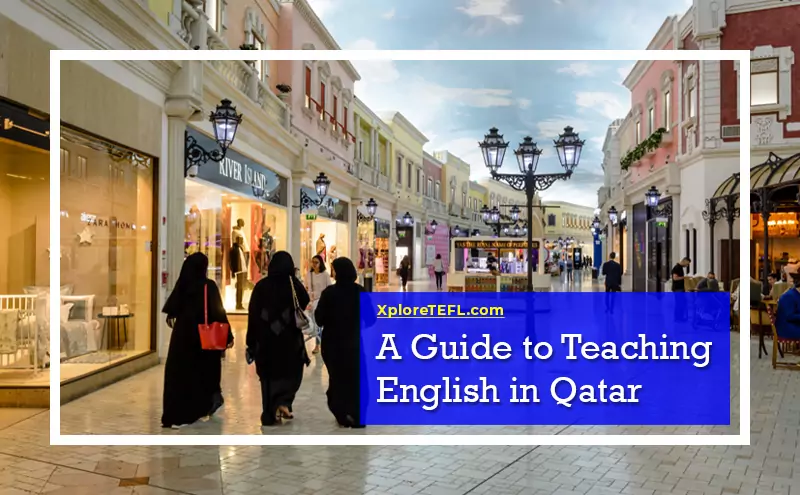 Are English teachers in demand in Qatar?
Qatar presents a wide range of English teaching opportunities for ESL teachers with a TEFL certificate in the country.
This emirate nation boasts some of the biggest natural resources reserves in the world. Consequently, the oil-rich nation has experienced a great bust of industrialization, rapid economy growth and upspring of international interests which has resulted in an embrace of English language as the language of business and communication.
Since the official language of the country is Arabic with Qatari spoken in some parts of the country, ESL teachers are sometimes needed to facilitate business transactions between expatriates and locals, here, they will be required to interpret contractual agreements and tender documents to make such contracts run smoothly.
The country, being in the middle of an educational reform, is looking to transform the mode of instruction to English presenting an endless list of opportunities including International schools and private academies to ESL teachers who possess a TEFL certificate in Qatar.
What are the requirements to teach English in Qatar?
Due to the growing number of expats, international schools and educational establishments in Qatar, recruiters aren't just on the lookout for teachers who are willing to teach English but have a keener interest in those with needed qualifications such as a TEFL or TESOL certificate.
In general, to teach in an International Private School in Qatar, you must possess at least a Bachelor's degree and ideally some 2-3 years relevant teaching experience.
If you opt for a private Language schools instead, you will be required to have a TEFL certificate in Qatar, and a  teaching experience though not mandatory gives you a upper hand in the recruitment process.
It is also imperative to note that most schools usually require their ESL employees to possess a teaching license.
Get a TEFL Certification Now!
What type of jobs are available for English teachers in Qatar?
There is a great demand for ESL teachers with a TEFL certificate in Qatar in educational establishments such as language schools and private international schools.
Since there is a great deal of Qatari adults hoping to better their English language skills, Language schools hire ESL teachers to take business professionals, adult learners and young children. Here, you might be required to work during the evenings, weekends or after school hours as the case may be.
If you choose to work for an International school, you might be required in most cases to teach other subjects like Maths, Science and Geography alongside English depending on your qualifications.
ESL teachers with a TEFL certificate in Qatar can also make extra money by taking private tutoring classes after-school or during the weekend. You will need to advertise your services online and make the right connections to get the best placements and salary rate you desire.
ESL teachers who are also fluent in Arabic can find work as interpreters and translators with their job description needing them to interpret contractual and legal documentation and technical papers.
What is the salary for English teachers in Qatar?
Salaries are generally on the high side in Qatar with a pay of $2400 to $4500 for an English teacher in private International schools. Native English speakers with a degree and some teaching experience usually earn the highest and the salaries remain tax-free.
Even higher salaries are offered to teachers in leadership roles depending on a number of factors including qualifications and teaching experience.
The best teaching offers include benefits such as accommodation, housing allowance and in a few instances, transport allowance.
Can you save money while teaching English in Qatar?
As an ESL teacher, your living cost isn't overly high with monthly rent usually your greatest expenditure. If you're lucky to get an academy which helps with finding an apartment, you should be in a position not to only live well but also save.
For the most part, your cost of living in Qatar should be at about $1000-$2000 per month.
Accommodation Options: The accommodation options left on the table for ESL teachers to explore usually vary across different educational establishments. Some schools offer fully furnished apartments while some others provide accommodation allowance and support in finding a suitable accommodation.
If you choose to rent an apartment in your choice area instead, you will need to have an idea of the cost implication. In general, a one bedroom apartment costs about $1500 in the city center and $1000 outside the city center.
What type of visa do you need to teach English in Qatar?
For ESL teachers in Qatar who intend to work with a school or academy, your employer should sponsor you for a minimum of two years and would help with obtaining a visa and all the necessary paperwork.
To receive a work visa, ESL teachers should expect to pass a physical and HIV test, and in most cases, academic transcripts and criminal background check may be required. In general, obtaining a work visa in Qatar should take about 4-6 weeks.
Work visas are usually issued for approved contracts by the government and ESL teachers can now switch jobs without needing the approval of their employer - as opposed to the old law - once their contract expires.
ESL employees whose contracts have been terminated while in Qatar have three months to secure a new job or risk leaving the country.
Hiring season and process for English teachers in Qatar
ESL teachers can land a job anytime during the year as many teaching positions are made available all year round. Most education establishments typically recruit new ESL teachers during spring and early summer for August and September start dates while some public schools hire ESL teachers during the autumn for positions beginning in either of January, February or March.
In most cases, teachers are always hired on ground, so ESL teachers should get ready their qualifications including a TEFL certificate in Qatar, tender it and appear conservatively for teaching job interviews.
Fun and travel activities while teaching in Qatar
With regards to fun, Qatar boasts a barrage of social amenities and attractions, heritage sites and cuisines for the absolute pleasure of its visiting tourists and residents alike.
You can visit the large shopping centers, museums and water parks where you can indulge in a lot of water sports and activities. If you are not a fan of water, you could go dune bashing, desert camping and light picnics with family and friends.
For a bit of exploration, walk down the streets of Souq Waif, where you can smell and experience tradition through the merchant's produce and surrounding architecture or pay a visit to Pearl Qatar, a man-made island in which the upper class lives, characterized by yachts and high-end stores and villas in gated communities.
While in Qatar, never forget to pay a visit to the Doha Corniche to soak up the atmosphere at the beautiful Doha Bay.
Important cities in Qatar
The capital city of Doha is the most important city for ESL teachers.