A Guide to Teaching English in Serbia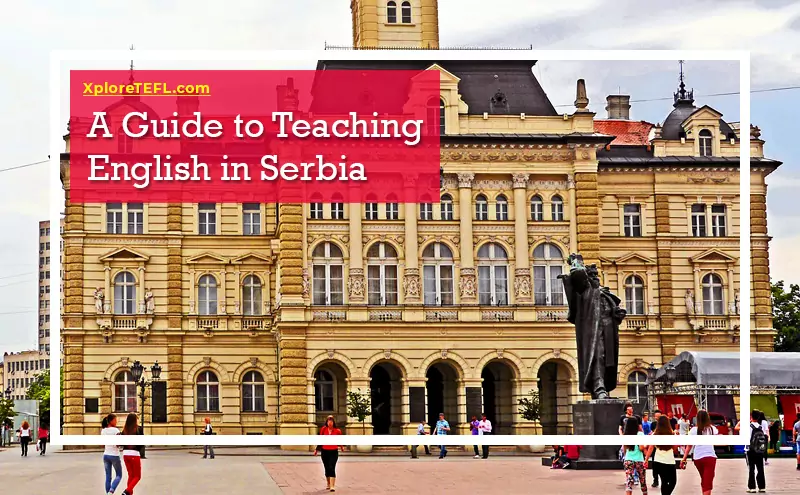 Are English teachers in demand in Serbia?
ESL teachers can find several opportunities in Serbia especially since the literacy rate is 98.84%, and one of the largest in Europe.
Although there is a relatively high rate of unemployment in the country and the economy is solely dependent on manufacturing and exporting, there are still teaching jobs particularly in language and international schools and in the big cities like Belgrade and Novi Sad.

In addition to these, the Serbian government is focused on improving the national school system in order to maintain its competitiveness in the European labor market therefore the pursuit of excellent ESL teachers is increasing.
There are variety of options for ESL teachers with TEFL certificate and teachers who enjoy a quiet life can find teaching opportunities in the villages in Serbia.
However, those who prefer a night out as a means to unwind after a day of teaching will find Belgrade, also known as the city that never sleeps very interesting.
What are the requirements to teach English in Serbia?
A TEFL certificate and a degree are major requirements for teaching English in Serbian language schools. 
The educational mission of international schools in Serbia is so well known, that the requirements for teachers who want to work in international schools in Serbia are often higher than language schools.
ESL teachers who wish to be employed in international schools in Serbia usually require a high level of education like a four year college degree and at least two years teaching experience.
With a TEFL certificate in Serbia, the opportunities are endless and it is very easy to get a teaching job especially in the city although native speakers are most preferred. 
Get a TEFL Certification Now!
What type of jobs are available for English teachers in Serbia?
ESL teachers can find teaching jobs in big cities like Belgrade, where they can be paid to even be a private tutor for children or adults in Serbia who wish to learn English Language better.
Teachers can also work in language and international schools like Akademija Oxford, Concord Language School, The International School of Belgrade and many more. 
Local schools in the villages like Sremski Karlovci in Serbia, have few English teachers so teachers are high in demand. There are transit centers in the North of Serbia, founded by UNICEF, which give children free education and sends ESL teachers to go to the various camps and develop the student's language skills. 
What is the salary for English teachers in Serbia?
ESL teachers in Serbia earn about $800-$900 by working 35 hours per week in international and language schools.
The Average salary in Serbia is about $700 per month. Furthermore, teachers are paid per class, so if they work more, their salary will increase.
Many ESL teachers with TEFL certificate in Serbia especially those employed in international schools are most likely to enjoy benefits such as free housing or reduced accommodation costs.
Can you save money while teaching English in Serbia?
Serbia is a good place to live with good ratings in safety, reduced cost of living and tolerance.
However, the cost of living in Serbia varies with individual budget because of different taste and lifestyle. If you live in the city, the average cost is about $600 dollar per month, which covers your rent, transportation, healthcare and food.
ESL teachers in Serbia can break even and may be able to earn enough money to enjoy a fun night out, go on adventures once in a while.
Accommodation Options: ESL teachers who want to save money on rent can decide to share a room.  The small villages in Serbia are very affordable but if you are looking for an English teaching jobs in the city, an average studio apartment in Serbia costs $200.  
Most ESL teachers working in an international school can easily pay this price while those who work at local language schools will find it fairly affordable.
What type of visa do you need to teach English in Serbia?
ESL teachers must apply for a work permit in Serbia because it is prohibited to work without a permit. The work permits are issued by the Belgrade Employment Offices.

The documents related to obtaining a visa for teaching in Serbia includes a valid passport and it is best to complete the process before arriving in the country. Some employers will help with the visa process but this is not certain and teachers may need to get through the process unaided. 
A substitute for a Serbian visa is a Schengen, UK or US visa. If an ESL teacher has any one of these visas, then it can also be used to enter the country while they proceed to get a work or residence permit.
Hiring season and process for English teachers in Serbia
The Serbian school year is from September to June and most Serbian language schools and international school applications are available during the school year. However, it is advised to seek jobs at the beginning of a school session as most schools will not hire in the middle of the session.
Most Serbia ESL teachers are expected to be in the country before the start of a contract. In addition, ESL teachers tend to get more opportunities more opportunities to work in Serbia when interviewed directly. For this reason, it is important to plan your trip to Serbia to look for jobs.
Fun and travel activities while teaching in Serbia
Serbia is an adventure paradise, there are canyons, rivers, beaches, mountains, national parks and reserves. ESL teachers can immense themselves in the beautiful spring summer climate, from pleasant spring days to the brisk sun in August.
Mountaineering is one of the most famous activities in Serbia. During the holidays, ESL teachers can go skiing in the winter and hiking during the summer. Serbia is also home to a lot of pre historic monuments and fortresses and the capital city Belgrade is one of the oldest and largest city in South East Europe.
If sightseeing is your hobby, then the architectural structures of the monasteries will leave you in awe with water sports like canoeing and white water rafting is also available.  
The exit festival, which is one of the biggest musical festivals in Europe, happens in the Petrovaradin Fortress in Serbia, this is surely an event that should not be missed while in Serbia.
Important cities in Serbia
The capital Belgrade and other cities like Nis, Novi Sad and Pristina are wonderful places to work and have fun in Serbia.