A Guide to Teaching English in Singapore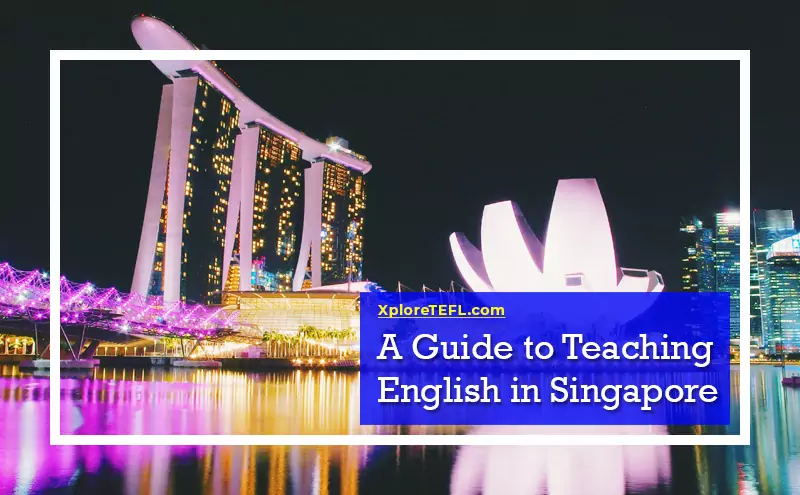 Are English teachers in demand in Singapore?
Singapore is an established market for ESL teachers in Asia as it is a nation that invests in education thus there are opportunities for ESL teachers with well recognized qualifications like the TEFL certificate.
However, despite the official language of the country being English, the ESL market is quite saturated and competition is usually stiff for better paying positions. This can be attributed to the attractive salary scale for English teachers and the serene features of the country that makes it a great place to live.
Singapore pays teachers one of the highest wages in Asia and ESL teachers even get benefits such as housing stipend and a low tax rates.
However, the country is more suited for experienced teachers with TEFL certificate and higher degrees than those who are fresh graduates.
What are the requirements to teach English in Singapore?
To secure an ESL teaching job in Singapore, an internationally recognized TEFL certificate is a very important requirement.
A Bachelor's degree most preferably in education or a subject course like linguistics is also very essential especially for public and international schools.
Teachers with other types of degree may also thrive with a TEFL and some experience. In Singapore, a certified teacher who has interest in teaching English in public schools is required to get an approval from Ministry of Education and the applicant should be willing to commit to at least 12 month contract.
Get a TEFL Certification Now!
What type of jobs are available for English teachers in Singapore?
There are ever growing numbers of opportunities for ESL teachers in Singapore with language schools that have high expectations to hire stable teachers.
The teaching jobs available in Singapore include openings in private language schools, international schools, Business professionals, school children between age 3-11 and private students for extra prep which gives extra income.
Most ESL teachers average between 25 and 27 hours per week and they're expected to provide a safe and fun learning environment for the students.
What is the salary for English teachers in Singapore?
Asia is by far one of the most amazing places for teaching abroad where you will teach, travel and make money and Singapore ranks amongst the first five destinations for ESL teachers in the continent.
Earnings of ESL teachers in Singapore vary depending on experience, qualifications and the number of students they can get from private classes.
The average salary for ESL teachers in Singapore is between $2,700 and $3,500 per month with teachers with higher qualification earning better.
Employment benefits for ESL teachers in Singapore include relocation allowance and airfare. A number of international schools also provide accommodation, health care and holiday every three months, including two weeks over Christmas.
Can you save money while teaching English in Singapore?
Even though Singapore is regarded as an expensive city and the cost of housing, transport and groceries seem to be rising yearly, the salaries of ESL teachers makes it easy to live comfortably and even save.
The cost of living for ESL teachers in Singapore is between $2,000 and 3,000 USD including transportation and feeding.
In addition to this, since the salaries come with some other benefits, there is a cut in cost and a chance for ESL teachers to easily keep to budget.
Accommodation Options: Although accommodation cost is generally expensive, there are cheap places to live in Singapore called HDB flats, where teachers can rent a room for as low as $500 a month.

On the other hand, some schools provide housing or an added stipend as accommodation benefits. ESL teachers can also share apartments with other teachers or expats to reduce the amount spent on rent.
What type of visa do you need to teach English in Singapore?
ESL teachers in Singapore are required to obtain a work visa to live and teach English legally in the country.
Generally, work visas are mostly sponsored by employer who will assist in applying for the employment pass or work permit once the ESL teacher has accepted a job offer. Teachers are expected to possess a police and medical check clearance from their home country to obtain visa to teach legally in Singapore.
Also for ESL teachers must provide copies of their TEFL certification, degree and transcripts and schools will have to provide their evidence of registration with the Ministry of Education.
The entire visa application process in Singapore is fairly easy once all the proper paperwork are in place.
Hiring season and process for English teachers in Singapore
Many language institutions in Singapore accepts application year round, but the peak hiring season is usually from November- April. Usually, the academic year begins January, after which the schools take a month holiday in June and another six weeks holiday at the end of the year.
Most schools in Singapore interview teachers in advance over the phone while considering them for a job. However for a final assessment, ESL teachers are to attend in person and teachers with TEFL certificate must show willingness to work for as long as one to three years.
Fun and travel activities while teaching in Singapore
Singapore is an international hub of beautiful adventure, there are plenty of things to do and places to visit for ESL teachers in Singapore. The country has a busy downtown, there are websites for art exhibits, networking events and major Futbol games.
Living in Singapore comes with different amazing places to visit like the Singapore River, The Singapore Flyer, Singapore Zoo, Gardens by the Bay, among others.
One could also visit neighboring countries for weekend trips in places like Bali, Malaysia, Indonesia, Thailand, Philippines, and more in Southeast Asia as they are quite accessible from the country.
Important cities in Singapore
You can find teaching positions across Singapore as the entire country is only a small Island.