A Guide to Teaching English in Spain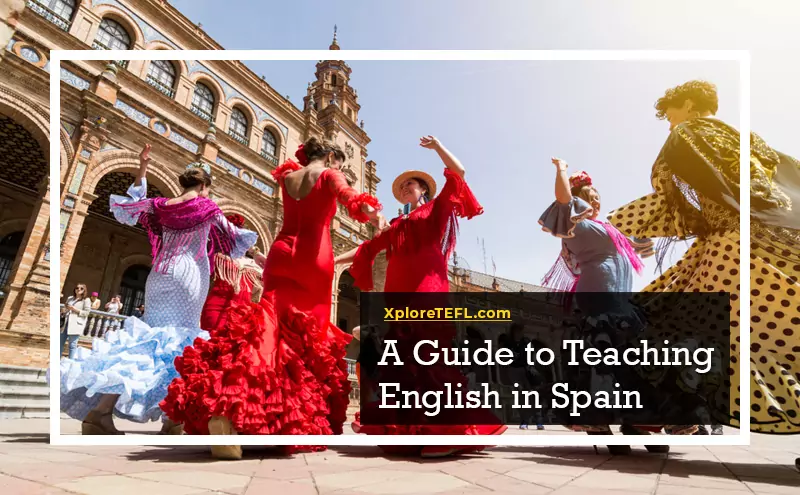 Are English teachers in demand in Spain?
Spain has an incredibly high demand for English teachers both in the big cities and the countryside. However, there is a higher demand for teachers in the cities than in the smaller towns and countryside.
There are excellent prospects for ESL teachers as native classroom assistants in private and public language schools, volunteer, and government programs. There are also private teaching opportunities, especially for Spanish undergraduates who must obtain the First Certificate in English to graduate.
In addition to the high demand, which means there are many available English teaching jobs, Spain is a preferred destination for ESL teachers in Europe for several reasons. These include the minimum requirements for obtaining a job and the range of salaries and benefits attached to teaching English in the country.
Many Spanish language schools offer ESL teachers healthcare and paid holidays. There are opportunities with families known as live-in positions where teachers are invited to live in the house and teach English to the children.
What qualifications do you need to teach English in Spain?
An internationally recognized TEFL certificate is an essential requirement to teach English in Spain. Although it is easy to get an English teaching job in Spain, there are still specific ESL teachers' requirements.
To teach in a Spanish public school, you need a teaching degree certified in the EU. You also need some teaching experience for more competitive job opportunities. Furthermore, there is a high preference for native speakers across all job types due to the cumbersome visa requirements for non-EU citizens. This means that non-native speakers may only find jobs if they are already in Spain and eligible to work in the country.
BEDA programs allow you to teach English in spain as an auxiliar de conversación(English Language Asssitant), where you can get teaching opportunities require a degree. In contrast, others, such as the North American Language and Cultural Assistant program, do not demand a degree but an Associate degree. Another such program referred to as the CIEE only requires that teachers be in their second year at the university.
Many volunteer programs in Spain do not even require any qualification, so teachers without higher education can still find openings at such programs.
What type of jobs are available for English teachers in Spain?
The types of jobs available for English teachers in Spain belong to either public or private schools. There are government programs, language academies, volunteer programs, and private tutoring opportunities.
Public School Teaching Jobs
Each school has different requirements and circumstances under which teachers may be hired. Public school opportunities are hard to find, especially for teachers who are non-EU citizens.
You can be employed in high schools as an auxiliar de conversación (English Language Assistant), but this comes with lower pay than other job types. A common avenue for getting a language assistant job in Spanish public schools is through the North American Language and Culture Assistant program or Conversa Spain managed by the Ministerio de Educacion.
Private Schools
There are opportunities for ESL teachers as teaching assistants in Spanish private schools. Private schools pay better than most other ESL teaching jobs in Spain and usually come with benefits. However, most private schools in Spain have strict requirements, including prior teaching experience and an EU-legalized teaching degree certificate. ESL teachers can also work in a private Spanish school through programs like the Meddeas Program.
Private Teaching Opportunities
There are many avenues for native English teachers in Spain to work as a private tutor. These include in-company classes, which involve teaching English to ESL students within a company, and private classes.
In-company Classes: In-company classes for employees of a company usually hold in groups at the students' office, while those that involve teaching top company officials are typically one-on-one. Some ESL teachers teach at more than one company at a time.
Private Classes: Although Spanish students are expected to learn English at school, many parents hire private English teachers to teach their wards at home. You may get offers to teach individual adults, usually in their homes or at a public place like restaurants or parks. The average cost for private teaching is between EUR20 and EUR40 per hour.
After-School Language Programs/ Academy Classes
Teaching in after-school language programs or academies in Spain means you may have to teach both adults and children, work in the evenings and teach for up to 25 hours a week. Academies pay between EUR1,000 and EUR1,200 and are often located away from the city center.
Summer Camps
Summer camp is another interesting ESL job type in Spain. This usually serves as a means of earning extra and is available to English teachers who prefer a short term teaching role. Summer camps in Spain can last between 2 to 8 weeks and are usually intensive but fun.
The salary for ESL teachers in summer camp varies by length, and an eight-week camp can pay up to EUR 2,000, including benefits like full board and accommodation. Types of ESL students in Spain include public and private school children, students, and business professionals.
How to find English teaching jobs in Spain
Applying to auxiliar de conversación programs is one of the most popular ways to find English teaching jobs in Spain. However, there are many other options and possible ways to find ESL jobs in Spain, especially if you have a TEFL certificate and some teaching experience.
Before you begin your search for a teaching job, it is best to obtain a 120-hour TEFL certification. Without a TEFL certificate, getting an ESL job in Spain can be an arduous task, even if you have teaching experience.
Also, timing is crucial. Most teaching opportunities can be found in September through October and then again in January. These are the peak hiring periods and the best time to contact schools and language companies. Spring is the best time to look for summer camp ESL jobs in Spain.
Some of the best places to find teaching jobs in Spain are: The Guardian, ESLBase, LinkedIn, ESL café.
Apply as an English Language Assistant (Auxiliar de conversación)
The most popular option to get English teaching jobs in Spain is to apply through cultural Assistant programs. Most of these programs offer you a chance to work legally in Spain on a student visa.
Foreign ESL teachers favor this option because getting a work visa to teach directly in language schools is nearly impossible. Some of the most popular auxiliar de conversación programs include the NAL Culture Assistant Program. BEDA (Universidad Pontificia Comillas) and MEDDEAS.
Join TEFL Communities on Social Media
It is easier to access information on available ESL jobs in Spain when you belong to a community of people with similar ambitions. You can join Facebook groups like the Barcelona TEFL teachers Association, English Teachers Barcelona, where you can find foreign English teachers who aspire to teach in Spain or already working there.
You can Google 'tefl jobs spain facebook' to find more relevant Facebook groups, which you can join to receive updates on available teaching jobs in Spain.
Advertise Yourself on Local Teaching Websites
Once you are in Spain, you can explore private teaching opportunities to augment your income. Some ESL teachers place adverts on local teaching websites like the Tus Clases Particulares and LingoBongo. You can get linked with ESL students looking for English teachers and build good connections with them for referrals and more clients.
Apply to Schools Directly
Most private schools in Spain prefer to interview ESL teachers locally. As a result, it is best to travel to Spain to begin your search. A great place to search for schools in Spain is Paginas Amarillas. You can visit schools directly and tender your application or apply through websites. You can also check for vacancies in the local Spanish newspapers like La Vanguardia, El Mundo, and El Pais.
What is the salary for English teachers in Spain?
The salary for English teachers in Spain varies depending on the type of school, qualification, and teachers' experience. ESL teachers in Spain earn between EUR700 - EUR1,000 per month working through a program for about 12 to 16 hours weekly and EUR1,500 to EUR2,000 with private schools on an average of 25 to 30 hours per week. Teachers with a TEFL certificate tend to earn better, especially when combined with experience.
Private teachers in Spain can earn between EUR15 and EUR25 hourly depending on TEFL qualification and experience and up to EUR2,000 teaching in summer camps. Volunteer programs usually offer accommodation to teachers through homestays, although they do not provide salaries.
What type of visa do you need to teach English in Spain?
You may teach English in Spain on a work visa, student visa, or no visa at all, depending on the type of ESL job and your nationality. EU nationalities can work in Spain legally without requiring any visa at all. Also, teachers from Norway, Iceland, Switzerland, and Liechtenstein are exempt from obtaining visas to Spain.
Work Visas
It is not easy to obtain a work visa to teach English in Spain due to the Spanish government's strict regulations. Thus, most ESL teachers explore the next best options: a student visa or tourist visa.
Getting a Spanish work permit to teach English in Spain is quite tasking, especially with the paperwork involved.
ESL teachers who have secured a teaching job in Spain must visit the consulate or embassy in their country with relevant documents. They include a letter of acceptance or job offer, proof of clean criminal record, evidence of financial ability to travel as well as a medical certificate showing no signs of ill health.
To obtain a work permit in Spain as a non-EU citizen, your employer is expected to first file the application in Spain with evidence to show that an EU citizen in the country cannot be given the same position.
Many non-EU teachers take another route where they apply for a student visa, and this also applies to teachers enrolling in programs such as the BEDA. The student visa allows the holders to hold a part-time job in Spain.
Spanish Student Visa
You can teach English in Spain for up to 20 hours a week on a student visa. However, you can only be granted a student visa if you are enrolled in an institution. Many English teachers enroll in a university or Spanish language schools to obtain a student visa. Once you are in the country, you can work legally for 20 hours weekly while you study.
Applying through programs like the Culture Assistants Program or BEDA can also help you get a long-stay student visa to teach English in Spain. To obtain a Spanish student visa, it is advisable to begin the process at your local Spanish embassy at least 12 weeks before your intended travel date. Also, once you arrive in Spain, you will be required to obtain a Numero de Identificacion at a Spanish Police station within 30 days.
It is advisable to get all necessary information from your local consulate and the Spanish Government website to make your visa application process more manageable. More importantly, after completing your studies, getting a work permit in Spain becomes a lot easier.
Working Holiday Visa
ESL teachers who are citizens of Australia, Canada, or New Zealand can teach English o Sai on a working holiday visa. This kind of visa is made available through an agreement between the government of these countries and the Spanish government. The Spanish working holiday visa is valid for just one year and has an age restriction to it.
Some ESL teachers work in Spain "Under the table" (without a work or student visa), but this illegal and unadvisable.
Can you save money while teaching English in Spain?
You can save money while teaching in Spain if you live more like a local, but it is easier to break even. The cost of living in Spain is relatively lower than that of other Western European countries, although within the country cost varies as it is higher in big cities than in other areas.
Often, ESL teachers find it easier to save working with big private companies than a language assistant. Also, making some adjustments to your expenses like avoiding foreign foods, eat-out and sharing apartments can help save more.
Cost of living in Spain
The average cost of living in Spain is between EUR600 and EUR900. Cities like Barcelona, Madrid, Palma de Mallorca, and Valencia have the highest cost of living in Spain, with lower cost in areas like Castille La Mancha, Malaga, and Alicante.
Accommodation Options in Spain
Rent in Spain is affected by location, and teachers need to consider this when choosing a place to stay. A bedroom apartment close to the city center costs about EUR480 while the same outside the city center is about EUR650. You may cut down on accommodation costs by sharing apartments with other ESL teachers or ex-pats.
When can you apply for teaching jobs in Spain?
Language schools in Spain follow a regulated teaching calendar where the school year runs from October to June. As a result, the best time to apply for English teaching jobs in Spain is from September to October and January. Teachers can also apply for summer camp teaching jobs between April and May.
Like most other ESL destinations, English teachers in Spain must undergo an interview before getting hired. Interviews can be conducted in person, over the phone, on Skype, or by email. To get private tutoring opportunities, you need to do personal advertising (word of mouth), posting bills in public places, or register on some online job search sites.
Frequently Asked Questions
Can I teach English in Spain without a degree?
You can teach English in Spain without a degree through the culture assistant program. Some volunteer organizations also take ESL teachers without a degree. However, you stand a better chance of getting your desired job if you have a TEFL certification and a degree.
Where can I teach in Spain?
You can teach English in any city in Spain. If you are teaching through the auxiliares de conversacion program, you may be placed in any city across the country. However, as a language assistant or private school teacher, you can decide where you wish to teach. The best cities in Spain for English teachers include Madrid, Seville, Barcelona, and Granada.
Do I need to know Spanish to teach in Spain?
Knowing Spanish is not a requirement to teach English in Spain. Speaking Spanish in ESL classes is not advised as students can easily revert to Spanish, making it difficult to learn English.
How easy is it to get a teaching job in Spain?
Getting a teaching job in Spain is easy because the demand for English is high, and there are plenty of work for English language teachers, with different job types to explore.
Can a non-native get a teaching job in Spain?
Yes, but you need to have a native English speaking fluency. Most language schools in Spain prefer native ESL teachers or those who speak English at a native speaker level.
Fun and travel activities while teaching in Spain
There are many fun things to do and places to visit in Spain for ESL teachers during their daily endeavors and the holidays. Apart from various food and drinks, Spain also has spectacular architecture, world class art museums, Cathedrals, and electric nightlife.
You should try eating Tapas, a common practice in Spain where people eat a kind of morsel food with drinks in different bars and this can go on until late in the night. For adventurous experience, try riding the only international zip line globally, Limite Zero, which runs across borders into Portugal with travel across timelines.
There is also the scariest pathway in the world where tourists walk on a pathway known as Caminito del Rey, which also means Kings Little Pathway. Then there is the freaky La Fiesta Festival known as the Near-Death Experience festival, which takes place in Las Nieves, Galicia.
Places to visit in Spain include the Valencia Cathedral, where you will find the Holy Grail, and the only desert in Europe known as Desierto de Tabernas in Almeira.