A Guide to Teaching English in Taiwan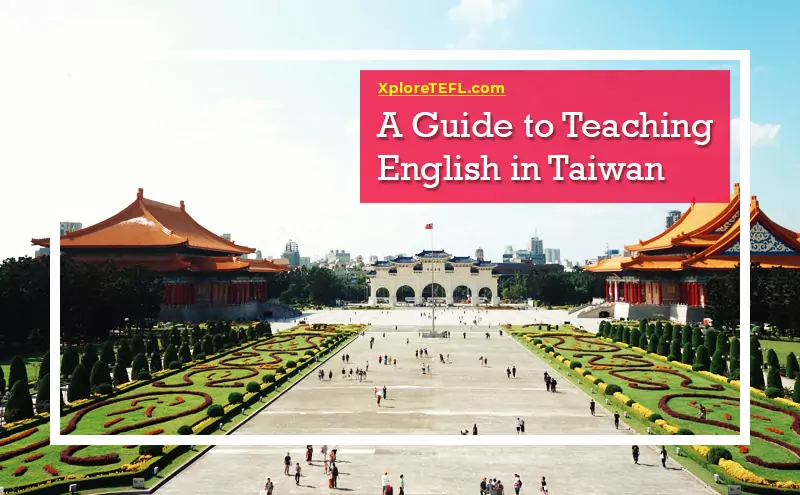 Are English teachers in demand in Taiwan?
Not so long ago, Taiwan announced its plans and commitment to making English its official language as it hopes to become bilingual Chinese-English by 2030. This was some good news for native speakers and ESL teachers with TEFL certificate in Taiwan looking to take up English teaching position in the East Asian country.
Taiwan presents great prospects for English teachers with the government itself committing to hire and train 5000 elementary and junior high school English teachers in order to meet its target.
English teaching positions in Taiwan exists in pre-schools, kindergarten, elementary school, junior and senior high school, Universities and adult education. However, it might suffice to say that the Taiwanese English teaching market has a special preference for native speakers due to visa requirements.
Most ESL work in Taiwan is centered on a Buxiban, an afterschool program catering for all ages. Buxiban for adults are usually harder to come by than those of children.
What are the requirements to teach English in Taiwan?
Usually, the basic requirements required for teaching in Taiwan include a TEFL certificate, a bachelor's degree, a minimum age of 20 years, employment letter, working resident visa and criminal free record.
Although, the Taiwanese English teaching market is said to have a fixation for English teachers from the native speaking English countries of US, UK, Ireland, South Africa, Canada, New Zealand and Australia, ESL teachers with a TEFL certificate in Taiwan can still find a soft landing.
If you wish to teach in a University or private school, you will be required to have acquired a master's degree along with some teaching experience and a TEFL certificate in Taiwan. A basic knowledge of the Chinese language and publications also gives you an edge when applying for a university teaching positions.
What type of jobs are available for English teachers in Taiwan?
ESL teachers with a TEFL certificate in Taiwan above all have great prospects of landing a job in public schools, private institutions, Buxibans, universities as well as taking private tutoring roles.
In public schools, you will be required to work from 8:30am till 5pm each day and will be paid a fixed salary every month as is set by governing government policies. The public school teaching position is rather hard to come by, still, ESL teachers with a TEFL certificate are hugely sought after.
In a private school set-up, the hiring and working policies is even more flexible and usually enjoy a greater hiring rate, on that premise you might be required to work for longer hours.
You can also work in 'Buxibans', privately owned after-school tuition centers looking to enhance their students English language skills and improve their chances of getting into the best universities all across the globe. Here, you must agree to a minimum of a 2-year contract.
What is the salary for English teachers in Taiwan?
English teachers with a TEFL certificate in Taiwan enjoy a good salary package padded with lovely benefits.
Private schools have a salary rate of $20 per hour with most foreign ESL teachers ending up with about $1,400 - $2,000 in their bags by month's end while public schools with an hourly rate of $35 can allow you earn somewhere between $2,000 and $2,400 each month.

For private classes, you would usually earn about $25 per hour while Buxibans pay the least at around $1,200 - $1,300.
Many Taiwanese schools offer free accommodation; bonuses (buxibans), funds for research work (universities), tax-free income (private tutoring and American schools), health insurance, housing allowance (private and public schools) and overtime pay.
Can you save money while teaching English in Taiwan?
Taiwan offers ESL teachers a great opportunity to save while working and living a fun-filled life full of adventure. The cost of living in Taiwan is quite low compared to most other countries.
With utilities costing around $76 a month, phone and internet ($29), Food ($162), Public transport ($190) and Insurance ($29), the cost of living exempting accommodation can be put at about $500 a month.
Accommodation Options: Most schools will usually provide their ESL employees with free accommodation or an accommodation allowance and help in finding a suitable apartment.
Often times than not, free accommodation provided by these schools are usually shared with other ESL colleagues.
If you choose to stay alone, you would have to make provisions for a room yourself.
Generally, it costs about $420 to rent a one-bedroom apartment in the city center and $200 outside the city center.
What type of visa do you need to teach English in Taiwan?
To teach legally in Taiwan, you have to obtain a resident working visa. Within 15 days of arrival in Taiwan, ESL teachers are expected to apply for an Alien Resident Certificate (ARC).
To qualify for a work visa or permit leading to your ARC, you have to ready a health check conducted by a Taiwanese hospital, university degree (original copy), job offer, clean criminal record and passport photos. Extra documents like current residence certificate, case certificate are then needed for processing an ARC.
An ARC is basically your Taiwanese ID that allows you to make multiple entry and exits out of the country, allows you rent accommodation and make purchases like every other local.
Hiring season and process for English teachers in Taiwan
Basically, ESL teachers with a TEFL certificate can fill up English teaching positions all year round but the peak hiring periods are before or after the Chinese New Year and also in July and August.
It is usually not recommended to arrive in Taiwan with a tourist visa before applying for a job because the Taiwan immigration might refuse to grant a visa or serve a five year ban sometimes if they think that is your goal.
Most ESL teachers therefore opt to gain employment through placement programs or online applications in some cases without in person interview.
Fun and travel activities while teaching in Taiwan
Taiwan offers a great deal of fun and travel activities for all and sundry apart from being a particularly wonderful country to teach in.
Pay a visit to Taroko gorge blessed with mountains, waterfalls and rocky cliffs riddled with tunnels, visit Ximen, Taipei's funkiest neighborhood and try the infamous poop ice cream ( did I hear you giggle?) You can also try your fingers at Thai cuisines such as Bao Bing and Honey Toast Box. Do not leave the shores of Taiwan without going temple hopping or riding a glass floor gondola over tea fields.
Whether you choose to teach English in the vibrant capital city of Taipei, Pacific kissed shorelines of Hualien or Taitung or the ever pounding cultural heartbeat and hub of Tainan, teaching in Taiwan would be a non-forgettable experience for you in terms of fun and adventures.
Important cities in Taiwan
Most ESL teaching opportunities exist in the capital city of Taipei while other cities such as Kaohsiung, Taichung, Tainan and Hualien also suffice.