A Guide to Teaching English in Ukraine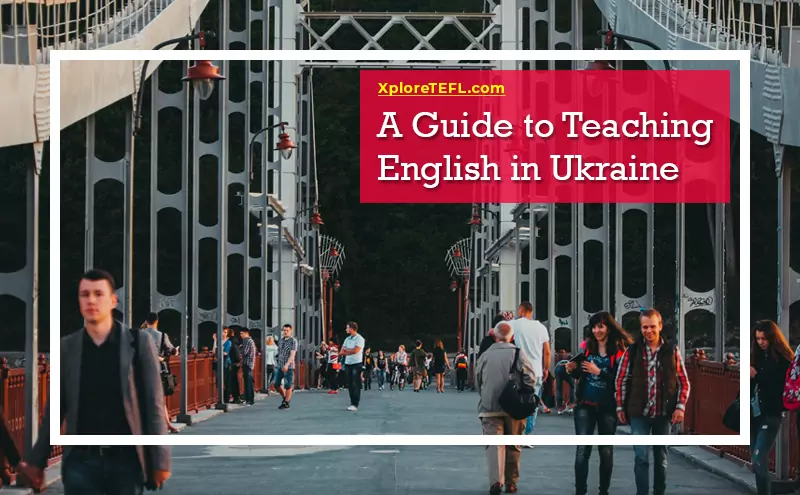 Are English teachers in demand in Ukraine?
Ukraine is considered one of the most sought after country for ESL teachers with teaching opportunities in Ukraine foreign language schools, private companies and tutoring centers.

The demand for ESL English teachers in the country keeps growing as a result of the huge necessity for students and business professionals to learn English language and improve their chances for better job opportunities.
Ukraine is a country leaning towards the EU system thereby refining their communication in English and requiring the services of ESL teachers. In addition to this, Ukraine is home to some big IT firms situated in areas such as Odesa, Kharkiv, Kyiv, and other cities and IT specialists are expected to have the ability to communicate in English. As a result, most of this IT firms hire in-house English teachers, while others adopt the use of English language schools who also hire ESL teachers to provide lessons to their employees.
What are the requirements to teach English in Ukraine?
Qualified ESL teachers in Ukraine are expected to hold a valid internationally recognized TEFL (Teaching English as a Foreign Language) certificate, and also a Bachelor's degree from an accredited institution.
TEFL certified teachers would need to show their qualifications to relevant authority in the country to be legally approved to work as a teacher in Ukraine. In addition to this, to qualify as an ESL teacher in Ukraine, you will need a legal government-issued license in teaching, in your country or home state.
However, schools in Ukraine have different requirements and most schools would want at least 2years worth of full-time experience at the relevant grade as well as subject level.
Get a TEFL Certification Now!
What type of jobs are available for English teachers in Ukraine?
Verified ESL English teachers who possess a teaching certificate, such as TEFL or TESOL in Ukraine can gain teaching positions in institutions such as Universities, private schools, tutoring schools, etc.
Paid English teaching jobs can also be found in foreign language schools across Ukraine, most of which are concentrated in Kyiv capital, with few others located in Odesa.
Furthermore, it is very common for ESL teachers in Ukraine to get hired as private tutors where they work one on one with business professional and students.
What is the salary for English teachers in Ukraine?
For ESL English teachers in Ukraine, salaries can range from USD $1500 - $3000 approximately.
With a valid TEFL certificate, English teachers can acquire jobs in foreign language schools, and private schools, where teachers get 20 - 30 hours of classroom and extra prep time every week, and they get paid $25 an hour or more.
Benefits like funded accommodation, airfare, and a sizeable relocation allowance are usually included in the contract.
Can you save money while teaching English in Ukraine?
Ukraine is known for its low cost of living and this is one of the features that attracts qualified ESL teachers to this amazing country. Apart from low cost of rent, other necessities which include food and transportation are also inexpensive.
Cost of living in Ukraine varies in several regions, the average cost of living in Ukraine is about $600 - $800 USD and with the average monthly salary, ESL English teachers in Ukraine can live a life of comfort and ease.
Accommodation Options: Few employers in Ukraine will offer their ESL teasers housing subsidy, this is most times enough to cover accommodation cost. However, ESL teachers with a TEFL/TESOL certificate can get a basic but comfortable apartment easily.
In Ukraine, a one- bedroom apartment cost $240 in Dneprovski and $387 monthly in more expensive cities like Pecherski, Kyiv, while utility costs in Ukraine cost an average of $50 - $ 100 monthly.
What type of visa do you need to teach English in Ukraine?
To get an English teaching job in Ukraine it is a necessity you have a tourist visa or EU citizenship. ESL teachers who are citizens of an EU member state can enter into Ukraine without a visa for and stay up to 90 days.
Most Ukraine schools encourage their ESL teachers to stay on a tourist visa as it is possible to arrive in Ukraine without a working visa. For US citizens, tourist visas can be obtained before leaving US and it can also be granted upon arrival into Ukraine. 
It is however recommended that ESL teachers obtain an official work visa, which is an IM-1 visa. To obtain the IM-1 visa, employers from a foreign language, private schools are expected to provide relevant documents to aid paperwork.
ESL teachers must also provide necessary documents such as valid passports, employment offer letter and copy of certificates.
Hiring season and process for English teachers in Ukraine
In Ukraine, the best season for ESL teachers to get hired is in the spring. Most school year commences in September and many of Ukraine's international school initiate hiring during the spring. The peak time for ESL teachers to get hired is mostly September.
ESL teachers can apply for English teaching jobs through in-person conducted interviews, hence it is essential to plan a trip to Ukraine beforehand, and it is also possible for ESL teacher seeking jobs to get an interview through an online video call, Skype or through phone calls.
Fun and travel activities while teaching in Ukraine
Ukraine is home to beautiful architectural sceneries a number of which are located in Kiev. Kiev or Kyiv is a pretty gorgeous city with the onion-domed churches and monasteries scattered all over this lovely area alongside pedestrian plazas.
Then the Arsenalna which is the deepest train station in the world is also located in this city Kiev is also a beautiful green city with abundant trees that add to the beauty of the entire scenery. ESL teachers can enjoy these features by choosing to teach in this stunning city or visiting during the holidays.
There is also the city of L'viv, located near the Polish border and the second most visited tourist destination in Ukraine alongside Kyiv. Lviv is a UNESCO World Heritage Site with its several architectural building which signify a combination of European and Soviet influence, the Lviv Chocolate factory and the St George's Cathedral houses.
Apart from Kiev and Lviv, English teachers can also enjoy a visit to some castle adventure of which the most accessible is at Kamianet-Podilskyi, where fortress sites are massive.
Taking a hike in the Carpathian Mountains, which stretches through the Eastern European countries is another breathtaking activity that ESL teachers can enjoy.
Important cities in Ukraine
In Ukraine ESL English teaching jobs is strongest in major cities like Kyiv (or Kiev), Odesa, and Kharkiv.