A Guide to Teaching English in Vietnam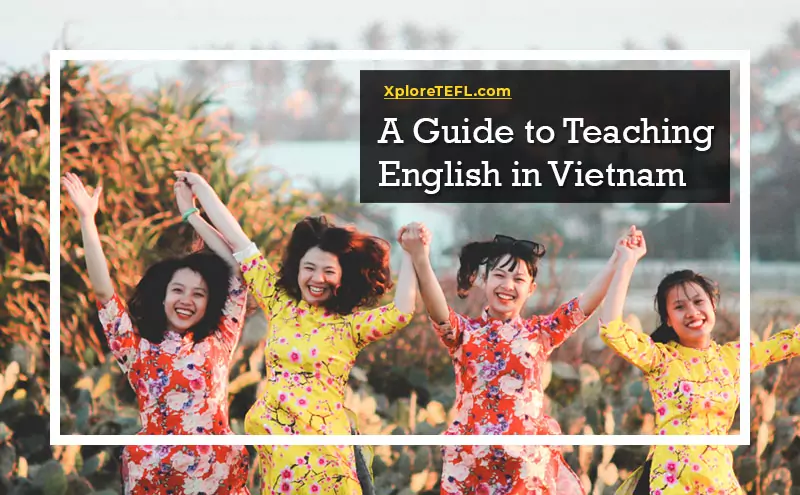 Are English teachers in demand in Vietnam?
There is a very high demand for English teachers in Vietnam, with opportunities found across several language schools. Vietnam takes a top position on the list of countries with the highest demand for English teachers worldwide. There are ESL jobs in Vietnam, private tutoring, and language schools where many locals seek to improve their English language.
The highest demand for ESL teachers can be found in the big cities like Hanoi or Ho Chi Minh City (HCMC), although teachers can find jobs in the laid-back rural areas.
The country has very lenient requirements for English teaches, and opportunities are available all year round. There is also the low cost of living, allowing teachers to save significantly and contribute to factors that attract teachers to Vietnam.
What qualifications do you need to teach English in Vietnam?
The requirements to teach English in Vietnam include an internationally recognized TEFL, CELTA, TESOL certificate, a bachelor's degree in any field, and a clean criminal background. You may also be required to give a paid mock lesson before you are hired.
Although native English teachers can easily get a teaching job in Vietnam, it is essential to meet the requirement for higher-paying ESL jobs in big companies and international schools. In addition to this, Vietnamese schools that hire native ESL teachers without a TEFL certificate or teaching experience are usually unprofessional and more likely to engage in unethical practices like terminate contracts without prior notification.
For non-native speakers, having a TEFL or TESOL is highly important in getting job offers. Most Vietnamese language schools do not demand experience so having a teaching experience is a bonus, not a mandatory requirement. Some international language schools in Vietnam may also require that you have a teaching license from your home country.
What type of jobs are available for English teachers in Vietnam?
There are different types of English teaching jobs in Vietnam, and it is more common to find English teachers teaching a wide variety of students, from kids to adults. There are opportunities for teachers in international schools, kindergartens, language schools, state schools, government programs, and universities.
Vietnam Public - State Schools - Government Programs
Public schools offer the less demanding ESL job types in Vietnam with 25 hours of work per week. English teachers in Vietnamese public schools enjoy a laid-back work environment and flexible teaching hours. Although you are required to be in school from 7 am to 4 pm, you may have only a few classes to teach in that period.
However, public schools usually have large classes, and ESL teachers may have to teach in classes with no whiteboards or air conditioning.
There is also a government program called National Foreign Language Project (NFLP) where ESL teachers can get benefitting positions and experience.
International Schools
International schools teaching jobs are the highest paying ESL jobs in Vietnam and the most competitive. Most international schools require a degree, a TEFL certificate, a teaching license from your home country, and some teaching experience. Some may even call for a master's degree. However, international schools pay up to two times other teaching jobs in Vietnam.
International Schools like British International School offer positions to qualified ESL teachers.
Language Schools - Kindergartens
Language schools are the most popular type of ESL jobs in Vietnam. There are more opportunities for English teachers in Vietnam in language schools than any other job type. Vietnamese Language schools have various students from kids to adults, and classes are usually taken after school hours or evenings.
Some popular language schools in Vietnam include Apax, Apollo, and ILA. Language schools are great for ESL teachers who enjoy the sophisticated and professional teaching environment with high technology. However, language schools usually pay more than public schools. Kindergartens are very similar to language schools but are usually morning classes.
Private Tutoring
Many English teaching jobs for ESL teachers in Vietnam come from private lessons with opportunities to teach students around the big cities. You do not have to report to an agency or teach through a company. You can get private teaching jobs by yourself and receive hourly payment.
While state school jobs are hard to find, international schools tend to give ESL teachers the best offers in Vietnam, although they may require some experience.
How to find English teaching jobs in Vietnam
You can find English teaching jobs in Vietnam by applying directly to schools online or through expat groups that advertise job offers. Finding an English teaching job in Vietnam is relatively easy since there is a high demand for ESL teachers. Most ESL employers in Vietnam require physical interviews and demo lessons.
As a result, a lot of ESL teachers arrive in Vietnam before applying for jobs. However, you may also apply before leaving your home country and schedule interviews for when you arrive. There are many ways to find English teaching jobs whether you decide to look for jobs in Vietnam or your country.
Join a Facebook Group for ESL Teachers in Vietnam
It is very important to stay updated through expat groups on social media when looking for teaching opportunities in Vietnam. There are different Facebook groups for ESL teachers in Vietnam, depending on the city you want to teach. Some of these include Hanoi English Teaching jobs, ESL teaching jobs in Ho Chi Minh, and English Teachers in Vietnam.
Besides looking out for job offers posted on the groups, you may also advertise your service and upload your CV. This way, interested ESL employers and language schools can contact you. However, some of these groups may have illegitimate members, so be sure to ask the expat community to verify any school's authenticity before you apply. You can also check the school website for reviews from previous foreign teachers.
Apply Directly to Schools
You can apply directly to schools in Vietnam either on their website or physically, depending on your location.You can begin your search by sending your application directly to English language schools like the Apax and ILA. When you eventually get an offer, speak to other teachers and do your research about the school before signing a contract.
Finally, you should be prepared for an interview, which usually lasts about half an hour and maybe conducted on the telephone or via skype video calls.
What is the salary for English teachers in Vietnam?
The salary for ESL teachers in Vietnam is between US$1,200 and US$4,000 per month. Salaries for English teachers in Vietnam depend on the number of hours worked, the location, and the school type. While most schools pay an average of US$20 per hour, some international schools in big cities like Ho Chi Minh pay up to US$25 per hour.
Teachers in Vietnam can also earn between US$10 and US$20 per hour taking private lessons. As a non-native teacher, you should focus on schools that require a TEFL certificate and teaching experience as these usually pay better than schools that do not.
Some language schools in Vietnam offer benefits such as visa sponsorship, relocation allowance, and contract bonuses.
What type of visa do you need to teach English in Vietnam?
You need a Vietnamese work permit (LD visa) or a Business visa (DN visa) to teach English in Vietnam. Most employers, especially in language schools, will help you through the process and take financial responsibility. It is also possible to teach English in Vietnam on a tourist visa, but this is illegal and unadvisable.
Vietnamese Business Visa - DN Visa
The Vietnamese Business Visa is a requirement for getting a work permit in Vietnam. ESL teachers can travel to Vietnam and apply for ESL jobs on a business visa. However, you can only teach with a business visa only if you are already in the process of obtaining your work permit.
It is important to begin your work permit application once you get your business visa. Teaching English in Vietnam on a business visa is better for individuals who wish to teach for less than three months. For more extended contracts, it is important to apply for a work permit.
ESL employers in Vietnam usually reimburse the cost of obtaining a business visa, except working on a part-time basis.
Vietnamese Work Permit - LD Visa
The requirements for obtaining a Vietnamese work permit vary slightly from country to country. Requirements for a work visa include certificates such as bachelor's degree and TEFL, a criminal background, employment letter, employer's license, medical clearance certificate, and an approval to employ foreign labor to be provided by your employer.
After obtaining your Vietnam work permit, you can go ahead to apply for a Temporary Residence Card. This will give you up to 3 years of validity, during which you can travel in and out of Vietnam without a visa. Visiting the Vietnam Ministry of Foreign Affairs website is important to understand the visa application requirements.
Tourist Visa
You may want to visit Vietnam on a tourist visa to find teaching jobs and attend interviews. However, it would be best to understand that you need a work visa to teach legally in the country, and there are specific requirements.
It is also possible to apply for a visa on arrival. You only need to get a visa approval letter that will enable you to receive a visa on arrival into the country.
Finally, you should be careful to avoid schools that assure you that you can teach English in Vietnam on a tourist visa.
Can you save money while teaching English in Vietnam?
You can save money very easily while teaching English in Vietnam. The cost of living in Vietnam is very low, and teachers enjoy a straightforward lifestyle on their salary.
Some schools also provide benefits like transport allowance and free accommodation allowing ESL teachers to save even more. On average, you can save up to US$1,000 monthly teaching English in Vietnam. You may even be able to save more if you work as a private tutor alongside your regular ESL job.
Cost of Living in Vietnam
The average cost of living in Vietnam falls between US$900 and US$1,700 per month, including food, transportation, accommodation, and other daily needs. Living as an English teacher in Vietnam is inexpensive because Vietnam has one of the lowest costs of living in Asia.
With an average salary of about US$1,500, you can enjoy a luxurious lifestyle anywhere in Vietnam and still have some extra left to save. The most expensive cities to live in are Ho Chi Minh and Hanoi, while the cheapest cities include Da Nang, Nha Trang, and Hoi An.
Accommodation Options in Vietnam
Rent in Vietnam varies depending on the area, and there is usually a demand to pay at least one or two months' advance deposit when getting a place. The average cost of accommodation in Vietnam falls between US$200 and US$600.
Teachers may also rent a room or share an apartment to reduce the amount spent on rent. It is important to note that most Vietnamese landlords will require at least two months' deposit before you can move in.
When can you apply for teaching jobs in Vietnam?
A significant thing to note is the best time to apply for teaching jobs in Vietnam. While most language schools will hire teachers all year round, international schools have their peak hiring period during the summer from June to August.
The hiring process for ESL teachers in Vietnam is a lot easy, and all that is required to secure a position in most cases is that teachers are native speakers and hold a bachelor's degree. However, the best way to get hired in Vietnam is by getting into the country to search for jobs in person.
Frequently Asked Questions
Can I teach English in Vietnam without a degree?
No. Though some schools may be ready to hire you without one, a degree is required to apply for a work visa to teach English in Vietnam. Therefore it is legally impossible to teach English in Vietnam without a degree.
Can a non-native get a teaching job in Vietnam?
Yes. However, most private and public schools in Vietnam have a bias for native speakers. Non-native ESL teachers with the required qualifications and experience have better chances of getting English teaching jobs in large Vietnamese companies or international schools where employers are less subjective.
Where can I teach in Vietnam?
You can teach English in cities like Hanoi, Ho Chi Minh, Haiphong, Da Nang, Vung Tau, and a host of other exotic locations.
Do I need to know Vietnamese to teach in Vietnam?
You do not need to understand Vietnamese to teach English in Vietnam. It is essential that you speak English to ESL students to help them grasp the language faster.
How easy is it to get a teaching job in Vietnam?
It is relatively easy to get an English teaching job in Vietnam, and you can find a job within a few weeks of arriving in the country.
Fun and travel activities while teaching in Vietnam
One of the most popular places that teachers can visit in Vietnam is the War Remnants Museum in Ho Chi Minh city.
You can find many war relics and reminders of the Great War between Vietnam and America. You can also visit the Ho Chi Minh Mausoleum in Hanoi. There are also world heritage sites to visit, including the largest known cave Hang Son Doong. Other interesting places include Ha Long Bay limestone islands, and Phong Nha-Ke Bang National Park.
For relaxation, you can take a trip to any of the beaches in the country. There are beaches in Nha Trang and CamRanh, amongst others.
Things to do include attending the Lantern Festival in Hoi An, where each person lights up a lantern and experiences a kaleidoscope of light and colors. This festival usually marks the Vietnamese New Year, and teachers can make lots of unforgettable memories by having fun with the locals and experiencing their culture.
Vietnam is also famous for its various types of delicious dishes, and even for coffee. The best places to visit for food include the street markets in HCMC, where restaurants serve multiple delicacies.