A Guide to Teaching English in Australia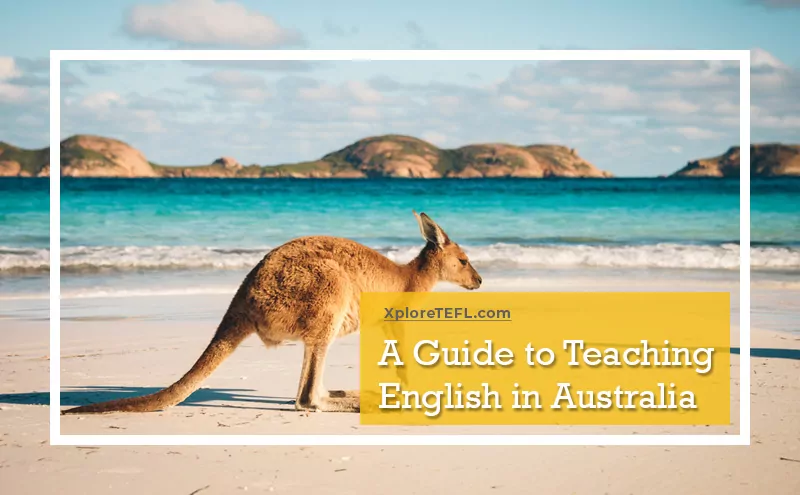 Are English teachers in demand in Australia?
Whatever your preferences as to the area you choose to settle in Australia, you will easily find English teaching opportunities in both the cities and rural areas. Due to the high number of people traveling to Australia to study, there are lots of ESL (English as Second Language) students and an increase in the number of language schools.
There are opportunities for English teachers in Australia all year round with options in early childhood (pre primary school) or secondary school teaching.
You can also decide to take an offer in private language schools which are abundant in cities or a public school run by the Australian government. So whether you intend to work for a short while or stay in Australia permanently, there are lots of options available to you.
What are the requirements to teach English in Australia?
To teach English in Australia, you need a degree (B.Ed. or PGCE) and a well-recognized TEFL/TESOL certificate.
Australia maintains strictly regulated standards so you have to ensure you are qualified. You should also check in with your preferred state for specific requirements as each state has sole regulation of their education system. Your qualifications will be assessed by the Australian Institute for Teaching and School Leadership (AITSL).
Get a TEFL Certification Now!
What type of jobs are available for English teachers in Australia?
English teachers in Australia find a variety of openings in private language schools and Education Programs run by the Australian government. There are teacher exchange programs such as the Fulbright Teacher Exchange program available for US and non US citizens that you can explore.
Most ESL students consists are children, adults, migrants, international students and professionals from all over the world (usually Asians, South Americans and Europeans). You can enjoy a class full of students from diverse cultures making room for interesting and interactive lessons.
What is the salary for English teachers in Australia?
Majority of English teachers in Australia earn between  AUD 30 to AUD 90 per hour and AUD 500,000 to AUD 900,000 a year and a few between AUD 90,000 to AUD 130,000.
Salaries for English teachers in Australia depends on your qualifications such as the TEFL and years of experience.
With an internationally recognized TEFL certificate in Australia, you stand better chances of earning more than enough to just break even. Depending on your lifestyle, you can save and give yourself some exotic treats once in a while.
Keep in mind that you will earn almost the same teaching in a local area in Australia as to teaching in the middle of a city. The only difference will be in the cost of living which vary considerably between cities.
Can you save money while teaching English in Australia?
Australia has a relatively high cost of living. Most likely, a higher cost of living than the country you are coming from. However, what you spend may vary depending on your budget size and ability to plan as well as the part of Australia you choose to live in.
Sydney, Perth, Newcastle and Melbourne top the list as the city with the highest cost of living in Australia while cities like Hobart, Adelaide and Gold costs are a bit lower. The cost of living is about AUD 2,000 to AUD 2,500 a month on the average.
Accommodation Options: Accommodation accounts for a large percentage of your cost of living in Australia. A normal studio apartment in a regular area will cost you between AUD 1,500 and AUD 2,000.
However, depending on the type of school and state you choose to work in, you may get some rental subsidies or housing relief. Some schools may even provide you with accommodation. This is very rare so you shouldn't bank on it.
What type of visa do you need to teach English in Australia?
You need a visa to work or study in Australia. There are skilled Independent Migrant Visas for which you may be qualified as a teacher. For early childhood and secondary school teachers, the Skilled Independent Visa or the Skilled Regional Provisional Visa may be sufficient.
You should check the Australian Visa Bureau to determine the specific visa requirement for English teachers in Australia from your country before you commence any visa application.
Hiring season and process for English teachers in Australia
You will find English teaching opportunities throughout the year. However best time to apply for a teaching job in Australia is from September to early October when schools will be preparing to hire new teachers for the next teaching year which starts in January.
Typically, you will have to undergo an interview before you are taken for an English teaching job in Australia so you need to get familiar with the system.
Before applying for an English teaching position in Australia, ensure that you have prepared a well detailed application to include all your qualifications especially your degree and TEFL certificate.
Interviews for English teaching opprotunities in Australia take place mostly over the phone or via Skype, be prepared to answer questions on why you are migrating to Australia, your career aspirations and your relocation plans. Prospective employers want to be sure you have concrete plans to help you settle well in the country.
Fun and travel activities while teaching in Australia
There are a lot of places to visit and things to do in Australia. Visit the Great Coral Reef to make lifetime memories exploring amazing sea creatures and experience the Sydney Harbour Bridge that leaves you feeling like you are in the belly of some ancient creature with metal skeletons, then go ahead to dive among sharks at the Melbourne Aquarium.
For arts and history lovers, the numerous Australian world class street arts provide a great experience. Relish in the history of the aboriginal people at the Art Gallery at NSW and learn how the aborigines shaped the old and present Australia.
The Sydney Opera house is also a major stop for all tourists and if you are around in November, do not miss the Margaret River Gourmet Escape where you can have the best barbecues and Australian wine close to the Margaret River.
Important cities in Australia
Most important cities are Melbourne, Adelaide, and Sydney with a high number of advertised vacancies. You can also find jobs in Victoria, Brisbane, Perth and others.