A Guide to Teaching English in Canada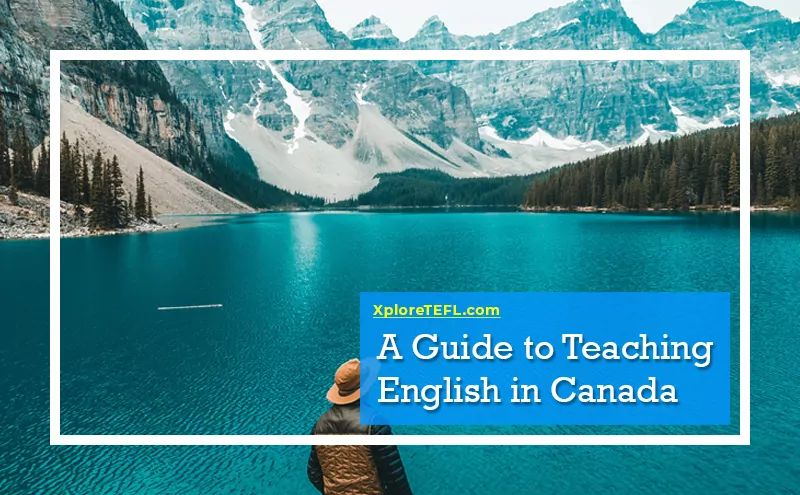 Are English teachers in demand in Canada?
Canada is a vast country filled with variety of opportunities that ESL teachers with a TEFL certificate can benefit from. Due to the liberal immigration policy in Canada allowing lots of foreigners into the country, there has been a growing number of individuals seeking to learn English language and more opportunities for ESL teachers in Canada. Therefore, you will find most of the TEFL jobs in the big thriving cities like Vancouver, Toronto or Calgary where most of the newcomers reside.
ESL teaching opportunities in Canada are also common in areas like Montreal and Quebec with majority of French speakers seeking to improve their English language abilities. Usually, the aforementioned areas are the most popular destinations for ESL teachers in Canada.
Taking a TEFL certificate in Canada to teach English gives you an opportunity to expand your career while learning about the country's history and other cultures.
What are the requirements to teach English in Canada?
ESL teachers in Canada need to obtain an internationally recognized TEFL/TESL certificate to teach English in Canada. This is in addition to a degree or high school diploma as well as teaching experience.
Sometimes there are institutions or private students willing to hire native speakers without experience. However, without a TEFL/TESL certificate in Canada, you may be required to pay about CAD250 to have your skills assessed by the Prior Learning Assessment and Recognition (PLAR) before being considered for an ESL job.
Because there are different provincial and territorial regulations operating their school systems, you should check with the Province for specific requirements before applying although regulations are similar for hiring ESL teachers all over the country. You may need to be accredited by the Ministry of Education for the Canadian province where you choose to teach.
Get a TEFL Certification Now!
What type of jobs are available for English teachers in Canada?
Most ESL teachers with TEFL certificate in Canada find full time English teaching positions in international private schools, community center programs, state schools and private tutoring especially for the majority of French speakers and children whose parents can afford private classes.
There are also opportunities for TEFL teachers to find employment through the Language Instructions for Newcomers to Canada (LINC) and online tutoring.
Most ESL teachers in Canada prefer to look for jobs in Vancouver for its amazing weather and exciting landscapes. Vancouver is also known to be one of the largest ESL markets for English teachers in Canada with as many opportunities as in Toronto and Montreal where you have a steady demand for English teachers.
What is the salary for English teachers in Canada?
Starting wages for ESL teachers in Canada is about CAD22 per hour while experienced teachers can earn up to CAD35 or more per hour. Annually, the average salary for ESL teachers in Canada is between CAD40,000 to CAD90,000.  
Can you save money while teaching English in Canada?
The cost of living in Canada is lower than the United States but like most other developed western counties, quite expensive. However there is also a fairly high salary range hence ESL teachers in Canada are able to enjoy a comfortable lifestyle.
Cities like Toronto and Vancouver top the list as the cities with the highest cost of living in Canada while Winnipeg and Eastern Quebec are much lower.
The cost of living is about CAD1,200 to CAD2,000 a month on the average depending on the city.
Accommodation Options: ESL teachers in Canada can find relatively cheap accommodation in Canada depending on the location.
A bedroom apartment in the city center costs between CAD800 to CAD1,900 while outside the city center can be about CAD700 to CAD1,500 per month.
What type of visa do you need to teach English in Canada?
A visa is required for any ESL teacher to work in Canada and as teaching is one of the professions listed in the Canada Express Entry Immigration System, it makes it easy for ESL teachers to enter into the country.
Check out the Federal Skilled Workers Program that allows ESL teachers to gain entry as well as permanent Residence in Canada.
You can also find special immigration pathways for some provinces like Ontario and Alberta that allows teachers to enter into Canada.
Hiring season and process for English teachers in Canada
The best time for an English teaching job in Canada is from March to April when schools will be preparing to hire new teachers for the next teaching year.
Interviews are typically strict in Canada and you will most likely be expected to appear in person. A lot of ESL teachers in Canada travel on a holiday working visa to attend interviews and take up English teaching jobs in the country.
Fun and travel activities while teaching in Canada
Canada has an amazing expanse of untouched landscape with massive plains and beautiful large lakes. There are so many places to visit in Canada at any time of the year. The most popular stops include the famous Anne of Green Gables at Prince Edward Island, Rideau Canal which is over 200 km long, the National Museum and the Peace Tower.
If you love adventures, beaches and ski slopes, then Vancouver is set for you. You can visit the nature reserves to enjoy some bear and whale watching and enjoy a walking tour of the cosmopolitan city of Toronto.
Important cities in Canada
Vancouver and Toronto are the most important cities for ESL teachers in Canada. Other important areas include Montreal, Quebec, Calgary and Ottawa.