A Guide to Teaching English in Egypt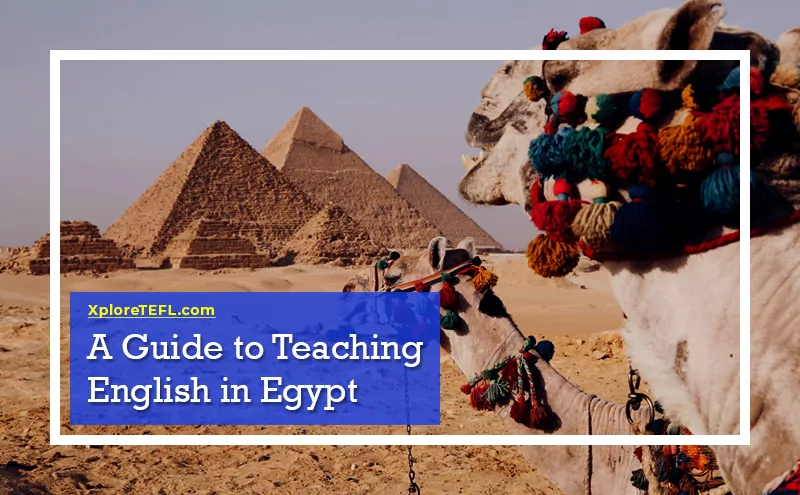 Are English teachers in demand in Egypt?
The prospects for teaching English in Egypt are very high with many opportunities all over the country especially for ESL teachers from outside the country.
Famous for its reputation as the cradle of civilisation and with English as the official language, Egypt is one of the easiest countries to get an English teaching job in Africa with teaching opportunities available all year round.
There are prospects for ESL teachers in Egypt in the international Baccalaureate schools and private international schools which are abundant in cities like Cairo and Alexandria. This is in addition to the numerous job openings where you can teach Business English to adults privately and in private language institutions. Most of the English teaching jobs in Egypt attract tax free salaries.
What are the requirements to teach English in Egypt?
Teaching English in Egypt requires an internationally recognized TEFL certificate as high paying jobs are dependent on qualifications and experience.
There are some ESL job opportunities in Egypt that will also require teachers to possess a university degree. For a teaching job in Egyptian public schools, you will be required to take four years of pre service course in a university or an international training program.
Get a TEFL Certification Now!
What type of jobs are available for English teachers in Egypt?
There are several types of English teaching jobs in Egypt with lots of opportunities in various parts of the country.
Some ESL jobs are found in the tourism industry and amongst adults where the locals are always looking to improve their English speaking abilities for better communication with tourists and international job offers. There are also opportunities in private academies, a few in public schools and international private institutions.
ESL students in Egypt are generally open to learning and very energetic which makes it easy for ESL teachers to blend in and adjust. The range of English students is from children in elementary to adult in high school, tourist and business professionals.
What is the salary for English teachers in Egypt?
Teaching English in Egypt is a very profitable and rewarding career especially since salaries are tax free and based on qualification.
ESL teachers in Egypt receive their salary hourly or monthly. The average monthly rates are about $1,000 to $1,500 per month. Some international schools may pay as high as $2, 000 on a monthly basis with 20 - 30 hours of work per week.
There are several benefits for ESL teachers in Egypt especially if you are applying from outside the country. These include airfare, accommodation, health insurance as well as visa assistance. However, it is very important to verify the history of your potential employers as some schools promise benefits without delivering.
Can you save money while teaching English in Egypt?
Cost of living in Egypt is cheaper than most countries in the Middle East and a fee in Africa making it easy for ESL teachers to live comfortably and save.
Large cities have their cost of living higher than the smaller cities. Cities like Alexandria and Cairo has the higher cost of living around $700 while the cost of living in other areas is about $300.
Accommodation Options: Rent in Egypt is generally cheap especially if you are considering sharing apartments.  You can get a comfortable apartment for as low as $200 per month and about $500 if you desire something that is grand and of the western style specifications.
A lot of ESL schools in Egypt will take care of accommodation or housing allowance so most English teachers do not have to spend their salary on rent.
What type of visa do you need to teach English in Egypt?
ESL teachers in Egypt need a work permit to be able to teach in the country. You can travel to Egypt on a tourist visa and then begin to process your work permit once you get a job in the county or you can apply for a work permit directly to begin your teaching job immediately before you travel to the country.
Usually, you will be required to provide certain certifications and documents to obtain a work permit to teach English in Egypt. These include a Bachelor's degree certificate and your internationally recognized TEFL/TESOL certificate.
In most cases, ESL teachers in Egypt get a lot of help from schools and employers in obtaining the work permit and also a reimbursement or some travel allowance after completing their job contract.
Hiring season and process for English teachers in Egypt
English teaching jobs in Egypt are available all year round with peak seasons typically from May to August. While you apply and wait for your interview, you can spend ample time exploring the cities and deciding which part of the country you will love to settle.
The hiring and selection process for ESL teachers in Egypt may differ between schools. However, interviews are very common and you may be required to answer questions that relates to your skills and passion for teaching.
Be prepared to write a sample lesson plan, explain how you would handle classroom management or discuss appropriate disciplinary action you would take if a student misbehaved.
Fun and travel activities while teaching in Egypt
There is a huge of list of places to visit and things to do in Egypt and as an ESL teacher, you will find plenty of free time to explore.
Visiting the Pyramids of Giza top the list of places to visit in Egypt. With the oldest and largest pyramids in the country as well as a chance to get inside, the pyramids of Giza is a wonder to behold. However, you must be very careful if you are claustrophobic as the climb into the pyramids may be a bit enclosed and steep.
Next is the Temple of Philae which is famous as the most intact temple of all. The temple is dedicated to the goddess of Isis and is incredibly beautiful.
For more adventure and some water sports, you should consider snorkelling and diving in the famous Red sea. Make lots of beautiful memories while you dive amongst the colorful and incredible sea life.
Other places to visit in Egypt include the Hatshepsut Temple, the Valley of kinds, Cairo Citadel and the Egyptian Museum among others.
Important cities in Egypt
Major cities of attraction for ESL teachers in Egypt are Alexandria and the capital city, Cairo.