A Guide to Teaching English in Japan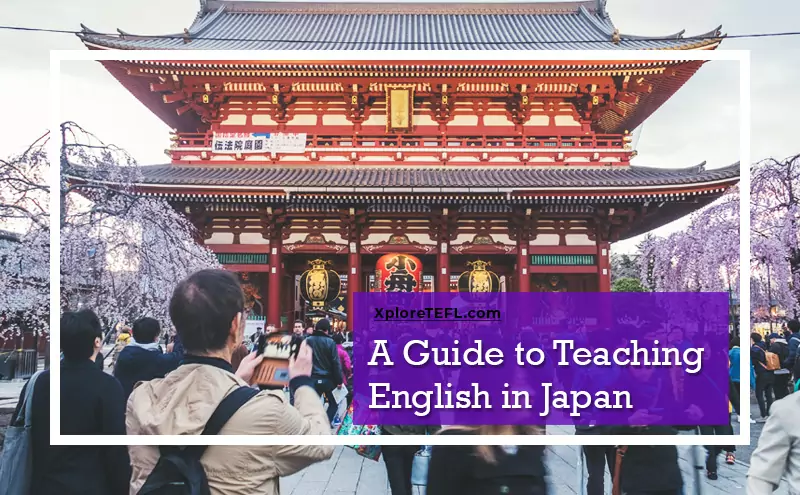 Are English teachers in demand in Japan?
English teachers are in high demand in Japan, with different job types for ESL teachers to choose from regardless of their teaching experience. Japan is one of the most lenient countries in terms of requirements for English teaching jobs globally and one of the largest markets for ESL jobs in Asia.
Due to the low entry barriers, minimal requirements, and attractive salary range for ESL teachers in Japan, you will find many expats teaching English in the country while enjoying the rich culture and a relaxed lifestyle.
There are plenty of opportunities for ESL teachers in Japan in private and public schools, in cities like Tokyo, Kobe, Osaka, Fukuoka, and Kyoto.
Many ESL teachers also get attractive prospects for teaching English in the country through programs like JET, INTERAC, and JIEC Japan, as well as private tutoring.
What qualifications do you need to teach English in Japan?
The qualifications you need to teach English in Japan include a degree, a TEFL certification, and native English fluency. If you are looking for a challenging career with minimal teachers' requirements, then taking a TEFL certificate to teach English in Japan is a brilliant option to explore.
An internationally recognized TEFL certificate and a bachelor's degree in any field are essential requirements for teaching English in Japanese schools, especially if you want highly competitive private school jobs. However, the University teaching jobs in Japan require a master's degree and a CELTA certificate.
For most government teaching jobs, you will only need to be a native speaker and have a degree or a few years of teaching experience. However, teachers who are not native speakers are appointed if they have had their education in an English-speaking school for 10 years.
It is also important to note that teachers who are citizens of Britain, the US, Ireland, Australia, New Zealand, South Africa, or Canada get preference.
Check out the complete information on the qualifications required to teach English in Japan.
What types of jobs are available for English teachers in Japan?
You can get an English teaching job in almost every type of language school in Japan, and there are several of them.
Assistant Language Teachers (ALTs)
A very popular type of English teaching job is the ALT or Assistant Language Teaching job. As an assistant language teacher in Japan, you only work during the day, and your salary will be a little higher than that of an ESL teacher in an Eikawa or Juku. Although most ALT jobs are in public schools, the recruitment is done by private organizations or government-supported programs. One of these is the Japan Exchange and Teaching Program (JET), where graduates from different countries worldwide are recruited as Assistant Language Teacher (ALTs) in the Japanese public school system.
Other such programs include INTERAC, which is suitable for teachers who teach in the rural areas, and the JIEC Japan for ESL teachers who will love to teach kids in Kindergarten.
The JET program begins in April and runs through September to the end of March, and teachers usually work an average of 8 hours per day.
Public Elementary and High Schools
There are jobs in the public education system, including elementary and high schools. These ESL job types are more lenient than private school jobs, and teachers do not have to work on weekends. They also offer more extended vacations than private schools or Eikawas, although teachers may not enjoy fully paid holidays. Few teachers in Japan apply directly to public schools. Instead, most ESL teachers prefer to apply to a public school through an ALT program.
English Conversation Schools (Eikawas)
ESL teachers in Japan can find jobs in private institutions such as the English conversation schools called Eikawas and private language institutes. Teaching in private institutions and Eikawas require more work hours (than public schools), including weekends and sometimes holidays. You may also have to wait behind after classes to tutor students or teach at night. Private institutions mostly offer benefits such as airfares, health insurance, and visa fees.
English Cram Schools (Jukus)
There are also some after-school programs known as Jukus. Jukus are different from Eikawas because they mostly prepare young students for English examinations like TOEFL instead of just having English conversations.
Jukus and Eikawas are some of the lowest-paying ESL job types in Japan, but they are also the easiest to find.
International Schools
International schools in Japan pay much better than the English conversation schools or Eikawas, but some also sometimes require a master's degree along with your TEFL certificate. Some international schools offer a retirement plan in addition to other benefits like airfare and health insurance. In most cases, ESL teachers in Japan begin by teaching at Eikawas, then when they have built some connection and gathered experience, they move on to apply to international schools.
There are also International Preschools which are for teachers interested in teaching kindergarten. Although international preschools pay higher than Eikawas and public schools, they do not pay as much as international schools.
Private Schools
Private schools pay as much as three times the Eikawas and offer reduced work hours. As opposed to public schools, you get to work as a full teacher and not an Assistant Language Teacher. You also enjoy up to three months of fully paid holidays. Undoubtedly, a lot of ESL teachers prefer to work in private schools. However, this kind of school requires a lot of teaching experience.
University Teaching Jobs
University teaching jobs in Japan are mostly suitable for experienced ESL teachers who have spent a year or two teaching in the country. You can apply for a university teaching job in Japan through the Westgate Japan Program. This job type will require you to have a bachelor's degree and at least 1000 hours of experience teaching English as a second language. If you are applying directly to a university, then you should have a master's degree or Ph.D. for better chances. Universities in Japan can pay ESL teachers up to two times the salary at Eikawas.
How to find English teaching jobs in Japan
Finding an English teaching job in Japan can be challenging for teachers in private institutions but very easy if you want to start small at an Eikawa or a public school. You can find teaching jobs by applying to ALT programs or directly to schools. You can also move to Japan to look for a job or get one from your home country before traveling.
Apply to Teaching Programs as an ALT
Applying to teaching programs is a great way to begin your career in Japan as an English teacher. Most of these programs, also called dispatch companies, place teachers in language schools across Japan as an ALT (Assistant Language Teacher).
They also assist with settling down and transitioning successfully into your role as an English foreign teacher. Some of these teaching programs include Interac, which places teachers in rural areas of Japan. They also have positions in cities like Tokyo, but they are usually more expensive to live as an English teacher. Other popular teaching programs you can apply to include Heart and Borderlink.
The highest paying is JET. You start with a higher salary than most other programs, and your salary increases every year.
Apply directly to an Eikawa or Private School
Eikawas and private schools are interesting job types that most beginner ESL teachers enjoy in Japan. Students may be kids or adults, and classes may hold at night. You can start your job application at private language schools like Berlitz or One Coin English (One Coin offers part-time teaching positions). After applying to a school in Japan, it is okay to call to confirm that your application has been received. Sometimes, schools receive applications in their emails but never read them, so feel free to place a call after you send your CV/application.
One of the biggest Eikawas to apply to as an ESL teacher in Japan is AEON. Another similar one is ECC, and you can check their website for requirements and apply from your home country.
Apply Online through Local Job Sites
There are several job sites online that advertise English teaching jobs in Japan. You can find some teaching positions by exploring these websites and plying to jobs that interest you. Some popular websites where you can find ESL jobs in Japan include gaijinpot, Daijob, or jobsinjapan.
What is the salary for English teachers in Japan?
The average salary for English teachers in Japan is between US$1,500 and US$6,500 per month. English teachers' monthly salaries vary significantly with different institutions. Eikawas and Jukus pay between US$1,500 and US$2,500, while public school ALT jobs pay slightly higher, usually up to US$2,700 per month. International schools and universities are the highest paying with the monthly salary for ESL teachers ranging between US$3,500 and US$6,500.
Most ESL teachers in Japan receive their salary monthly, and these differ based on the type of contract as part-time teachers earn less than full-time teachers. Typically, ESL teachers in the Japanese public school system enjoy three weeks of vacation in August, partly paid, and another two weeks' holiday at the end of the year. Teachers in private institutions get about 10 days' vacation and also national holidays.
Many Japanese language schools offer airfares and other benefits to ESL teachers, such as visa application and accommodation assistance.
What type of visa do you need to teach English in Japan?
ESL teachers are required to obtain a work visa to teach English legally in Japan, and obtaining the visa is relatively easy.
Work Visa for ESL Teachers in Japan
There are general requirements for a work visa in Japan, although the type of work visa you will be issued may vary depending on the type of school you choose to work in.
The instructor visa is issued to teachers who intend to work in the JET program or as an Assistant Language Teacher (ALT) in public elementary and high schools.
Teaching in big schools such as the GABA and AEON will require a Specialist in Humanities visa. In contrast, the working holiday visa is available to teachers interested in working while touring the country.
The working holiday visa is available only to the citizens of New Zealand, Australia, the UK, Germany, Denmark, Hong Kong, Canada, Ireland, or Norway or people who hold any of these countries' passports.
As a prospective ESL teacher in Japan, you must apply for a visa at the appropriate visa consulate or embassy of your country or region. The Japanese government Ministry of Foreign Affairs provides all necessary information for the different types of visas for ESL teachers.
Tourist Visa
You can travel to Japan as an English teacher on a tourist visa. However, you cannot teach in the country with this type of visa as it is illegal. Once you arrive in Japan and get employment, you can then convert your visa to a work visa. You will need to show evidence that your employer is sponsoring you to obtain a work visa.
Can you save money while teaching English in Japan?
It is easy to break even on an average salary in Japan. However, the ability to save is dependent on individual budgets and lifestyles.
Cost of living in Japan
The average cost of living in Japan is relatively higher than in most other Asian countries. Most ESL teachers in Japan find that the cost of living is relatively high throughout the country, especially in big cities.
Cities like Tokyo and Yokohama have a higher cost of living, around US$1,500, while the cost of living in other areas is about US$1,000.
Some of the best ways ESL teachers cut down on the cost of living in Japan are by sharing apartments, utilizing public transport, and avoiding eating out.
Accommodation Options in Japan
Accommodation costs in Japan vary depending on location, and it is common to find teachers sharing apartments to reduce the amount spent on rent.
You can get a comfortable apartment for as low as US$500 per month in smaller cities and about US$750 if you desire someplace in the major cities.
Like most other countries, Japan's big cities like Tokyo and Yokohama have a higher cost of accommodation than the smaller cities like Nerima and Osaka.
Usually, to rent a house in Japan, you will be required to make a deposit called "Shikikin," which is equivalent to about one or two month's rent and will be refunded to you when you are leaving the house so far there are no damages.
There is also the "Key money," which is a traditional gift to the landlord and about the cost of a month's rent.
When can you apply for teaching jobs in Japan?
ESL opportunities are available to English teachers in Japan throughout the year in private international schools, private language institutes, and public institutions. School sessions run through the year but vary in term dates.
Although you can apply for ESL jobs in Japan throughout the year, you should check out for term dates before applying due to the frequent variations.
The hiring process for ESL teachers in Japan is easy, and the interview is conducted in person. Usually, you may be invited for an interview as early as three to six months before the commencement of your contract, and you should be prepared to take responsibility for your airfare.
Frequently Asked Questions
Can I teach English in Japan without a degree?
No. However, you can teach English in Japan with a degree in any subject. You need a degree to apply for a work permit, and most schools will not employ a teacher without a degree. Some schools will also require a TEFL certification in addition to your degree.
Where can I teach in Japan?
You can teach English in any part of Japan that you wish. However, big cities like Tokyo are more expensive to live in than small cities or rural areas. Top cities of attraction for ESL teachers in Japan are Tokyo, Osaka, Kobe, Fukuoka, and Kyoto.
Do I need to know Japanese to teach in Japan?
No. Although it may be advantageous to understand the local language, speaking the Japanese language is not required to get English teaching jobs in the country. Some schools offer free Japanese lessons for foreign English teachers.
How easy is it to get a teaching job in Japan?
Getting a teaching job in Japan is very easy as there is a high demand for English teachers. You can get jobs as an ESL teacher in any part of Japan regardless of your experience level.
Can a non-native get a teaching job in Japan?
Yes. All you need to teach English in Japan is a bachelor's degree and a TEFL certification. However, you are required to have the ability to speak English at a native fluency level or at least 12 years of schooling in English. There is no Japanese law that prevents non-natives from getting ESL jobs in Japan.
Fun and travel activities while teaching in Japan
Teaching English in Japan is fun, and there are endless adventures that a lifetime might not be enough to explore the entire country. There are many exciting places to visit, fun activities to engage in, delicious food to taste, and a great culture to experience.
Japan's brilliant cities all offer great sightseeing spots, and the rural areas and countryside are not left out. As Japan is a highly developed country in terms of technology, one of the most popular destinations includes the Robot Restaurant located in Tokyo's Shinjuku area, where diners can watch robots show while enjoying a meal.
There is also the first digital art museum in the world, the Mori Building Museum, which displays some of the latest high technologies in the world.
Away from modern tech, you can get a more dramatic and historical experience in Japan by visiting the Sensoji Temple, the oldest temple in Tokyo with deep traditional features highlighting ancient Japanese history.
For breath-taking natural adventures, visit Aso, the world's largest volcanic caldera, and Lake Akan in eastern Hokkaido with its giant moss balls that are a protected species. You could catch the stunning view of the Lake in its frozen state if you visit during the winter.