A Guide to Teaching English in Japan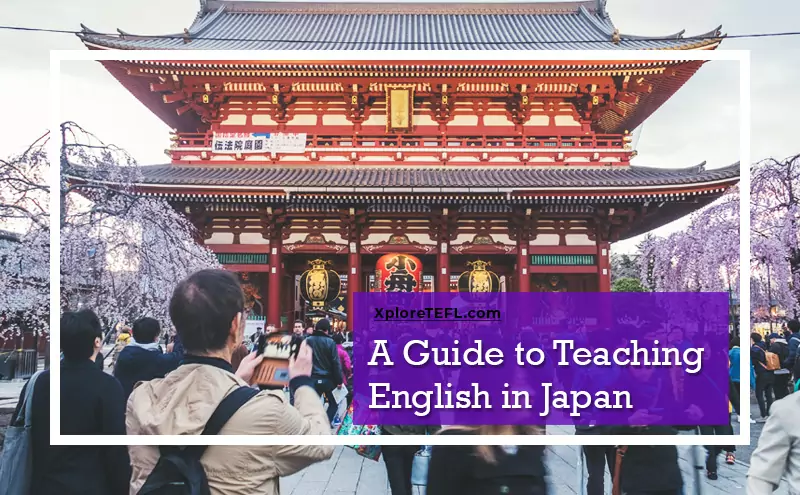 Are English teachers in demand in Japan?
Japan is one of the most lenient countries in terms of requirements for English teaching jobs in the world and one of the largest markets for ESL jobs in Asia.
Due to the low entry barriers, minimal requirements and attractive salary range for ESL teachers in Japan, you will find many expats teaching English in the country while enjoying the rich culture and a relaxed lifestyle.
There are opportunities for ESL teachers in Japan in the private and public schools which are abundant in cities like Tokyo, Kobe, Osaka, Fukuoka and Kyoto.
A lot of ESL teachers also get attractive prospects for teaching English in the country through programs like JET, INTERAC and JIEC Japan as well as private tutoring.
What are the requirements to teach English in Japan?
An internationally recognized TEFL certificate and a bachelor's degree in any field are important requirements for teaching English in Japanese schools. However, the University teaching jobs in Japan require a master's degree and a CELTA certificate.
For most government teaching jobs, you will only need to be a native speaker and have a degree or a few years of experience although teachers who are not native speakers may be considered if they have had their education in an English speaking school for at least 10 years. It is also important to note that preference is given to teachers who are citizens of Britain, US, Ireland, Australia, New Zealand, South Africa or Canada.
Although it may be an advantage to understand the local language, speaking Japanese language is not a requirement to get an English teaching jobs in the country.
Get a TEFL Certification Now!
What type of jobs are available for English teachers in Japan?
You can get an English teaching job in almost every type of language school in Japan. There are jobs in the public education system including elementary and high schools, as well as the private institutions such as the English conversion schools called Eikawa, international schools and private language institutes.
A very popular type of English teaching job is the Japan Exchange and Teaching program (JET) where graduates from different countries all over the world are recruited as Assistant Language Teacher (ALTs) in the Japan public school system.
Other such programs include INTERA which is suitable for teachers who like to teach in the rural areas, Westgate for University level teachers and the JIEC Japan for ESL teachers who will love to take kids in Kindergarten.
The JET program begins in April and runs through September to the end of March and teachers usually work an average of 8 hours per day.
What is the salary for English teachers in Japan?
Most ESL teachers in Japan receive their salary monthly and these varies based on the type of contract as part time teachers earn less than full time teachers.  The average monthly rates are about $1,500 to $2,500 per month.
Typically, ESL teachers in the Japanese public school system enjoy about 3 weeks of vacation in August which is partly paid and another two weeks holiday at the end of the year. Teachers in private institutions on the other hand get about 10 days vacation and also national holidays.
A number of Japanese language schools offer airfares and different forms of support to ESL teachers such as visa application and accommodation.
It is easy to break even on an average salary in Japan, however, the ability to save is dependent on individual budget and lifestyle.
Can you save money while teaching English in Japan?
Average cost of living in Japan is relatively higher than most other Asian countries. Most ESL teachers in Japan find that the cost of living is quite high throughout the country especially in the big cities.
Cities like Tokyo and Yokohama have the higher cost of living around $1,500 while the cost of living in other areas is about $1,000.
Some of the best ways ESL teachers cut down on the cost of living in Japan is by sharing apartments, utilising public transport and avoiding a lot of eating out.
Accommodation Options: Accommodation costs in Japan varies depending on location and it is common to find teachers sharing apartments to reduce the amount spent on rent.
You can get a comfortable apartment for as low as $500 per month in smaller cities and about $750 if you desire someplace in the major cities.
Like most other countries, the big cities of Japan like Tokyo and Yokohama have a higher cost of accommodation than the smaller cities like Nerima and Osaka.
Usually, to rent a house in Japan, you will be required to make a deposit called "Shikikin" which is equivalent to about one or two month's rent and will be refunded to you when you are leaving the house so far there are no damages.
There is also the "Key money" which is a traditional gift to the landlord and is also about the cost of a month's rent.
What type of visa do you need to teach English in Japan?
ESL teachers are required to obtain a work visa in order to teach English legally in Japan and the process of obtaining the visa is quite easy.
There are general requirements for work visa in Japan although the type of work visa you will be issued may vary depending on the type of school you choose to work in.
The instructor visa is issued to teachers who intend to work in the JET program or as an Assistant Language Teacher (ALT) in public elementary and high schools.
Teaching in big schools such as the GABA and AEO will require the Specialist in Humanities visa while the working holiday visa is available to teachers who are interested in working while touring the country.
The working holiday visa is available only to residents of New Zealand, Australia, Korea, UK, Germany, Denmark, Hong Kong, Canada, Ireland or Norway or people who hold the passport of any of these countries.
Hiring season and process for English teachers in Japan
ESL opportunities are available to English teachers in Japan all through the year in the private international schools, private language institutes and public institutions. Schools sessions run through the year but vary in term dates.
Although you can apply for ESL jobs in Japan all through the year, you should check out for term dates before applying due to the frequent variations.
The hiring process for ESL teachers in Japan is easy and the interview is conducted in-person. Usually, you may be invited for an interview as early as three to six months before the commencement of your contract and you should be prepared to take responsibility for your airfare.
Fun and travel activities while teaching in Japan
Teaching English in Japan is fun and there are endless adventures that a lifetime might not be enough to explore the whole of the country. There are many exciting places to visit, fun activities to engage in, delicious food to taste and amazing culture and tradition to experience.
The brilliant cities of Japan all offer astounding spots to visit and the rural areas and country side are not left out.  As Japan is highly developed country in terms of technology, one of the most popular destinations include the Robot Restaurant located in the Shinjuku area of Tokyo where diners can watch robots show while enjoying  meal.
There is also the first digital art museum in the world, the Mori Building Museum which display some of the latest high technologies in the world.
Away from modern tech, you can get a more dramatic and historical experience in Japan by visiting the Sensoji Temple which is the oldest temple in Tokyo with deep traditional features that highlight the ancient Japanese history.
For breath-taking natural adventures, visit Aso, the world's largest volcanic caldera and Lake Akan in eastern Hokkaido with its giant moss balls that are a protected species. You could catch the stunning view of the Lake in its frozen state if you visit during the winter.
Important cities in Japan
Major cities of attraction for ESL teachers in Japan are Tokyo, Osaka, Kobe, Fukuoka and Kyoto.