A Guide to Teaching English in Malta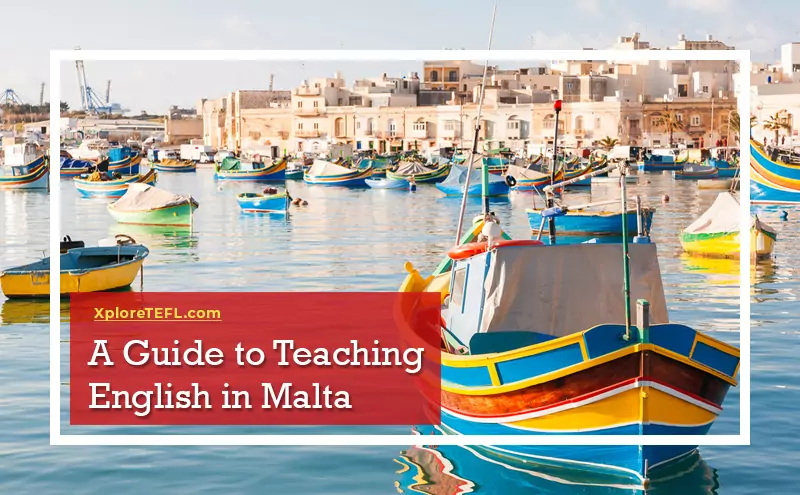 Are English teachers in demand in Malta?
Despite the relatively small population of Malta and a demand for ESL teachers that is lower than most other European countries, the island still has loads of job teaching opportunities in its big cities like St. Julian, Valletta and Sliema.
One reason for this is the nature of the country's education system which allows all schools in Malta teach English and all their lessons are given in English.
Malta has English Language as one of her official languages and the government takes the formal teaching of English language very seriously. ESL teachers with TEFL certificate can teach in any of the over 40 language schools spread across the island.
In addition to this, most jobs in Malta require that employees be proficient in the use of English and so there is a never-ending search for ESL teachers to help these employees through the basics of business and conversational English.
ESL teachers in Malta can get teaching jobs in private language schools, colleges, universities and International schools with a larger part of opportunities concentrated in the Language schools.
What are the requirements to teach English in Malta?
An internationally recognized TEFL certificate in Malta sets you apart and makes your dream of a well-paying ESL teaching job easy to come by.
Additionally, ESL teachers in Malta are expected to obtain a teaching permit from the Maltese Education department based in Floriana and such teaching permits are only granted to candidates who are TEFL certified.
International schools in Malta require ESL teachers to obtain a teaching license from their home country as well as some prior teaching experience. Jobs at these International schools attract higher salaries than those at private language schools.
Generally, apart a TEFL certificate and the teaching license, ESL teachers in Malta must get ready their birth certificate, passport and police conduct certificate to be collected at the Police headquarters in Floriana before they begin teaching in the country.
Get a TEFL Certification Now!
What type of jobs are available for English teachers in Malta?
There are a lot of the good paying jobs available for ESL teachers on the Maltese Island and they are of different types.
The teaching opportunities spread across Malta's education systems include the private language schools, summer camps, colleges, universities and International schools.
ESL teachers can secure full-time jobs in language schools or teach in summer camps like those at the English Language Academy or European School of English in the bigger cities of Valletta, Sliema and St. Julian.
Another opportunity for ESL teachers to explore in Malta is private tutoring although these jobs are rare and often frowned against if you work for a language school so most teachers have to go about it discreetly.
What is the salary for English teachers in Malta?
ESL teachers with TEFL certificate in Malta can earn up to EUR700 – EUR1,000 per month. However, it must be noted that about 20% of this will be paid as tax.
ESL teachers in Malta can also earn between EUR10- EUR15 per hour as private tutors which is a more flexible option and is dependent on certifications and experience.
Benefits such as relocation allowance and health insurance do not accrue to ESL teachers in Malta but you can be sure of friendly colleagues and helpful employers.
Can you save money while teaching English in Malta?
For ESL teachers in Malta, the cost of living is quite high compared to the salary. However, if teachers live a frugal lifestyle or live in the less expensive cities like Il Furjana they can live comfortably.
Most expenses for an ESL teacher goes down to housing but once this is settled, all other expenses are quite reasonable.
The average cost of living in Malta is between EUR750- EUR900 per month depending on the area and your personal ability to budget.
Accommodation Options: You could be spending up to 60% of your salary a month on rent if you decide to get a place of your own.
A one bedroom apartment will cost you around EUR800 in the big cities, while an equivalent accommodation in areas away from the cities would cost approximately EUR650 or even less.
ESL teachers in Malta usually share accommodation or live with friends to cut down on their housing expenses.
What type of visa do you need to teach English in Malta?
English teachers in Malta could be allowed to work on temporary visas for teaching in the busy summer months.
ESL teachers who are nationals of Australia and New Zealand can also be provided with working holiday visas which are equally legal for a specified time frame. Australian nationals must be under 30 to qualify for the one year working holiday visa program.
To apply for a work permit, ESL teachers must have a job offer with the application for the permit made via the employer.
It must be noted that it is a bit tougher for South African citizens, Americans and Canadians to apply for work visas with the application process spanning for around nine months. However, employers could help teachers speed up the application process.
Hiring season and process for English teachers in Malta
While the school year runs from mid-June until mid-September in Malta, most employers hire ESL teachers for teaching jobs all year round.
However, the bulk of job opportunities come from April through to the end of the summer (May to September).
Jobs are sometimes advertised online and ESL teachers can be interviewed over phone calls and e-mails although in person interviews are common.
ESL teachers can also send their CVs to schools directly as this might be a more productive way of getting an English teaching job faster in Malta.
Fun and travel activities while teaching in Malta
Valetta is the perfect place for you if you like to see and experience the beauty of Malta from different perspectives.
You could visit the Mdina Dungeons (Museum of Torture), the saluting battery or the Upper Barracca Gardens that boasts of the best view in the city, including the marvelous views of the Grand harbor and the three cities of Cospicua, Senglea and Vittoriso.
If you have a thing for night life and parties, St.Julian is your perfect haven. The city is blessed with an abundance of bars and clubs and you can take a stroll to Bedouin Bar to gulp down cocktails or dance at the weekend to the vibe of Maltese sophisticated DJs.
ESL teacher who are lovers of watersports, swimmers and divers no doubt would have a nice time as they have the stunning Malta coastline to indulge all of their hobbies and summer beaches to spread in.
Important cities in Malta
Valletta, Sliema and St. Julian are the best places to get well-paying English teaching jobs in Malta.