A Guide to Teaching English in South Africa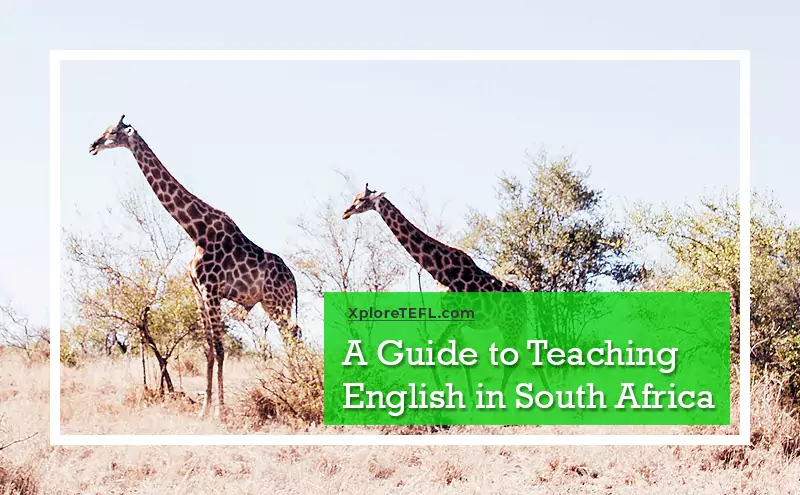 Are English teachers in demand in South Africa?
The South African ESL job market is the right place for ESL teachers who are interested in making a competitive salary while enjoying pure African culture and amazing wildlife with a very rich history.
Although demand for ESL teachers is generally low since there is already a high concentration of Native speakers, there are prospects in the international Schools and even more opportunities for teachers who can combine other subjects especially Maths and Science.
In addition, a TEFL certificate will always give you an edge in the job market and help you compete favourably with native speakers in the country.
What are the requirements to teach English in South Africa?
South Africa has a very high number of Native English speakers and as a result the market is highly competitive although it is a lot easier to find jobs with a TEFL certificate.
It is also necessary to have a degree, a Post Graduate Teaching Certificate in Education (PGCE) and some teaching experience.
In addition, teachers are required to register in the country with the South Africa Center for Education (SACE) and the South Africa Qualifications Authority (SAQA). The SAQA would go through the clearing of your foreign certificates in order to integrate you as an educator in the country.
Get a TEFL Certification Now!
What type of jobs are available for English teachers in South Africa?
South African ESL jobs vary but the most popular ones are found in the international schools usually in big cities like Johannesburg and Capetown.
There are also a few jobs in public schools and in the British council located in Johannesburg.  Some ESL jobs can also be found online as private tutoring opportunities.
Generally, across all teaching job types, ESL students in South Africa are friendly and there is often a close relationship maintained between teachers and student although this may pose a challenge to class management if not well managed.
Teachers in South Africa work an average of 30 hours a week with enough free time after school and during the holidays to visit the tourists' spots in the country.
What is the salary for English teachers in South Africa?
The average monthly salary for an ESL teacher in South Africa ranges based on qualifications, experience and level of professionalism.
Teachers in universities can make up to USD9,000 a month while new teachers make an average of USD1,500. Teachers can also make between USD12 to USD20 per hour from private tutoring.
Language schools in South Africa hardly provide accommodation or airfare to teachers. Teachers have to pay their own rent which takes about 40% of their salary.
Can you save money while teaching English in South Africa?
South Africa is a very interesting country to live and ESL teachers are able to like comfortably and enjoy their stay in the country.
The cost of living in South Africa is moderate and teachers can save up to one quarter of their salary on a monthly basis.  
Cities like Cape Town and Johannesburg has the higher cost of living around USD1,200 while the cost of living in other areas is about USD700
Accommodation Options: Rent in South Africa is highly dependent on the city and the closeness to the city center. Rent is highest in Cape Town and Johannesburg and a bedroom apartment is usually between USD380 and USD800. However, you can get the same type of accommodation Pretoria and Durban for prices between USD300 and USD350.
Most ESL teachers in South Africa prefer to find accommodation in the gated communities of big cities where there is more security that open centers in the smaller cities.
What type of visa do you need to teach English in South Africa?
ESL teachers in South Africa need a work permit to be able to teach in the country. A proof of permanent residence and letter of employment from a school in South Africa is also necessary requirements.
It is possible to travel to South Africa on a tourist visa to look for jobs but you must obtain a work permit to teach legally in South African schools. You can begin to process your work permit once you get a job in the county or you can apply for a work permit directly to begin your teaching job immediately before you travel to the country.
Usually, you will be required to provide certain certifications and documents to obtain a work permit to teach English in South Africa. These include a Bachelor's degree certificate and your internationally recognized TEFL/TESOL certificate.
In some cases, ESL teachers in South Africa get help from schools and employers in obtaining the work permit.
Hiring season and process for English teachers in South Africa
While your TEFL certificate will give you an edge in the competitive ESL market in South Africa, applying at the right time will also be an added advantage.
The best time to apply for an ESL job in South Africa is in November. In addition to this, schools run all year in with a break between January and December which is also a peak hiring period.
The best way to get hired easily in South Africa as an ESL teacher is by moving into the country and visiting schools physically with your CV.
Language schools in South Africa will usually require an in person interview and you may be asked to answer questions that relates to your skills and passion for teaching.
Remember to show a high degree of positivity when doing sample lessons by commenting on students positively.
Fun and travel activities while teaching in South Africa
For adventure, the Kruger National Park tops the list of places to visit in South Africa with the amazing stretch of bushland and savanna and an even more amazing concentration of animals and plants species.
Find the most breath-taking landscape in South Africa by visiting the Drakensberg, a famous mountainous region whose name means "Mountains of Dragon".
There is also the Garden Route with its scenic beauty and an attractive stretch of coastline adorned with lakes and lagoons, Durban, where you will most probably find the best beaches and a beautiful mix of architecture, Hermanus, famous for whale watching, the scenic Cape winelands, Addo Elephant National Park and of course the beautiful city of Johannesburg and the Soweto township.
Besides visiting and exploring places, South African dishes are also amazing. The country has a wide variety of cuisines influenced by its colorfully mixed cultures and history.
There is the Chakalaka, a gravy relish that goes well with barbecues, the South African pastry Vetkoek, Meltert or milt tart, the Boerewors and a lot of other dishes to try.
Hosting or attending a Barbecue usually called Braai by the locals is a favorite thing amongst English teachers who are colleagues.
Important cities in South Africa
Major cities of attraction for ESL teachers in South Africa include Johannesburg, Cape Town and Pretoria.