A Guide to Teaching English in Thailand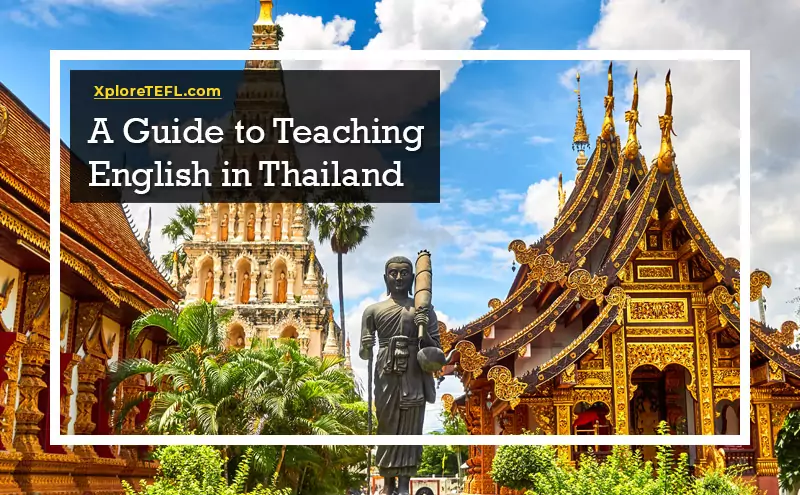 Are English teachers in demand in Thailand?
There is a significant demand for English teachers in Thailand. The will to learn English has increased amongst Thai natives and locals of other Southeast Asian countries, expanding the market for ESL teachers.
With the rising middle classes in Thailand, people now have more disposable income to spend on English classes. So there are increased prospects for ESL teachers, especially those who hold qualifications like a TEFL certificate.
Most schools have now thrown to the bin the idea of employing temporary visiting teachers who teach for a month or two and move on as they now opt for ESL teachers willing to sign up for at least five months or a year contract.
Demand is exceedingly high for English teachers, especially in the big cities like Bangkok, with the government including English lessons in public schools where vacant positions for which native English speakers are widely sought.
Opportunities also exist in several private language institutes that cater to young students and professionals looking to sharpen their English skills for business and tourism purposes.
What qualifications do you need to teach English in Thailand?
To teach English in Thailand, you need a degree. A well-recognized TEFL certification is not compulsory but very important to quickly get a job in Thailand's highly competitive ESL market. Usually, previous ESL teaching experience is also required. For ESL teachers who desire to teach in the University, a master's degree is required with a degree in education as an added advantage.
Not only does a TEFL certificate improve your chances of getting an ESL teaching job in Thailand, but it also offers you an opportunity to negotiate your salary. Earning a TEFL certificate in Thailand gives you an edge over the bandwagon of teachers hoping to get an English teaching job for a source of living.
A bachelor's degree, especially in places like Cambodia or Laos, is not mandatory but required in Thailand to be eligible for a work visa. Recently, English teachers in Thailand must present a clean criminal background check with the exemption for traffic or other minor violations). In addition to this, ESL teachers from non-native speaking English countries must take an IELTS exam with a minimum score of 5.5+ or a 600+ score in the TOEIC exam.
Check our Detailed Article on The Complete Requirements to Teach English in Thailand.
What type of jobs are available for English teachers in Thailand?
There are several job types in Thailand for English teachers, such as private language teaching and public school ESL jobs. However, a TEFL certificate is the key to getting the best pick of the several English teaching jobs that abound in Thailand.
Government Schools Teaching Jobs
ESL teachers with a TEFL certificate could take teaching jobs in government schools to see Thai culture up and close and relate with local students from different backgrounds. The Thai Ministry of Education usually provides ongoing training for public school teachers.
While a TEFL certificate is not a compulsory requirement for teaching in Thai public schools, it can give you a competitive edge when applying. Government schools in Thailand have strict schedules and are great for ESL teachers who like the 9-5 lifestyle.
Private English Schools/ Language Institutes
Other options for ESL teachers with TEFL certification in Thailand can be found in private schools and language institutes, which offer better salaries than the government or public schools. Also, they are more flexible, and work is on random hours. However, it is important to note that for ESL teachers in language institutes, their working hours would be mostly at night when their students are out of school and work.
ESL students in language institutes may also include business people and adults with smaller classes than government schools.
International Schools/ Universities
ESL teachers with a TEFL certificate in Thailand can also teach in International schools and universities. International schools are the highest paying employers of ESL teachers in Thailand, typically paying three times more than public and private schools. They also provide benefits like housing and travel allowance. However, these are the most competitive teaching job types in the country.
The requirements to teach in an International school in Thailand include:
A TEFL certification.
A degree or teaching certificate from your home country.
At least two years of ESL teaching experience.
For teaching English in universities in Thailand, a master's degree is sufficient, and a TEFL will give you an edge over other candidates. One of the perks of teaching English in universities in Thailand is that you work for just about 12 hours weekly and have up to four months of paid vacation.
Volunteer Teaching in Thailand
You can also find volunteer ESL jobs in Thailand in local communities and small towns like Surin. This is very common among ESL teachers who want the feeling of making an impact on less-privileged children. You do not need a degree to volunteer as an English teacher in Thailand, but you should be studying to obtain one.
As a volunteer English teacher in Thailand, you will mostly teach children in local elementary or high schools with support from a Thai English teacher. Volunteer positions can have different durations, usually weeks or months.
Private Tutoring/Online Teaching
You can work as a private tutor in Thailand or teach English online to ESL students. Private tutoring opportunities provide an extra means of income and can earn you about US$16 per hour.
How to find English teaching jobs in Thailand
Finding English teaching jobs in Thailand is relatively more straightforward than in most other countries. However, it involves a lot of work to get higher-paying jobs, especially in international schools.
Visit Schools in Thailand
Applying for jobs physically is one of the most effective ways of finding employment in Thailand quickly. Once you are in Thailand, take your prepared CV to different schools of your choice. Thai employers mostly hire instantly, so make sure to look your best and be prepared for an interview. Some popular language institutes and international schools in Thailand include AUA, Shrewsbury Bangkok, and Garden International School.
Expore the Internet
Searching online is also a common way to find English teaching jobs in Thailand. Visit websites like ajarn.com or teachingthailand, where you can find many recent teaching opportunities in different parts of Thailand. You can also apply to teach in Thailand through a recruitment agency or third-party organizations like Intrepid Teachers and Edvectus. Volunteer organizations are also helpful, especially if you need to gain some teaching experience.
Join Virtual Teaching Forums
Finally, it is important to join online teaching forums as they serve as avenues to get information on available teaching jobs and learn from existing teachers' experiences. You may find ESL teachers groups on social media like English Teaching Thailand and ESL Teachers in Thailand.
What is the salary for English teachers in Thailand?
Teachers in Thai government schools usually earn between US$850 to US$1,300, while those in private schools can earn between US$1800 to US$2,500. ESL teachers in international schools in Thailand have a salary between US$2700 to US$5,500, but this is usually very rare and competitive. University jobs pay between US$1000 and US$2,000 and are generally part-time with lower teaching hours.
Factors affecting English teachers' salary in Thailand also include job location, whether or not housing is included in the contract, teacher's qualifications, and experience. You can earn a higher salary teaching in the big cities like Chiang Mai and Bangkok than the smaller towns or tourist attractions like Phuket and Phi Phi. The salary for English teachers in Thailand is slightly lower than other teach abroad destinations in Asia like China and South Korea.
In addition to a teaching salary, ESL teachers in Thailand enjoy apartments or housing allowance and health insurance. Most schools offer free cafeteria lunch and apartments for their ESL employees.
What type of visa do you need to teach English in Thailand?
You need a non-immigrant or work permit visa to teach English in Thailand. There is no 'work visa' in Thailand, but two main visas can lead to obtaining a work permit: a non-immigrant B visa for business and a Non-immigrant O visa for those married to Thai nationals.
Non-Immigrant Visa B/Thai Business Visa
To teach English in Thailand, you can apply for a Thai Business visa before leaving your home country. This should be done under the employer's category and may be sponsored by your employer in Thailand. You should apply for a Thai visa, and this has to be done at the Royal Thai Embassy or Thai Consulate of your country of residence.
For a non-immigrant B visa application, which is valid for only three months, ESL teachers are expected to present copies of their university degree, teaching contract, and clean background criminal check. After which, your employer can assist you with extending your visa for a longer-term stay.
Extension to a long-term visa can be done within the country at the Thailand local immigration office. You may also apply for a work permit during this period. You can also check the process of getting a non-immigrant B visa at the Ministry of Foreign Affairs website of the kingdom of Thailand.
Thai Work Permit
Once you have your non-immigrant visa valid for 90 days, you have ample time to obtain a work permit. If you have entered Thailand without a job and a work visa, you may have to travel outside the country to process your work visa or permit when you eventually get a teaching job. Some schools pay for this work visa travel while others do not. The work permit is usually valid for up to two years and can be renewed before the expiration of each term.
In summary, ESL teachers need a non-immigrant visa and a work permit to work legally in Thailand.
Teaching License
This is an essential step for foreign English teachers in Thailand without a degree in Education. The temporary license lasts for about six years and can be obtained at The Teachers' Council of Thailand. To get a teaching license in Thailand, you need your non-immigrant B or Thai Business Visa, Thai work permit, university transcripts, and evidence of a clean criminal record. University teachers do not need to obtain a teaching license in Thailand.
Can you save money while teaching English in Thailand?
You can save money while teaching in Thailand, but this depends on the type of job, the city, and lifestyle. Tourist destinations like Phuket tend to pay a lot less than big cities like Bangkok and Chiang Mai. Also, teachers in Thai international schools receive higher salaries. They can save more easily if they practice strict spending behavior like cooking at home instead of buying foreign meals or sharing accommodation.
With the low cost of living obtainable in most parts of Thailand, ESL teachers working in international private schools can expect to save between US$300 and US$400 per month. For ESL teachers in government or private schools, it is easier to break even than to save.
Cost of living in Thailand
The cost of living in Thailand is much lower than in European countries and some Asian countries too. However, this varies from region to region. In big cities like Bangkok, ESL teachers need about US$800 to live comfortably in a month, while living costs in lower cities can be as low as US$500. The cost of living in Thailand stands at about US$500 to US$800.
Accommodation Options in Thailand
Accommodation in Thailand is also favorable, and the rent is moderate. ESL teachers can obtain a one-bedroom apartment for about US$430 per month in the city center and about US$259 outside the city center. Teachers can easily find already-furnished accommodation for low prices. The large population of foreign English teachers means that there are also many roommate-hunting opportunities as shared accommodation is another option ESL teachers might be willing to explore.
When can you apply for teaching jobs in Thailand?
The peak hiring season for ESL teachers in Thailand is March to May for a new school year and once again in September and October for a new session in November.
ESL teachers could get job offers before arrival in Thailand with applications made over emails. You could also explore the option of a teacher recruiter whose job is to match teachers with the right teaching location and preferences at no cost.
ESL teachers will need to take interviews, which could be online or physically. Whatever the case, you are advised to dress conservatively in professional clothes.
Frequently Asked Questions
Can I teach English in Thailand without a degree?
Yes. You can teach English in Thailand without a degree, but this will mean that you are working illegally since you need a degree to get a work permit. Also, finding an ESL job in Thailand may be a bit tougher without a degree than if you had one. A TEFL can help make your job search easier, but a degree is also essential. You also need a degree to apply for a Thai work permit.
Where can I teach in Thailand?
You can teach English in big cities like Bangkok or Chiang Mai or smaller towns like Phuket. The cities of Bangkok and Chiang Mai are the most popular amongst ESL teachers. Teaching opportunities also exist in outlying provinces like Pathumthani, Udon Thani, and Khon Raen.
Do I need to know Thai to teach in Thailand?
No, you do not have to speak Thai to teach English in Thailand. In most language schools in Thailand, ESL teachers are not expected to speak Thai in the classroom even if they understand the language.
How easy is it to get a teaching job in Thailand?
Getting an English teaching job in Thailand is relatively easy. However, it is important to meet the requirements and ensure you have your non-immigrant B visa ready before leaving your country.
Can a non-native get a teaching job in Thailand?
A non-native can get teaching jobs in Thailand, although some schools prefer natives. Most schools require that you speak English on a native-speaker level.
Fun and travel activities while teaching in Thailand
There are four different celebrated holidays in May, three in July, three in October, and two in August for teachers in Thailand. ESL teachers can take advantage of these holidays to take mini-vacations or sometimes even longer trips.
You could make a trip to dashboard shrines that dot Bangkok, the Chao Phraya River, or the home of the stunning Emerald, not leaving out the Grand Palace in Bangkok's old city.
Some nine hours away is the calmer city of Chiang Mia, home to lots of tourists and expatriates. Here, you could quench your thirst for adventures while exploring the Mae Hong Son Loop, or for a more natural environment, take a trip to the Doi Suthep Mountain.
When it comes to nature, Thailand is best known for its beaches, with Pattaya, Phuket, and Ko Samui at the top of everyone's bucket listings.