A Guide to Teaching English in Cambodia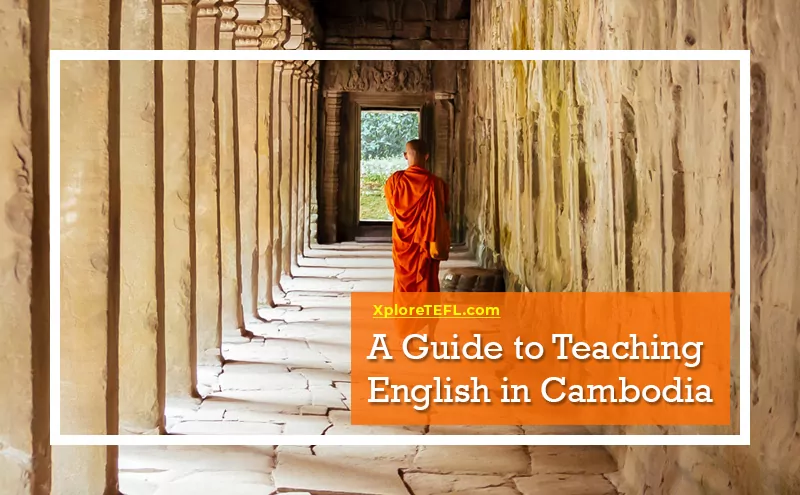 Are English teachers in demand in Cambodia?
Cambodia is undoubtedly one of the easiest countries to get an English teaching job in the world with teaching opportunities available all year round. Due to the lenient regulations for entry into Cambodia as well as minimal requirements for ESL teachers, you will find many expats teaching English in the country.
There are opportunities for ESL teachers in Cambodia in the private schools which are abundant in cities like Phnom Penh. Also, some ESL teachers decide to take up volunteering jobs teaching in orphanages and organisations housing victims of human trafficking.
It is very rare to find opportunities for foreign English teachers in Cambodia public schools and so the bulk of teaching opportunities are in the private schools.
What are the requirements to teach English in Cambodia?
An internationally recognized TEFL certificate is required to get high paying English teaching jobs in Cambodia. This is in addition to a degree and some previous teaching experience which is required especially in the universities.
While some schools in Cambodia will accept lesser qualifications, being a native English speaker and a TEFL certificate holder opens you to better teaching opportunities and negotiable teaching hours in Cambodia and surrounding countries.
Get a TEFL Certification Now!
What type of jobs are available for English teachers in Cambodia?
The most popular English teaching jobs in Cambodia are found in the private schools where you have a wide variety of ESL students from preschool children to adults in universities.
As a result of modern day trafficking and an after effect of the Khmer Rouge genocides, Cambodia is home to a lot of human traffic victims. These set of people make up a part of ESL students in Cambodia as some organisations hire ESL teachers to teach English to the victims. Opportunities are also available to teach English in orphanages although most of these are on a volunteer basis.
A few paid English teaching jobs can be found in business tutoring with companies in Cambodia who hire ESL teachers to teach English to their employees.
What is the salary for English teachers in Cambodia?
Most ESL teachers in Cambodia receive their salary on an hourly or monthly basis. The average monthly rates are about US$1,000 to US$1,500 per month. On an hourly basis, ESL teachers in Cambodia can earn up to US$15 per hour with about 25 to 30 hours of work per week.
Except for enough free time to explore the country and the rest of Asia, English teachers in Cambodia hardy get any other benefit. However, for teachers with qualifications and experience, it is possible to get jobs with paid holidays and benefits.
Can you save money while teaching English in Cambodia?
Most ESL teachers in Cambodia find that the cost of living is very low throughout the country especially in the rural areas. Cities like Phnom Penh and Siem Reap have the higher cost of living around US$900 while the cost of living in other areas is about US$500.
Your cost of living in Cambodia can even be reduced if you adopt a simple lifestyle where you make your own meals or eat at cheap restaurants which are abundant in the country.
Accommodation Options: Rent in Cambodia is generally cheap. You can get a comfortable apartment for as low as US$200 per month and about $500 if you desire something that is grand and of the western style specifications.
Like most other countries, the big cities of Cambodia have a higher cost of accommodation than the rural areas.
What type of visa do you need to teach English in Cambodia?
ESL teachers can easily apply for a work visa once in Cambodia. You may first apply for a business visa for a month once you enter the country, then proceed to obtain a work visa for a duration of one, three or six months depending on how long you intend to stay in the country and what you can afford as the prices differ. If you are applying for a month work visa then this will be issued as a single entry visa.
Usually, ESL teachers in Cambodia get a reimbursement or some travel allowance after completing their job contract.
Hiring season and process for English teachers in Cambodia
ESL opportunities are available to English teachers in Cambodia all through the year in both the private international schools and public institutions. Schools sessions run through the year but vary in term dates.
Although you can apply for ESL jobs in Cambodia around August or September when most schools start a new school year, you should check out for term dates before applying due to the frequent variations.
The hiring process for ESL teachers in Cambodia is easy and the interview is conducted in-person.
Fun and travel activities while teaching in Cambodia
Teaching English in Cambodia is fun, easy and absolutely interesting. There are a lot of places to visit in Cambodia and it's easy to travel to neighboring countries like Thailand, Laos and Vietnam too.
Take a ride to Tonle Sap, the largest freshwater lake in South East Asia, the Royal Palace compound in Phnom Penh where you will find many national treasures and then Koh Ker which was formerly the capital of the Khmer empire. The grandest of all seems to be the Angkor Wat Archaeological site which is the most famous tourist destination in the country.
Important cities in Cambodia
Major cities of attraction for ESL teachers in Cambodia are Siem Reap, Sihanoukville and the capital city, Phnom Penh.