A Guide to Teaching English in Czech Republic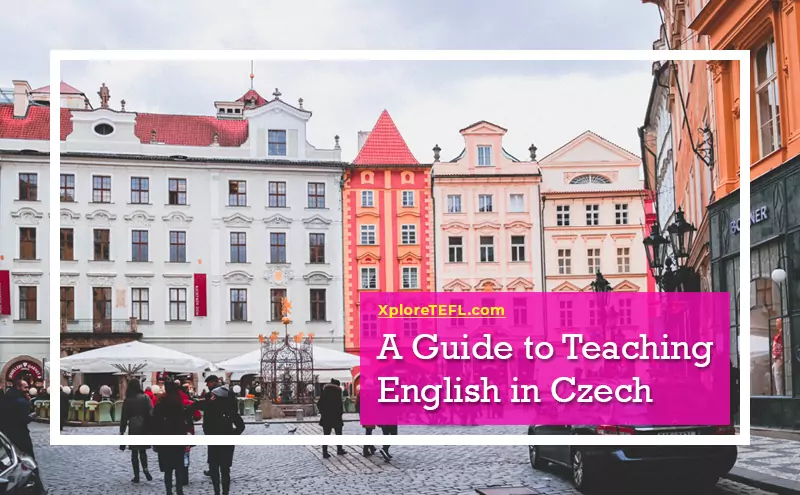 Are English teachers in demand in Czech Republic?
Czech Republic has one of the top job markets for ESL teachers in Europe with a growing economy and an increasing need for residents' to speak English.
The demand for English teachers has also been aided by the country's recent admittance into the European Union.
Despite Czech Republic hosting a number of English speaking tourists, private language academies, universities and public schools, the country is still in need of English teachers with a special preference for native speakers.
With a growing economy allowing room for tourism and establishment of international companies, there are lots of businesses and companies that have need for ESL teachers with a strong command of business vocabulary.
A lot of English teachers are demanded to take business and company staff through rudimentary English needed to aid foreign trade.
What are the requirements to teach English in Czech Republic?
A TEFL certificate is key to landing the best of ESL teaching positions in Czech Republic since schools would offer a higher salary to ESL teachers with a TEFL certification than those without such certification.
If you choose to teach in a public school, you would be required to have obtained a Bachelor's degree in English or any other related field and a TEFL certificate in fact qualifies you regardless of your course of study.
If you opt for teaching positions in a private language school instead, in addition to a TEFL certification, you will need to have time flexibility and a willingness to teach in different places across the country.
It must be noted however that some schools require ESL teachers to have an EU citizenship or Czech business license.
Get a TEFL Certification Now!
What type of jobs are available for English teachers in Czech Republic?
ESL teachers with TEFL certificate in Czech Republic could get jobs in private language schools, public schools and private International schools. Teachers could also take up private tutoring roles on a part-time basis.
Most of the teaching positions in public schools exist in the smaller cities of Czech Republic and these schools run from September-June.
The most abundant teaching positions are those in private language academies/schools and they are the easiest to land. Classes are usually after-school hours as additional language tutoring for students.
ESL teachers can also advertise on online websites, local cafes to find jobs as private tutors for adults, children or companies looking to train their employees. In this case, basic knowledge of Czech might be helpful if not needed to make arrangements with potential clients.
What is the salary for English teachers in Czech Republic?
ESL teachers in Czech Republic can expect to earn a monthly salary between $600 and $1300 while working for an average of 25 hours a week. However, teachers with TEFL certificate usually earn a higher sum with a starting salary of $1000.
Some other factors such as a university degree, number of teaching hours and teaching experience can also aid in negotiation of better salaries.
Most language schools pay on an hourly basis at an average rate of about $12 for a forty-five minute lesson while you can take home between $12 and $20 for your private tutoring lessons.
Accommodation is usually provided by most schools and might be free of charge or reasonably priced than what is obtainable elsewhere in the country.
Can you save money while teaching English in Czech Republic?
The cost of living in Czech Republic is rather inexpensive relative to its surrounding European countries. Indeed, Prague, the country's most expensive city is fairly less expensive relative to most other European country capitals.
The cost of living in Czech republic ranges between $500 and $800 and ESL teachers can save even more if they cut down on some luxuries.
Accommodation Options: Some schools in Czech Republic provide accommodation for their ESL employees while some ESL teachers have to rent living spaces.
Rent in Prague, the country's capital is usually more expensive than what obtains outside the city center but you can cut on this cost by sharing an apartment with another ESL teacher or expat worker.
Generally, it costs about $400-$600 to rent a one-bedroom apartment in Czech Republic.
What type of visa do you need to teach English in Czech Republic?
ESL teachers need to obtain work visas to teach legally in Czech Republic save for citizens of EU countries who do not. Since work visas are processed in the country, you can get into the country on a tourist visa to process to look for a job and then begin to process your work visa.
Work visas in Czech are of two types - the Zivno and standard work visa. Most ESL teachers in Czech republic prefer to process a Zivno because of the severity of getting the latter option.
A Zivno visa entitles you to work legally for any school or private tutor of your choice and takes anywhere from 4 weeks to 3 months to process. The documents needed to process a Zivno include a credit card showing access to at least $6000, visa application form, one year health insurance policy, criminal background check, paper work from your landlord and a passport valid for 12 months beyond your stay in Czech Republic.
Hiring season and process for English teachers in Czech Republic
Although it is possible to find a job in Prague all year long especially in language schools, typical hiring seasons are September and January.
For public and private schools, you might need to stick to the stipulated hiring seasons as they are usually in line with the semester dates.
ESL teachers can apply for English teaching opportunities both on the ground and from overseas. Since some schools only accept applicants who are legally able to work in Czech Republic, non-EU citizens would have to be in Prague to apply for the correct visa option.

If you're applying from overseas, you could forward your CV online with your interview conducted over Skype or phone.
Fun and travel activities while teaching in Czech Republic
Czech Republic widely referred to as the beer lovers' paradise due to its number of beer gardens and breweries. The country's beer never disappoints tourists and immigrants in delivering what a taste of central Europe feels like.
Apart from tasting the most amazing beers if Europe, you can also visit interesting parks such as the Podyji National Park in Moravia and Bohemian paradise, you can pay a visit to the Gothic All Saints Chapel, Sedlec on one of several holidays where you can see the remains of slain soldiers during medieval times.
For less scary adventures, visit Kutna Hora, a UNESCO World Heritage site which was once home to one of Europe's leading silver mines and the stone house.
For a more relaxed and green atmosphere, Pruhonice Park which is also a UNESCO World Heritage site blesses your views with wooded areas, streams, formal gardens and 25 kilometres of interesting and eventful walking paths.
Important cities in Czech Republic
Although most ESL teaching positions exist in Prague, demand for ESL teachers is also high in Brno, Pilsen and Ostrava.