A Guide to Teaching English in Germany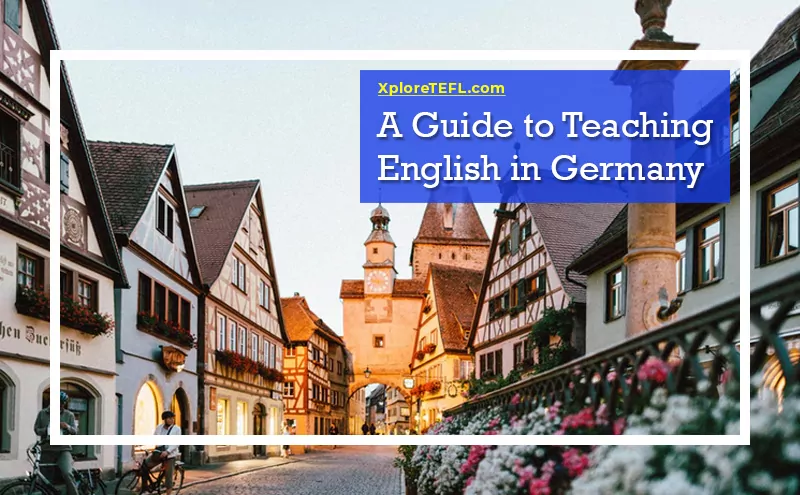 Are English teachers in demand in Germany?
Germany is known for its high quality and taste in educational pursuits and so there is enough opportunities in the ESL job market for teachers with such qualifications as an internationally recognized TEFL, a degree and possibly some teacher training.
ESL teachers can also improve their prospects and add some value by learning some basic German although this is not required to get a job. Being a country with strong national and international economy, Germany also has a high demand for teachers in the Business English sector which accounts for a large percentage of its ESL market.
Although opportunities are available all over the country with the highest paying jobs in big cities, you will find that there are more opportunities for ESL teachers in smaller towns than the big ones due to the competition and a high cost of living.
What are the requirements to teach English in Germany?
Ideally, your first and major requirement for an English teaching job in Germany is an internationally recognized TEFL/CELTA certificate.  Other significant but optional requirements include a degree, experience and some teacher training if you are willing to teach little children.
While a TEFL certificate with experience will most likely get you a high paying job in an international school in big cities like Berlin and Frankfurt, you will find local training institutes that may offer you a teaching job with only a degree as qualification.
Get a TEFL Certification Now!
What type of jobs are available for English teachers in Germany?
The business English market in Germany is a large job market for ESL teachers in the country. It is also easier to get freelance teaching jobs in Germany than a regular staff teaching job as an ESL teacher.
Although getting into the German school system may be difficult without qualifications, there are job opportunities in the system.  There are teaching opportunities in language schools, companies and business centers in the big cities and several conversational English teaching opportunities to children and adults in the smaller towns which are not as competitive. There are also numerous private tutoring opportunities among adult students and business men in Germany.
An important factor to consider while considering ESL jobs in Germany is the tax rate which is very high for teachers without a full time position.
What is the salary for English teachers in Germany?
A number of factors affect the amount you can earn as an ESL teacher in Germany. Your TEFL certification, experience, training as well as the area you choose to work, all influence what you will earn as salary and as a private tutor.
In the big thriving cities like Berlin, you can charge as much as 50 Euros for a single period of private lesson which is about 90 minutes and if you specialize in Business English or decide to work at companies or international schools, you will earn even more.
The average monthly salary of ESL teachers in Germany is about 1,000 to 2,500 Euros per month.
Can you save money while teaching English in Germany?
Germany is a very beautiful and exciting country to work and live. The cost of living is very reasonable compared to most Western Europe countries although it may be higher than that of some Eastern Europe countries.
To a great extent, the city you choose to live in Germany determines the rate of your monthly spending. The costs of living in Munich, Hamburg, Frankfurt and Berlin are currently amongst the highest in Germany while Cologne, Hanover and Leipzig are about the lowest.
The average cost of living in Germany for ESL teachers ranges between 700 to 1,000 euros a month and this is largely covered by the cost of rent.
Accommodation Options: The cost of accommodation is always the highest if you stay in city centers and tourist attraction areas in Germany.
A comfortable one bedroom apartment in the big city of Berlin will cost about 900 euros per month while in Bielefeld, you can get the same for as low as 500 euros and 350 euros in Halle.
What type of visa do you need to teach English in Germany?
It is required that you have an EU citizenship or a work visa to teach English in Germany.  The process of obtaining a work visa in Germany requires a lot of paperwork and a great deal of patience as it may take months to complete.
Application for a work visa and residency permit is expected to be done in Germany and so you should hold enough funds during the process as you may not be able to work full time or earn enough to support yourself.
It is important to check out the specific process for obtaining a work visa and residency permit for the state you intend to live in Germany as the process may vary from state to state.
Hiring season and process for English teachers in Germany
It is best to understand the hiring seasons for you to know when to begin applying for jobs.  Although ESL opportunities are available to English teachers in Germany all through the year, the typical peak hiring season is at the beginning of September through October and then again in January.  
The best way to get hired in Germany is to approach schools and language institutes personally with your CV and other credentials. During a chat or an interview with a language school in Germany, endeavor to speak about any work or business experience to increase your chances of being hired as a business English teacher.
Fun and travel activities while teaching in Germany
Teaching English in Germany can be so much fun and full of exciting experiences. A walk through the Black forest may be the first adventure you want to tick off your list as you begin to settle in the country. The great forest covers about 11, 000 square kilometres and has an amazing natural landscape you can either explore on foot or even better on a horseback.
Warnemunde is another stopping spot that is well worth a visit. It is located on the Baltic Sea with an endless beaches, sea creatures and a gorgeous lighthouse. You can follow this up with a visit to the breath-taking Burresheim Castle located near Mayen. Unlike most other ancient castle, the Burresheim was never destroyed and has remained in its original state for hundreds of years. The beautiful castle is surrounded by a picturesque landscape that leaves you coming back for more visits.
Other places to visit include German Carnival Capital, Cologne, the port city Hamburg and the Heidelberg Castle, famously known as a UNESCO City of Literature.
Important cities in Germany
Major cities of attraction for ESL teachers in Germany are Berlin, Frankfurt, Hamburg, Dusseldorf and Stuttgart.